Close More Deals and Inspire Ideas with Art in Your Office
If you're trying to boost productivity, ignite a creative spark, or foster a feeling of well being in your workplace, consider investing in art for your office.
Inviting some striking contemporary art or sculpture to share your office space is beneficial in ways beyond the obvious. Besides boosting your mood and creating a more productive and relaxing work environment, displaying artwork in your office is an excellent way to make a more meaningful and personal connection with clients, colleagues, and employees by letting them know more about you and what your organization values most.
Put a contemporary painting to work. No matter what field you're in, bright abstract art can provide a great focal point for contemplation and creative stimulation. Use vivid original art to brighten up your workspace and keep things from feeling too drab or utilitarian.

This oversize abstract painting by Susan Carter Hall, titled "Splish Splash", really takes this office from sterile to cozy. (Image: Photo by Bethany Nauert, Found on My Domaine)
And finally, when choosing artwork and sculpture for your office, don't underestimate the benefits of decorating the rest of your workspace. Including some art in your conference room or meeting area is an instant icebreaker, and can help foster a company wide spirit of play, ingenuity, and creativity.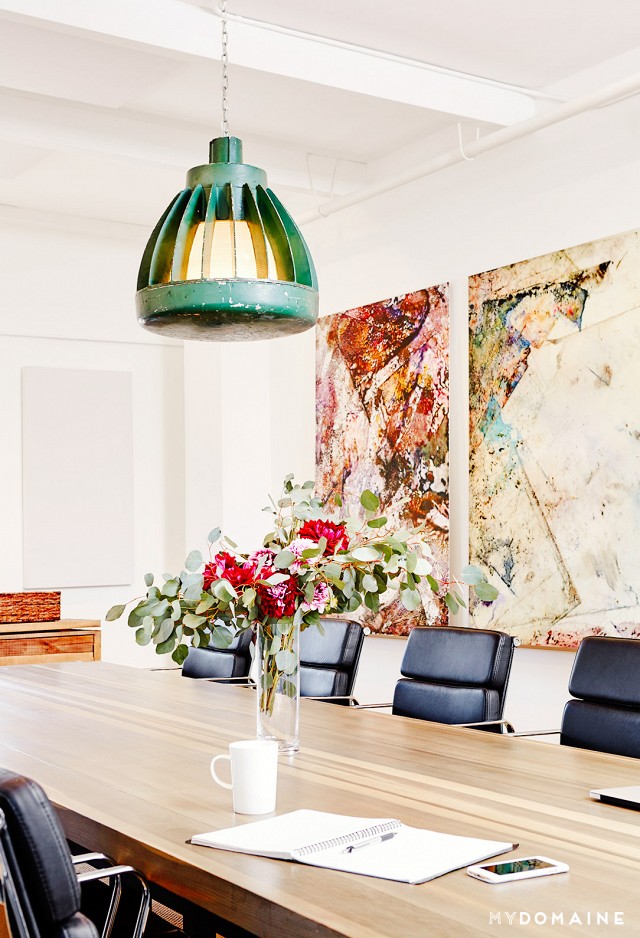 (Image: Found on My Domaine)