Artwork That Says 'Wish You Were Here'
Instead of relegating your postcard collection to a binder in the attic or stuffed into a drawer, put it on display and enjoy it all year long. Here are 8 ways to get you started.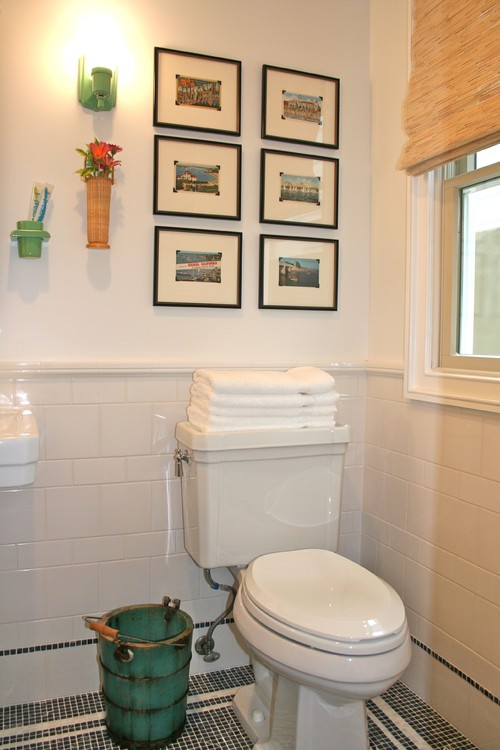 (Image: Photo by Kelley & Company, Courtesy of Houzz)
1. Small spaces.
Since postcards are so small, usually about 4 by 6 inches, they can fit into virtually any space. Two columns of postcards stack up perfectly above the toilet here. A new card can be rotated in with each new trip to keep memories fresh.

(Image: Photo by Kailey J. Flynn Photography, Courtesy of Houzz)
2. Gallery wall.
Postcards bearing a common theme, or small postcard-size prints from one artist, can make a gallery wall feel unified. This colorful grid of framed postcards from U.S. national parks is prominent on the wall of an eclectic Austin, Texas, home.

(Image: Photo by Galie Photography, Design by Detail Interiors LLC, Courtesy of Houzz)
3. Blown up.
If you find an image on a postcard that you really like but want it in a larger format, consider enlarging it. Various companies will take a digital image and transfer it onto a canvas in any size you desire.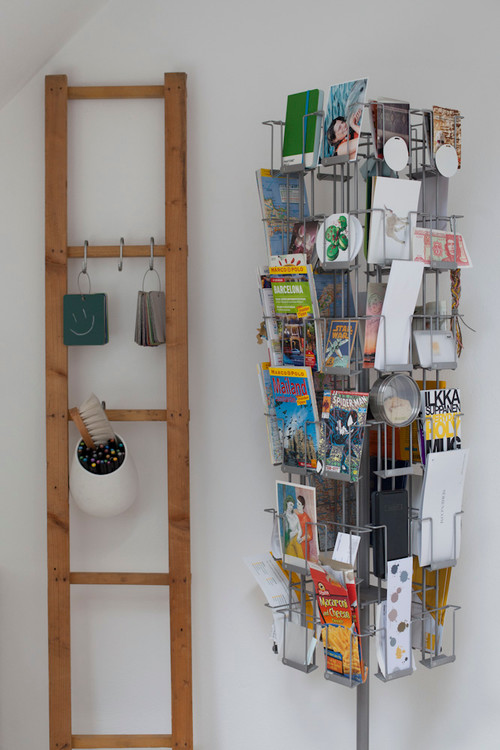 (Image: Photo by Kristina Steinmetz Design, Courtesy of Houzz)
4. Commercial route.
Co-opting commercial fixtures for residential use is as hip as it's ever been, with DIYers clambering over industrial bar carts and workbenches. In fact, repurposing certain commercial items is becoming so popular, it's easy to convince yourself you've seen it all.
But you may not have seen this one: A retail card rack used as a handy organizer will quickly turn into a conversation piece in one of the public areas of the home. It's also perfect for organizing paper supplies in a craft room.

(Image: Photo by Kasey Buick, Courtesy of Houzz)
5. Nod to history.
Honor your home or neighborhood's roots with a postcard or two of the property or street you live on in its heyday. Your local historical society may be able to furnish you with photographic reproductions of your property, street or neighborhood. Take your images to a professional framer with experience in art conservation.

(Image: Photo by Mitchell Berry Architects, Courtesy of Houzz)
6. Hall pass.
If you have the budget to add built-in display shelves to a hallway, go for it. But creating thin ledges out of custom-cut wood planks or even thin pieces of trim or lath — as seen on the wall of this hallway — will be cheaper and easier and will keep your postcards out of the shadows. Tailor your ledge design to the number of postcards in your collection.

(Image: Photo by Turner Pocock, Courtesy of Houzz)
7. Inspiration wall.
Since postcards offer such great inspiration, they are perfect for craft rooms and home offices. Create a fluid display that can be supplemented and changed on a whim. A large corkboard wrapped in fabric and overlaid with ribbon will give you ample room to slide your favorite postcards among more mundane invoices and to-do lists.

(Image: Photography by Meghan Bob Photography, Interior design by Wendy Labrum, Courtesy of Houzz)
8. Faux fancy.
Extra-wide mats turn a postcard collection into refined art. Every print looks more substantial and sophisticated with an oversized mat, and that's especially true of inexpensive, ordinary postcards. Professional framing will also elevate any collection.
SaveSaveSaveSaveSaveSaveSaveSave
SaveSave
SaveSaveSaveSave
SaveSave
SaveSaveSaveSave
SaveSave
SaveSave
SaveSave