6 Times Orlando, Justina & Emily Pulled it All Together with Art
No matter what your interior design style, it's amazing how original art can really bring a room together. We're not just talking about making things feel harmonious, tying colors together, etc. We're talking about turning things up to 11. (Spinal Tap, anyone?) Taking a design from balanced and beautiful to, well, Orlando Soria (@mrorlandosoria), Justina Blakeney (@thejungalow) and Emily Henderson (@em_henderson) level. That's 11.
If you're not already familiar with these insanely talented and in-demand interior designers, check them out on Instagram and prepare for a deep scroll. Orlando, Justina and Emily are providing inspiration all month-long for our #NoBlankWalls sweepstakes. Among their very many talents as designers, one thing that they are exceptionally amazing at is incorporating the perfect piece of original art into any room.
Read on to discover 6 times that Orlando, Justina and Emily pulled it all together with art. Enter our #NoBlankWalls sweepstakes for a chance to win $1,000 to buy art you love on Saatchi Art.
1. Going big and bold in the guest bedroom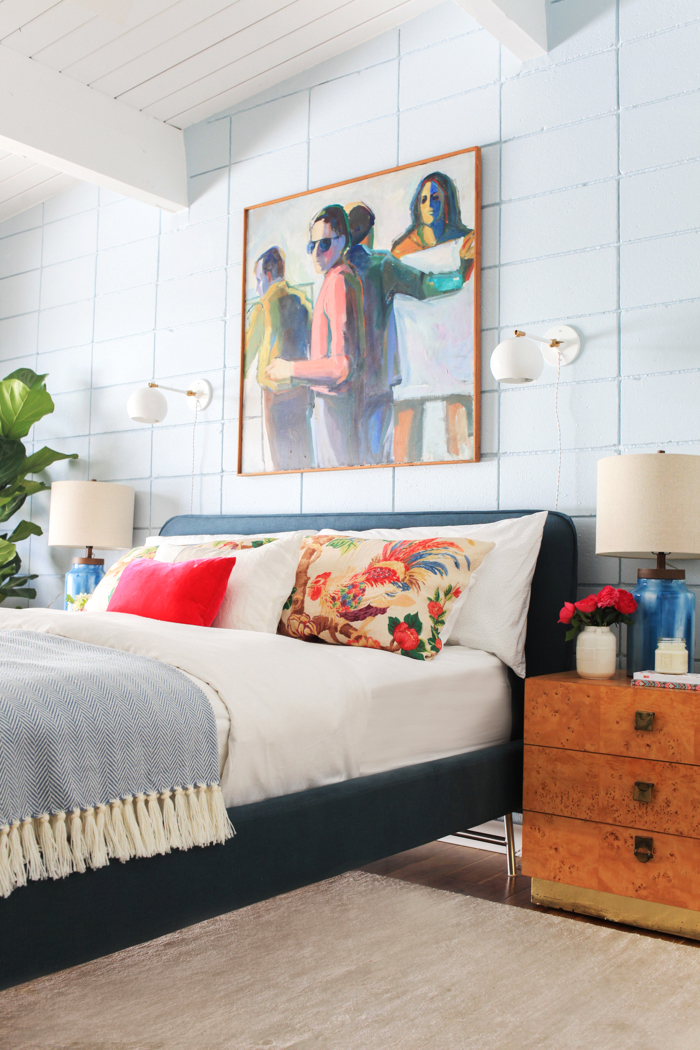 (Image: Tessa Neustadt for Style by Emily Henderson)
Emily Henderson's guest room makeover was all around fabulous. Check out the before and after here. What really topped this design off was the oversized figurative painting above the bed. Not only did the colors pair perfectly with the vintage floral shams, the scale of the painting draws your eye upward to the unique wood beam vaulted ceilings.
2. A painting and faucet in conversation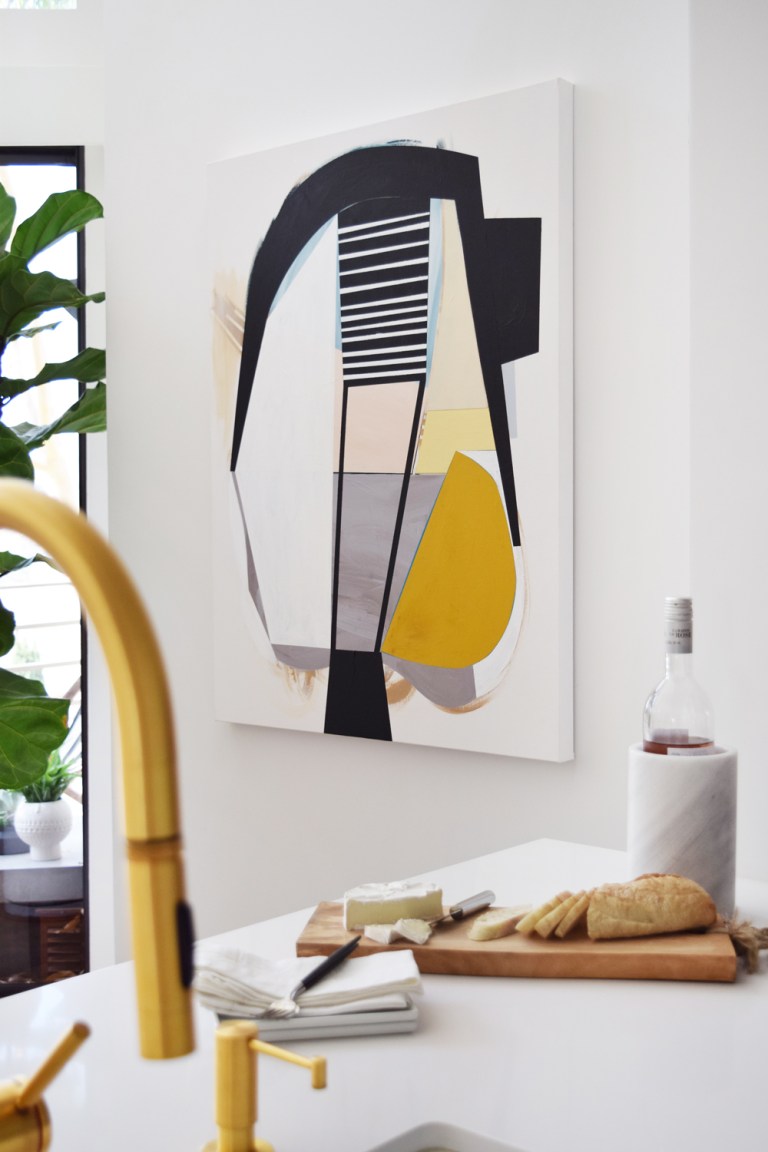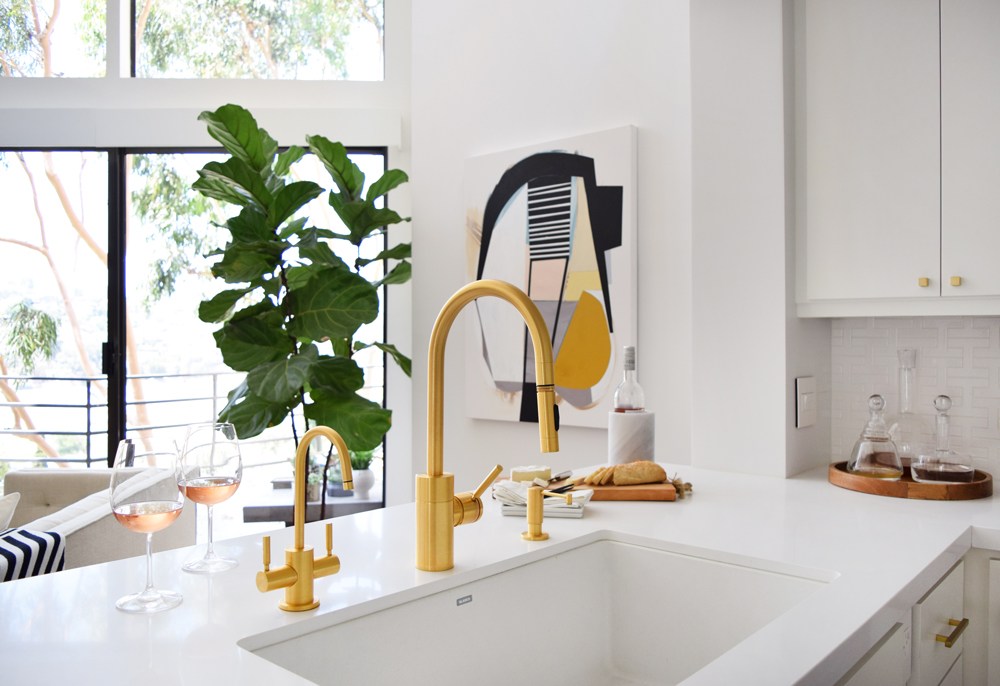 "The Courtesy of Filaments" by Saatchi Art artist Alyson Khan (Image: Orlando Soria, Hommaker.com)
When it comes to design, Orlando Soria believes in the power of moving things around. So when he landed on this spot near the breakfast bar for this gorgeous abstract painting by Alyson Khan, it was love at first sight. In his words, "I.. love how deliciously the painting goes with my crazy gorgeous Waterstone faucet… Doesn't it tickle you to see that faucet being like "HAY GURL" to the painting? And the painting's all "THAT'S RIGHT." A match made in golden-hued heaven. Not only does the painting speak to the faucet, the clean lines compliment the room's minimalist aesthetic and the black shapes draw your eye to the black outline of those gorgeous glass doors.
3. Welcome to The Jungalow

"Sonoran Trail" by Michael Beauchamp (Image: Justina Blakeney, The Jungalow)
The Jungalow founder and queen of wild-style design Justina Blakeney is known for a signature aesthetic that combines an abundance of luscious tropical plants, rich bohemian fabrics and natural textures. The effect is feeling as if you've been transported into a Matisse painting. Of course no tropical transformation would be complete without a spacious landscape painting to truly bring the outdoors in. Justina chose this bold, desert-scape by Saatchi Art artist Michael C Beauchamp. In her words, "..of course I'm very into the saguaro cacti, and the overall image of the desert and the open road gives me a feeling of adventure and endless possibility–definitely a feeling I'd want to bring into my living space." We couldn't agree more. 
4. Make it personal

(Image: Orlando Soria, Hommaker.com)
When Orlando redecorated his master bedroom, he wanted to bring in personal elements to make the space feel uniquely homey. Art is, undoubtedly, one of the most personal elements you can bring into a space. To fill the large, horizontal wall above the chest of drawers, Orlando opted for a series of striking black and white original photographs. The series comprises a panorama of Soria's hometown, Yellowstone National Park (yes, he grew up there!). Beyond creating a serene and deeply-personal vista, the white snow in the photographs adds necessary brightness to the deep-blue-hued room. Now that's serious art multi-tasking.
P.S. If you're into this look, check out our Inspired by Ansel Adams Collection.
5. Wall to gallery wall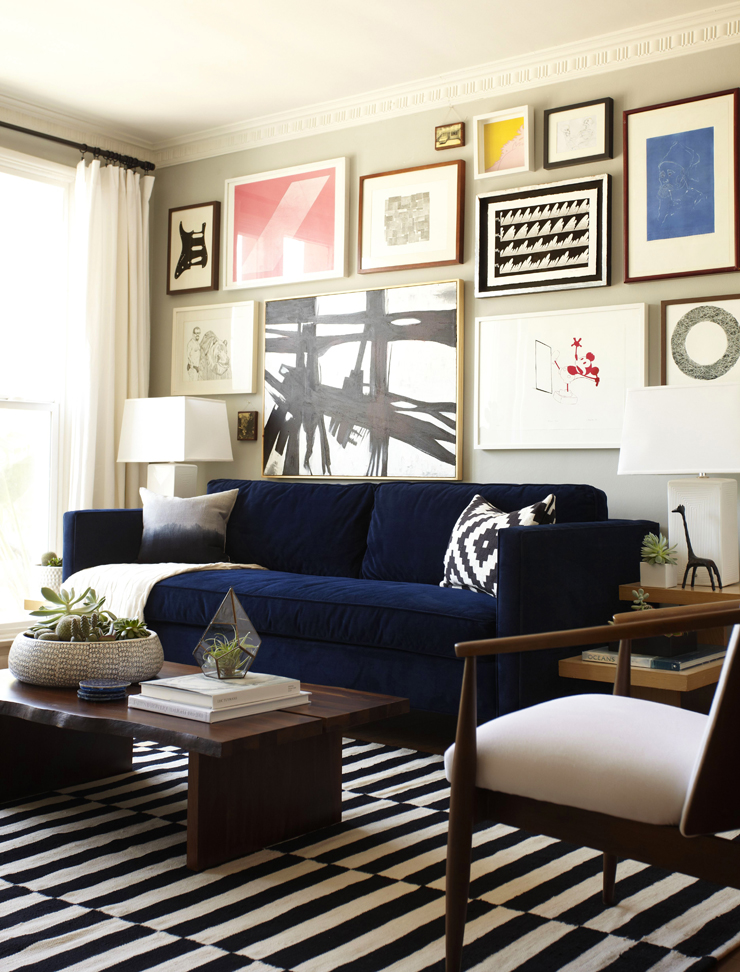 (Image: Style by Emily Henderson)
When Emily Henderson and Orlando Soria join forces, great things happen. Take for instance when they co-designed Soria's living room. Featuring sophisticated mid-century pieces, a bold geometric rug and a jewel-toned sofa, the space already had a lot of character. But to avoid things feeling too one-note West Elm, Henderson and Soria created a floor-to-ceiling gallery wall. A wall of art is statement-making on it's own, but the unconventional, some might say, 'rule breaking' choice to hang pieces right up to the edge of the sofa and ceiling is what really sets this wall apart.
6. Fear not the figurative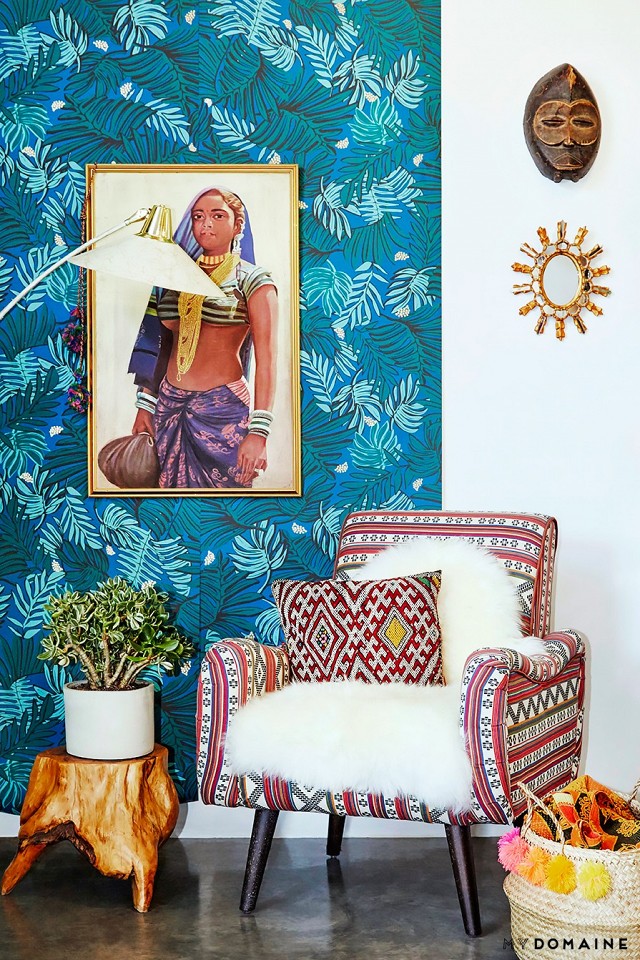 The Jungalow Offices in Los Angeles. (Image: Jenna Peffley for My Domaine)

At home in The Jungalow. (Image: @thejungalow)
Whether at home or in her Los Angeles office, Justina Blakeney is not afraid to incorporate bold, figurative paintings into her designs. Figurative realism has begun to regain popularity and for good reason. A powerful portrait brings balance and intimacy to a space dominated by bright patterns and textures. Often times people will shy away from figurative artworks – not wanting to have a 'strange face' in the house. We, on the other hand, tend to think of these portraits as new friends, soon to become old friends.
Now that you've seen the power of original artwork to not only complete a room, but take the entire space to the next level, we bet you'd like to add a few pieces to your collection…
Enter the #NoBlankWalls sweepstakes for a chance to win a $1,000 gift certificate to Saatchi Art to buy artwork you love. Three (3) lucky winners will be randomly selected September 1st. Simply snap a picture of a wall in your home that needs some original artwork and share on Instagram with hashtags #NoBlankWalls #sweeps and tag @saatchiart. Good luck!