6 Gallery Ideas for a Warm-Weather Update
Thank goodness, winter is over! Let's all take a minute to congratulate ourselves for making it through the cold! Now you're probably looking around at your surroundings, which seemed so cozy and inviting throughout the past months, and thinking they could use a fresh new design take to ring in your summer fêtes. Here are six ideas for a bold gallery wall that will get you off to the races, celebrating the gifts of the season in style!
1. Simply the Beach
Those photos below say it all, right? This gallery cuts to the heart of the matter, celebrating oceanic beauty through its stunning nuance, rather than a flashy design statement. The simplicity lets you appreciate that there is more than one way of looking at the seven seas.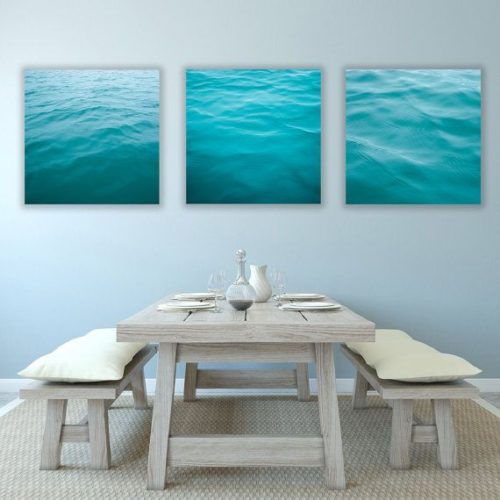 A serene ocean triptych. (Image via: Imane Magazine)
2. Tribal-Inspired
Abstract monochromatic prints throughout this gallery and its loose, organic shape dial up the mystery in this offering, which looks like it might be the perfect place to sit out an unexpected summer thunderstorm.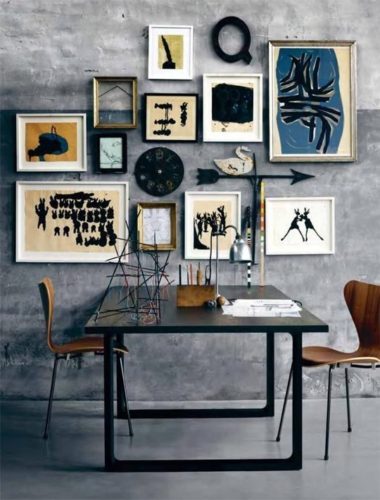 (Image via: Apartment Therapy)
3. Farmhouse Fresh
Like the sound of a ripe watermelon being split in two, or the smell of barbecue wafting from the backyard, farm-style decor definitely recalls those long, endless summer nights spent out on the back porch watching the stars. This piece pumps up the volume on some rather traditional artwork by incorporating some distressed barnyard industrial features. I love the way those hinges are paired, becoming almost a original artwork of their own.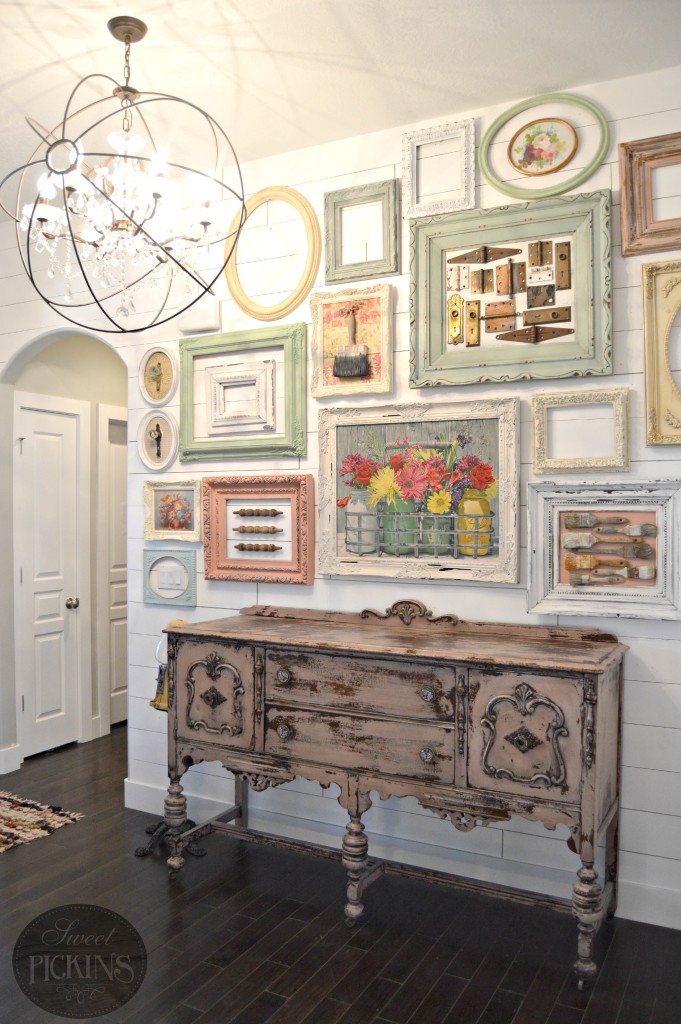 A farmhouse-chic gallery wall. (Image via: Sweet Pickins Furniture)
4. Natural Selection
Spring is the season that most beckons to part-time horticulturalists. Armed with a trowel and a fistful of seeds, each year they remake the world's yards into a tableau of florals and edibles. This stellar gallery wall, with its unique framed vertical succulents, celebrates the birds and the bees—even when April showers keep you out of the garden.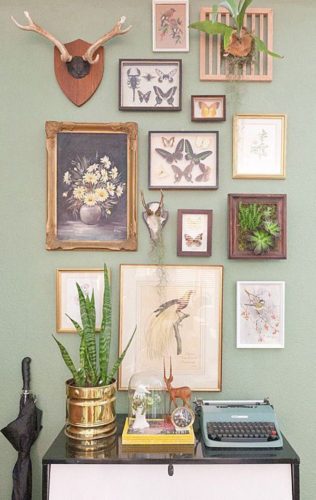 (Image via: Cromly)
5. Summer Vacation
Whether you've just wrapped up a life-changing adventure or are still garnering motivation (and funds) for that long dreamed-of vacation, a gallery wall can bring a dash of your life's travels to your decor. Particularly, try integrating some interesting maps into your ensemble, peppered with some of the more photogenic snaps from your own personal odyssey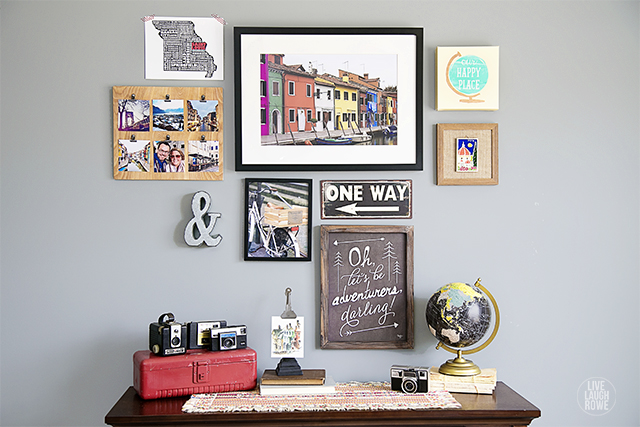 Travel-themed gallery wall. (Image via: Live Laugh Row)
6. Awesome Blossom
Forget the pale pink petals—this room is getting some serious flower power vibes from pops of electric orange, flamingo pink and bright yellow, which work with the white background for a space that's practically glowing. Meanwhile, quirky and abstract geometric notes in the separate works prevent the room from floating off into garden party territory, which should keep any space feeling fresh and original, long after the bloom is off the rose.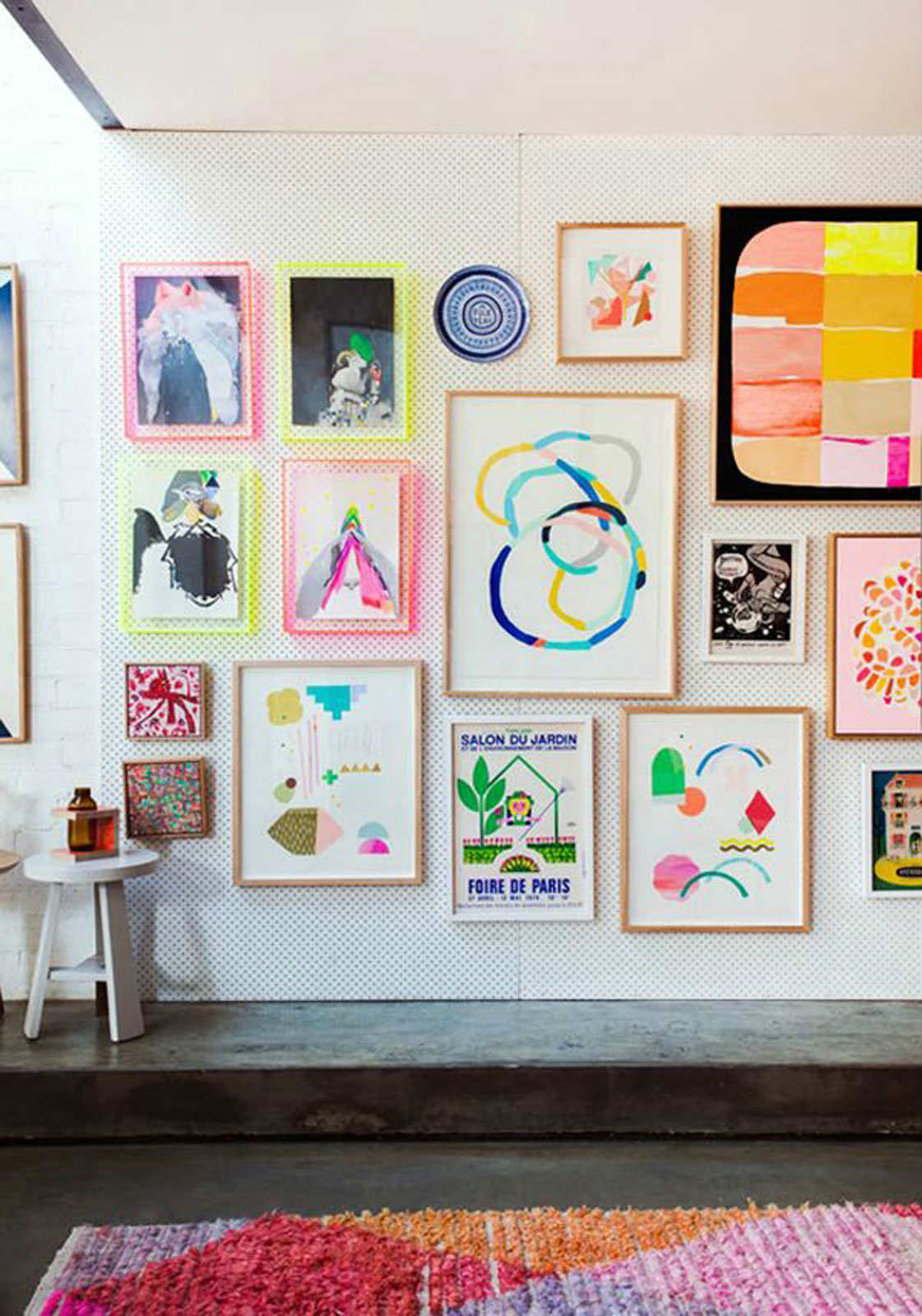 Bright neon, abstract and geometric gallery. (Image via: Brit + Co)
Ready to do a spring refresh on your gallery wall? Shop Saatchi Art's Affordable Originals for $1,000 and Under for one-of-a-kind artworks at a thrifty price.