5 Unexpected Ways to Decorate With Portraits
Seaside scenes, landscapes and abstract works all have their place, but portraits have something that other forms of artwork simply don't. When you look at a portrait, whether it is new or old, painted or photographed, you are seeing a person. A life. Portraits ignite the imagination and populate a room with hidden stories — you can't help but wonder what the subjects were thinking, feeling and doing. Here are some fresh ways to use portraits around the house.
Collected

(Image: Photo by DeRosa Photography, Courtesy of Houzz) Keep an eye out for portraits that share a trait — a similar color palette or size, or works by the same artist — and hang them as a collection for maximum impact. The paintings shown here are self-portraits by the same artist; the neat grid allows you to focus on the subtle variations between the works. Prop a Portrait Against a Shelf
Partially hidden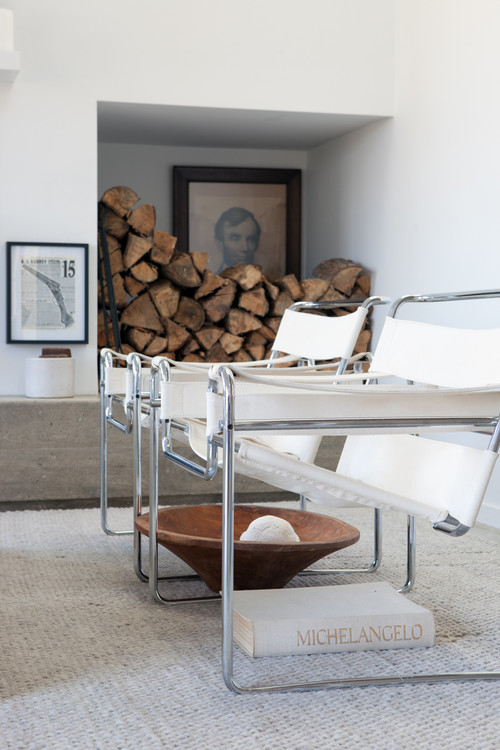 (Image: Photo by ACRE Goods + Services, Courtesy of Houzz) Peeking out from behind a woodpile is an unexpected (even a bit cheeky) treatment for a formal portrait. Or try tucking a portrait behind stacked books or plates on a kitchen shelf.
Well-lit row

(Image: Photo by Rustic Dining Room, Courtesy of Houzz) Enhance a series of portraits (whether photographs or paintings) by installing a wall sconce above each one. Nautical-style lights, as shown here, are a fresh alternative to classic picture lights. Add Sconces to See Artwork in a Brighter Light
Casually propped

(Image: Photo by Kristin Sjaarda, Design by Jean Hannotte/Hannotte Interiors, Courtesy of Houzz) Can't decide where to hang that portrait? Forget the hammer and nails — a portrait leaning casually against the wall can be even more charming. Try it on the floor or a credenza, or leaned atop the mantel. Surrounding it with a few stacks of books or a vase of flowers will help it look intentional. Credenza, Sideboard, Buffet or Server: What's the Difference?
Iconic celebrity portraits

(Image: Photo by Maxwell & Company Architects, Courtesy of Houzz) Artsy photos of celebrities are available at all price points, from (very expensive) rare and limited-edition prints at private galleries to affordable art bought online. Think of someone you really admire and see if there is a portrait that speaks to you.
SaveSave
SaveSave