10 Broad-Stroke Ideas for Choosing and Displaying Art
Art can pull a room together, although the right ways to display it can seem elusive. We hope the art we display does not feel like an accessory to the furniture. We want it to reflect a sense of our tastes and deeper selves. And so searching for the right piece — and the right place for it — can be intimidating, a challenge that we put off. Here's help so you can rise to the challenge.
Discover Saatchi Art Chief Curator Rebecca Wilson's picks for the Best Art of 2017; a great place to begin your hunt for an original artwork that inspires you and elevates your space.

(Image: Photo by Laura Moss & Blue Tangerine Art, Courtesy of Houzz)
A mixture of paintings, photographs and sculpture collected over time and travels weaves a layered tapestry about one's interests and aesthetic. Think about which medium you prefer and where your tastes lean before you start shopping. The goal is to pinpoint pieces that mean something to you, not simply choose decor to fill wall space.

(Image: Photo by Upscale Construction, Courtesy of Houzz)
Determine how much space you have available and search for pieces that are the right size. A rule of thumb is to have the art fill two-thirds to three-quarters of the wall. Size matters — for contemporary art, bigger is better to maximize impact.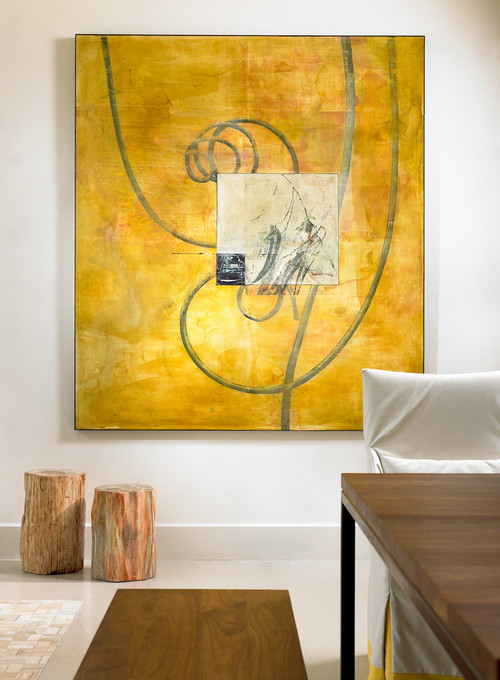 (Image: Photo by Kim Sargent, Design by Beckwith Interiors, Courtesy of Houzz)
Another rule of thumb for hanging art is to center it at eye level. Consider if you'll usually be standing or sitting in the space, and select your eye-level height accordingly.

(Image: Photo by twenty7 Design, Courtesy of Houzz)
Photography looks best mounted in Plexiglas or acrylic frames. Dare to be edgy when using art photography.
When hanging art above a sofa or another piece of furniture, like a credenza, keep the bottom edge of the frame 6 to 12 inches above the furniture.

(Image: Photo by Thom Filicia Inc, Courtesy of Houzz)
Large-scale pieces can be more expensive. If you can't make that type of investment yet, create a gallery wall of smaller prints grouped together to take the place of one large piece. Reframe pieces you already own to give them a new life.
For a budget-friendly piece, stretch a handsome, high-quality textile across a blank canvas or stretcher bars.

(Image: Photo by Design to Inspire, Courtesy of Houzz)
A constant question is how to integrate a flat-screen TV into a design scheme. A lively gallery wall can help.

(Image: Photo by Dayne Keating, Courtesy of Houzz)
Use works by the same artist or works that have a common style to bring cohesiveness and a curated feel to the art on display. Notice how the red pillows and pomegranates complement the red tones in the art.

(Image: Photo by Michael Graydon Photography, Design by Croma Design Inc, Courtesy of Houzz)
Try making art the inspiration point for a whole room's color palette and material choices. Doesn't this serene bedroom look like it was informed by the artwork, rather than the artwork being added at the end?
SaveSaveSaveSaveSaveSaveSaveSaveSaveSaveSaveSave
SaveSave
SaveSave
SaveSaveSaveSaveSaveSave
SaveSave