How To Shop for Artwork by Room
English interior designer David Hicks once said, "The best rooms have something to say about the people who live in them." And what better way to express your personality and style than through an original work of art? Let each space in your home make a statement with our definitive guide to shopping for art by room. 
Entryway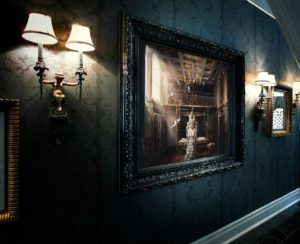 First impressions tend to stick. Make yours a memorable one with original artwork that sets the tone for your home. Not only is your foyer the first space that greets your guests, but it's likely the place that welcomes you home each day. Your entryway is both an opportunity to reflect your personality to your guests, and recenter yourself with your favorite artwork—whether you have a grand foyer with room for a monumental sculpture, or a small apartment hallway fit for a cozy salon wall. 
To find that perfect piece for this transitional space, consider the mood you want to create, and ask how you want to greet your guests, and yourself, each time you enter your home. Check out our collection of entryway stunners for inspiration.
Living Room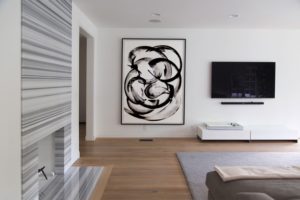 The living room is often the most happening place in the home—the place where you gather with friends and family, and where you unwind after a long day. 
You might be working with quite open wall spaces, in which case, consider a large-scale abstract to boost your mood. Your living room might also be your personal gallery for family photos and ephemera—choosing original artworks of various sizes that resonate with you can help create a cohesive gallery wall alongside your own snapshots. In either case, design is key to such a central room in your home, so take advantage of our View in Your Room feature to make sure your favorite artwork is proportional to your space. Refresh the heart of your home with an original work by an emerging artist.
Dining Room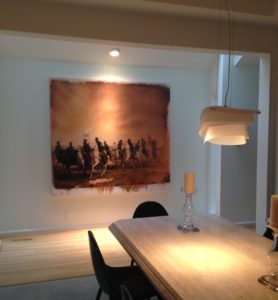 With opportunities to entertain guests on the horizon once again, you might be dusting off the dinnerware in your dining room—give your dinner guests something to talk about with an original work of art that complements the space. Often a formal room, your dining room is your opportunity to bring impact, drama, or an extra punch of personality to your home. 
With the dining table often the most central element of the room, find a work that's proportional to the width or length of the table, and hang it 4-6 inches above, or at eye level. (And don't forget to ask our curators for more details about your artwork so you can show off your cocktail knowledge). Browse our curator-approved conversation pieces to get started.
Bedroom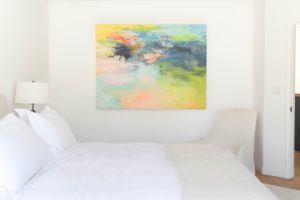 When it comes to decorating your bedroom, interior design wisdom will have you opt for subdued colors and simple, uncluttered furnishings. The same principle applies when it comes to the artwork you choose for your personal sanctuary. After all, it's the place where you sleep and wake, so choose artwork that creates a sense of calm in the evening, and energy in the morning.
The most common bedroom wall space in need of art is the area above your bed. Often a large space, opt for a work that takes up two-thirds or more of the width of your bed below. You might also consider diptychs, triptychs, or a series of smaller works to make your mark on this space. Shop for your personal sanctuary with a collection of original works.
Office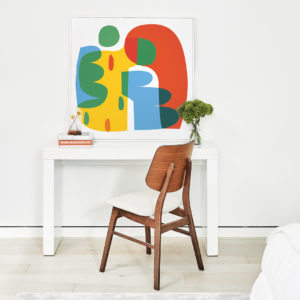 Many of us wouldn't have guessed a year ago that we'd still be working from home, and some have even made the jump to remote work permanent. If you still have the luxury of working in your PJs, it's time to take the plunge and decorate your space. 
The perfect artwork is key for a space where you may very well spend most of your waking hours. Opt for cool colors or neutrals for a calming effect, and spring for bright warm colors to energize your workflow. Clean compositions can spur focus and feelings of optimism, meanwhile lush nature scenes, figurative works, or expressive abstracts can make you feel cozy and creative.
When it comes to subject matter, find something that brings you joy and motivation (while keeping it safe for Zoom calls!). Make your home office yours with artwork recommended by our curators.
Love reading about all things art? You can have articles from Canvas, curated collections, and stories about emerging artists delivered straight to your inbox. Sign up for the Saatchi Art Newsletter.