How to Shop Art for the Office
Each space in your home has a distinct style, purpose, and feel. Find art suited for every room with the help of our How To Shop by Room series, complete with collections of suggested artworks hand-picked by our curators. Read on to learn how to build an art collection fit for a home office, and explore our Art for Every Room catalog here.
Studies repeatedly show that art impacts your mood. So when it comes to outfitting your home office, consider the energy you need to optimize your workflow and make the most of the space where you may spend the majority of your waking hours. We all know work can be stressful, and art with clean compositions—such as Paul Brouns's geometric photographs or Jiro Ishihara's airy cloudscapes—can be the perfect antidote to a hectic day. If you're looking for representation and inspiration, figurative works such as Lisa Krannichfeld's strong, suit-clad female figures can be both fun and motivating. In general, opt for cool colors and subdued compositions for a calming effect, and spring for bright, warm colors to boost energy and creativity.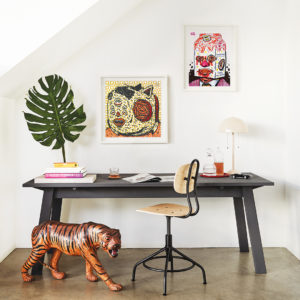 The key to curating art for a home office is selecting art that makes the space yours, while being appropriate and aesthetically pleasing for Zoom calls. Consider what's in view during your video meetings, and hang a central piece as a backdrop—abstract paintings, landscape photography, botanical scenes and minimalist designs are ideal for this function. Keep the fun, inspiring, and highly personalized artworks in your view so they can boost your mood throughout the day. Text-based art, Pop art, and figurative art are great starting points for your search for workplace art that's unique to you. 
Need more office inspiration? Check out our catalog collection of artworks suited for your work-from-home space. If you would like further guidance, contact our experienced curators for complimentary art advisory here.
Love reading about all things art? You can have articles from Canvas, curated collections, and stories about emerging artists delivered straight to your inbox. Sign up for the Saatchi Art Newsletter.