How to Shop Art for the Living Room
Each space in your home has a distinct style, purpose, and feel. Find art suited for every room with the help of our How To Shop by Room series, complete with collections of suggested artworks hand-picked by our curators. Read on to learn how to build an art collection for your living room, and explore our Art for Every Room catalog here. 
It's the place where you gather to entertain guests and unwind with family after a long week. Living rooms are particularly well-suited to salon walls or groupings of eclectic mediums, subjects, and styles. If you have personal family photos or ephemera on display in your living room, additional artworks can be the perfect way to elevate your display into a curated gallery wall.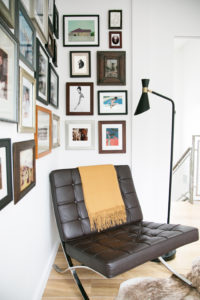 Fireplace mantels and wall space above sofas are also opportune areas to display large-scale to oversized artworks. If you're working with large wall space, opt for a statement piece that complements the textures, colors, and design of the surrounding area. For instance, the energetic, abstract paintings by Zack Goulet can bring texture to a minimalist space and can easily complement a room's existing color palette with their myriad colors. Our curators have also been loving figurative art, like Damola Ayegbayo's colorful portraiture, as a means to enhance the friendly, warm atmosphere of a cozy living space. Above all, use the free space in your living room to express your style and bring joy to your gatherings. 
When it comes to display, design is key to such a central space in your home. Keep large artworks proportional to the furniture and wall spaces—for instance, an artwork above your sofa or fireplace should be at least roughly two-thirds the width of the sofa or mantel. For gallery grid and salon walls, hang the artworks close enough to feel cohesive, with the largest works anchoring the center of the wall.
Discover more artworks for your living room in our spring catalog collection here. If you would like additional guidance, contact our experienced curators for complimentary art advisory here.
Love reading about all things art? You can have articles from Canvas, curated collections, and stories about emerging artists delivered straight to your inbox. Sign up for the Saatchi Art Newsletter.