How to Shop Art for the Entryway
Each space in your home has a distinct style, purpose, and feel. Find art suited for every room with the help of our How To Shop by Room series, complete with collections of suggested artworks hand-picked by our curators. Read on to learn how to build an art collection for your entryway, and explore our Art for Every Room catalog here. 
Your foyer is the space that greets your visitors and welcomes you home each day, setting the mood for the rest of your home. Whether you have an open foyer with room for an oversized sculpture or a hallway fit for a statement-making painting, elevate your entryway with art that reflects your personality and makes a welcoming first impression.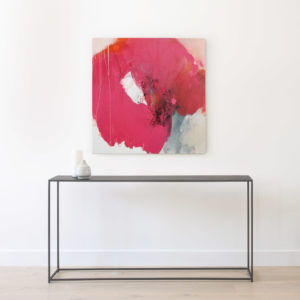 As transitional spaces, foyers make an ideal display area for large-scale, high-impact art that catches the eye of the viewer as they pass by. In particular, our curators have had their eyes on large-scale art that entrances—including ephemeral abstract paintings by Terri Dilling, mesmerizing geometric works by Melisa Taylor, and pastoral landscape photography by Viet Ha Tran. These works draw the viewer in, an apt quality for art meant to welcome guests into your home. If you're working with an open space, vertically-oriented sculptures, such as the collector-favorite ceramic totems by Cristina Figarola, can draw the eye in and up, enhancing the sense of airiness.
For three-dimensional artworks, be sure to place them in a safe area that does not obstruct the flow of the entryway. As foyers tend to be light-filled, make sure your flat artworks, like drawings or photographs, are framed behind UV-safe glass, and that your paintings are finished by the artist with a protective varnish.
Explore more entryway-ready artworks featured in our catalog here. If you would like additional guidance, contact our experienced curators for complimentary art advisory here.
Love reading about all things art? You can have articles from Canvas, curated collections, and stories about emerging artists delivered straight to your inbox. Sign up for the Saatchi Art Newsletter.