How to Shop Art for the Bedroom
Each space in your home has a distinct style, purpose, and feel. Find art suited for every room with the help of our How To Shop by Room series, complete with collections of suggested artworks hand-picked by our curators. Read on to learn how to build an art collection to fit your bedroom, and explore our Art for Every Room catalog here. 
Your bedroom is your personal retreat for rest and relaxation. The ideal art for this space will help you unwind in the evening and wake ready to face the day each morning. Being one of the rooms in the home that is completely yours, this is the place to introduce art that's personal, whether that's a specially commissioned painting of your favorite vacation spot, or something a bit more raw, like a nude figure by Zoe Lunar. Whatever the subject, calming colors and subdued compositions are key to building a space that promotes a good night's sleep. Color field abstracts with washes of pastel hues, like Anna F MacDonald's and Mila Weis's paintings, are prime examples. For fans of geometry and clean lines, artists such as Liz Mares and Hikaru O combine modernist style with subdued colors and compositions.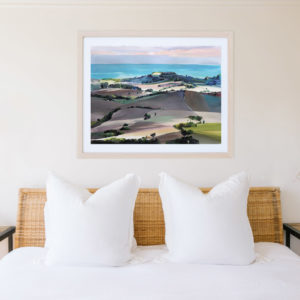 The most common bedroom wall in need of art is the area above your headboard. For a large space, opt for a work that takes up two-thirds or more of the width of your bed below. You might also consider diptychs, triptychs, or a series of smaller works to make your mark on this space. While artwork helps anchor the wall space above your bed, don't forget to place something pleasing on the opposite wall, so you can retire and rise each day to your favorite artwork.
Find other ideas for outfitting your personal sanctuary with our catalog collection of artworks for the bedroom here. If you would like more guidance, contact our experienced curators for complimentary art advisory here.
Love reading about all things art? You can have articles from Canvas, curated collections, and stories about emerging artists delivered straight to your inbox. Sign up for the Saatchi Art Newsletter.