How to Collect Drawings
Drawing is often artists' first course of action for hashing out an idea or quickly rendering a scene from the world around them. The straightforwardness of sketching has been hailed by artists like Edgar Degas, who called putting pencil to paper "the artist's most direct and spontaneous expression." Careful draftsmanship has long been one of the first skills imparted to fine art students. It still underpins the work of many great contemporary artists today—Robert Longo, Chloe Piene, Vija Celmins, and Julie Mehretu, to name a few. 
Fundamentally, as the etymology of "graffiti" attests, drawing can be defined as the mere act of inscribing a line on a surface. But this simplicity also opens up the medium to boundless potential depending on an artist's techniques, materials, and singular vision. For the art-obsessed collector, drawing can offer everything from a behind-the-scenes look into an artist's process to an inspiring instance of spontaneous beauty captured on paper. As such a foundational yet open-ended art form, original drawing just might be the pièce de résistance of your own multifaceted art collection.
Techniques & Materials
Drawing mediums can primarily be classified as dry or wet. Common dry mediums include graphite, pastel, charcoal, Conté (graphite or charcoal compressed with clay), and metalpoint (a metal stylus used to inscribe a coated surface). Common wet mediums include pen, ink, marker, and even watercolor when used linearly. Here is where the line between drawing and painting might become fuzzy, but it is, after all, the nature of art to challenge boundaries; if you're interested in ink-based artworks, we suggest exploring artworks classified as both drawings and paintings.
The type of paper used can greatly impact a drawing: textured paper is often used with soft, dry mediums, such as charcoal, as it offers more surface area for the medium to cling to. Artists often opt for smooth paper for highly detailed artworks completed in mediums such as graphite pencil or pen.
Acid-free describes paper manufactured with a neutral pH level and a buffer to neutralize any acidic compounds the paper might absorb from its surroundings. If an acid-free paper is wood-based, as opposed to cotton-based, this means the wood pulp has had its lignin removed (lignin is the culprit that turns paper yellow over time). For the collector, terms like "acid-free" or "archival" indicate that you can count on your drawing being protected from deterioration long term. 
And while it's a relatively new approach that challenges our traditional notions of scarcity and physical craft, digital drawing counts David Hockney among its devotees, and even Andy Warhol began experimenting with digital drawing shortly before his death. Digital drawings are often sold as limited edition prints on paper, and with the rise of digital art sales in general, artists creating works on screen are ones to watch today.
Popular Styles & Subjects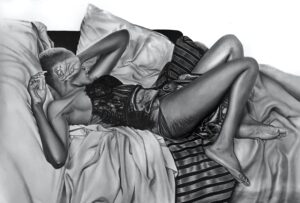 Life drawing, or drawing from a live model, typically nude, is a mainstay practice in fine art schools. This is so artists can hone their understanding of the intricacies and movement of the human figure—and three-dimensional objects in general—and better capture these complexities on paper. As a result, the human figure and portraiture are perennially popular subjects for artists and collectors. In addition to highly detailed, realistic portrayals of the body that may come to mind, figurative drawing often takes the form of gesture drawing or making quick, generalized sketches of the figure, and contour drawing, the practice of rendering a figure's essential features in one continuous line.
While fans of representational art can find a multitude of still lifes, nudes, and nature scenes rendered in pen and pencil, drawing is also ripe for abstraction. And graffiti is not just for walls and outsized canvases—street art buffs may appreciate that small-scale drawing was integral to Jean-Michel Basquiat's practice. 
Collecting Drawings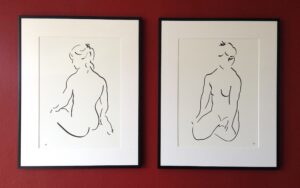 Although drawing is often available for purchase at accessible price points, preserving your drawing collection long-term will require some upkeep. Unlike canvas, paper is extremely fragile and should always be displayed behind glass. When framing your drawings, mat boards should also be made of acid-free materials like the drawing itself. Contact our art advisors for personalized guidance on building your collection, and start exploring Saatchi Art's breadth of original drawings by emerging artists today.
Love reading about all things art? You can have articles from Canvas, curated collections, and stories about emerging artists delivered straight to your inbox. Sign up for the Saatchi Art Newsletter.