15 Expert Tips to Transforming Your Home with Art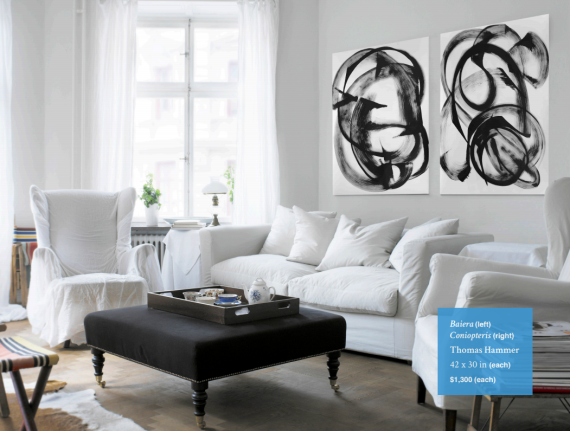 Saatchi Art recently hosted "Designing with Art," a panel discussion between AD100 interior designer Trip Haenisch and Saatchi Art's chief curator Rebecca Wilson, moderated by design maven Rose Apodaca of A+R.
During the course of the evening's panel, held at Saatchi Art's headquarters in Culver City, the panelists discussed the many ways people can integrate original art into their homes and daily lives, touching on investment pieces, working with an art advisor, and using technology to discover emerging artists.
Here are their top 15 tips to transforming your home with art:
1. Buy what you love.
The first rule in collecting art is to buy what you love before knowing where you'll put it. Don't be concerned about matching a painting to your sofa. In an ideal world, you'd match your sofa to the painting!
2. Educate yourself.
Educate yourself about art by reading magazines, visiting galleries in person and online, and by attending degree shows at your local art school. Take note of what appeals to you.
3. Take your time.
Don't feel pressured to "finish" a room or your home all at once. Take the time to collect things organically. You want to give the sense that a space has been "collected," not "decorated." Let your space show you've lived a full life.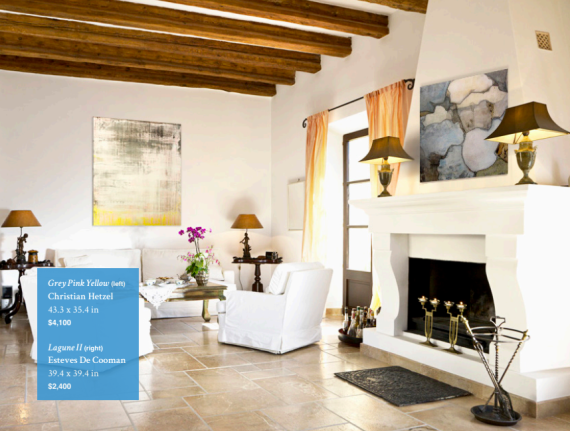 4. Enlist the help of an art advisor.
These experts have a world of artists and galleries at their fingertips, often with access that's hard to find elsewhere. The curators at Saatchi Art, for example, provide a free art advisory service that can not only help you wade through thousands of works quickly, but can help you find works you love within your budget and that can be shipped locally, allowing you to save on shipping costs.
5. Realize that price doesn't equal value.
For a lot of people starting to collect art, the dollar amount of a work is often just about ego. Remember that really special works can start at as little as $300 or $500, and that there are lots of great works available under $5,000.
6. Take advantage of rental options.
Many galleries and art museums have programs that allow people to rent art, which can help you decide if a work or style of work is something you want to live with long-term. Test things out if you are having trouble committing.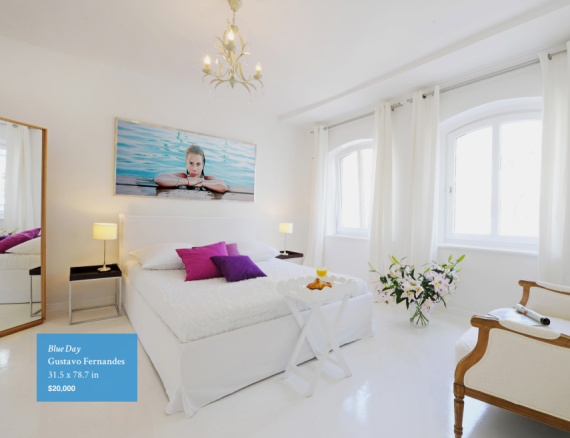 7. Build a niche collection.
Find something meaningful to you and start collecting works around that theme, whether it's photographs of glamorous women, works relating to childhood, or black and white photographs dealing with food – as Rose Apodaca and her husband/business partner Andy Griffith do – just to name a few. Choose something important to you and let it guide your collection.
8. Take risks.
Don't be afraid of making mistakes; if you love it, chances are you won't regret buying it. Don't look to your friends to set the standard – who wants an art collection that looks like everyone else's? Most galleries, including Saatchi Art, offer a return policy, so you can forge your own path with confidence.
9. Infuse art in a lot of ways.
Art doesn't just mean a canvas on a wall. It can mean a sculptural lamp, a set of ceramic dishes you use every day or a stunning piece of carved furniture. It can also be a stuffed teddy bear dipped in tar or a tree stump converted into a light fixture, two of Trip Haenisch's personal favorites. Don't impose limits on the role art plays in your life and home.
10. Experiment with art outside its usual context.
Though murals are often used as a form of public art, they can be a fantastic way to bring art into your home. Your swimming pool, TV, fireplace and even ceiling can serve as new places to display art. Saatchi Art and other galleries can help connect you with artists whom you can commission to do site-specific works.
11. Invest with your heart – and your head.
There are no guarantees when it comes to art, so the first step is to fall in love with a work since it may be hanging on your walls for a pleasurably long time! That said, there are some things to look for that often indicate an artist is on the rise:
winning a prize upon graduation from art school
being invited to exhibit in group shows
being picked up by a gallery or placed on the waiting list
A few caveats: Not all great artists go to art schools, and there aren't enough galleries in the world to go around for all the wonderful artists out there. Like in the music industry, artists are now taking to the internet to gain exposure for their work, so don't discount the "free agents."
12. Find balance.
If you already have an art collection, let it take center stage in your home, and pull back on the interior decor. Don't feel the need to have everything match, either. You can have fun juxtaposing different styles and periods. Shoot for visual harmony.
13. Be mindful of frames.
It may be an afterthought for many people, but a frame can significantly enhance or detract from a work. Sometimes an artist will incorporate a frame into the work itself or they may have a vision as to the type of frame that would best fit. Feel free to ask the artist, if possible, if you need advice. Ask a framer, too – framing in itself is its own art form. A good rule of thumb is to keep things simple so the work can speak for itself.
14. Explore new frontiers.
Discover the exciting new works coming out of countries like South Korea, India and Mexico where artists are forging new trends by fusing their cultural heritage with other traditions. Don't limit yourself to tried-and-true art hubs like London, New York and Los Angeles – amazing art comes from all over the world.
15. Use technology to connect with art and artists you love.
It's true that technology is revolutionizing our world, not least of all when it comes to art. Use technology, like Saatchi Art's "View in a Room" feature, as a tool to better visualize how a work of art might look in a particular space. Visit online art galleries and engage in social media platforms which enable access to artists all over the world. The work of your dreams is just a click away!