The Art of Twin Peaks
"My approach to film stems from my art background, as I go beyond the story to the sub-conscious mood created by sound and images."

– David Lynch
Part horror, part humor, and completely strange, filmmaker David Lynch's creative vision has captivated audiences for decades. But many of the visual cues we see in his work like Twin Peaks, the well-known mystery drama with a cult following, were actually influenced by art masters of the past. Lynch himself has a background in fine art—he studied painting at the Pennsylvania Academy of Fine Arts in Philadelphia before transitioning to film—so it is no surprise that certain artists have had a lasting impact on his cinematic oeuvre. In celebration of all things spooky this October, we unpacked a few of the many artistic references in Twin Peaks.
---
Francis Bacon
Lynch first encountered the psychologically charged portraits of Francis Bacon at Marlborough Fine Arts in New York and called the experience "thrilling." Mutilated figures, raw emotion, and flat spaces are a common thread in Bacon's works. His Seated Figure in particular bears a striking resemblance to Twin Peaks' infamous Red Room, with its plush curtains, grotesque inhabitants, and a play on geometry and space.
Lynch returned to this influence for the Twin Peaks revival this past summer, bringing the dark, cage-like compositions of works like Portrait of a Man and Two Figures at a Window to life.
---
Rene Magritte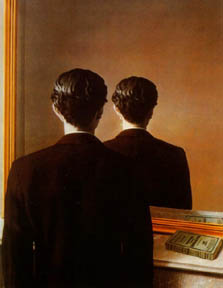 A heavy dose of the surreal is a cornerstone of any Lynchian production, and Belgian artist Rene Magritte seems to have served as a source of inspiration throughout the years. The three sinuous candles in Magritte's Meditation influenced those wormlike figures in Eraserhead. So too, in the world of Twin Peaks, does this eerie subject matter run rampant. Strange spaces, faceless figures, and doppelgangers come to life — the one seen above in Magritte's Not to be Reproduced shares an uncanny similarity with Agent Dale Cooper gazing into a reflection that isn't quite what it seems.
---
Edward Hopper

Stark realism and picture-perfect facades characterize many of the works by American painter Edward Hopper. Lynch pays homage to the artist throughout his career, using similar, seemingly quaint scenes as the backdrop for many of his films, including the Twin Peaks series. Perhaps the most notable, and most literal example of this can be seen in the newest season where viewers are transported to the 1940's.
---
Love reading about all things art? You can have articles from Canvas, curated collections, and stories about emerging artists delivered straight to your inbox. Sign up for the Saatchi Art Newsletter.