Celebrity Stylist Samantha McMillen Guest Curates an Exclusive Collection of Art
We're thrilled to have celebrity fashion stylist Samantha McMillen guest curating an exclusive collection of art as part of our ongoing Guest Curator series. Read on to discover the role art plays in her life, the first piece of art she bought, the artist she'd most like to meet, and the last great exhibition she attended.

(Image: Courtesy of Samantha McMillen)
Samantha McMillen began her career in fashion as the Public Relations Director for the fashion designer Richard Tyler. After two years with Tyler, Samantha was hired by Giorgio Armani to work in the Beverly Hills Public Relations division. Samantha spent her time at Armani working one-on-one with virtually every name in Hollywood, coordinating looks for award shows, film premieres, editorial shoots, film wardrobes, promotional junkets, and everyday living. Samantha spent eight years at Giorgio Armani, eventually landing the title of Vice President of Celebrity Relations and Special Projects. After a fruitful career growing with the brand, she decided to branch out on her own and begin a freelance wardrobe styling career.
Since then, Samantha has worked with and formed relationships with top celebrities, including Dakota and Elle Fanning, Carey Mulligan, Evan Rachel Wood, Michelle Pfeiffer, Johnny Depp, Mark Wahlberg, Ashton Kutcher, Ben Stiller, Ryan Reynolds, and more. She has worked with leading fashion photographers, such as Annie Leibovitz, Mario Testino, and Patrick Demarchelier, for the pages of Vanity Fair, Harper's Bazaar and L'Uomo Vogue and the campaigns of Nike, Versace, Omega, Nikon, Nintendo and Hugo Boss.
How would you describe your taste in art? What are you most drawn to?
I have an eclectic taste in art. I love photography (Rene Burri, Saul Leiter, Henri Cartier Bresson, Stephen Shore, Gregory Parkinson, Robert Frank, Man Ray are some favorites) and painters (David Hockney, Edward Hopper, Basquiat, Picasso, Van Gogh, Warhol, Lucian Freud).
How would you describe your personal style?
I would say classic with a little bit of an edge. Possibly a little bit of quirkiness.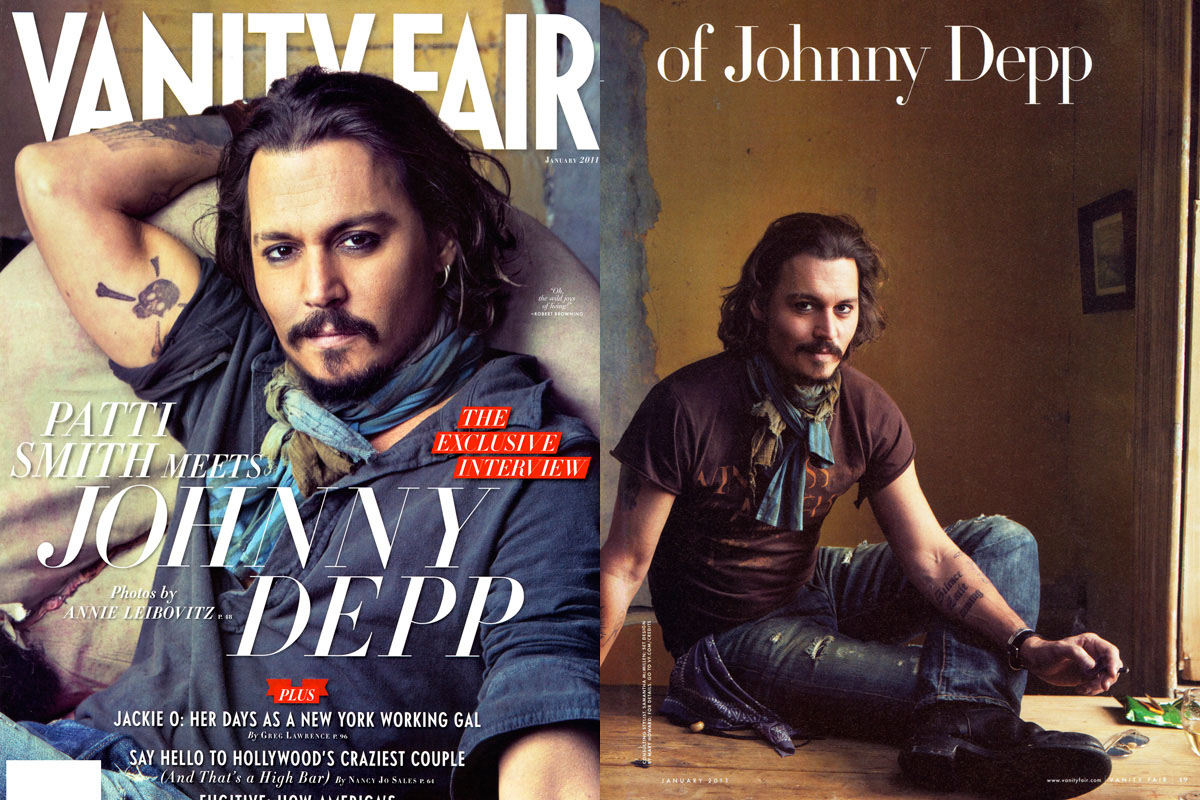 Johnny Depp, styled by Samantha McMillen. (Image: Courtesy of Samantha McMillen, The Wall Group)
What role does art play in your life?
Art plays an important roll in my life in a lot of ways. I am constantly inspired by art in all forms. Occasionally someone's Instagram photo can inspire me. Working in fashion I think you are looking for new ways to tell a story in photography, and even on the red carpet. Looking to photography, painting, street art, movies, music videos is always a good way to see things in a different way…even if it's just noticing how someone combines colors.
What do you collect?
I collect vintage clothing, vintage pulp paperback novels, art, fashion and photography books…shoes.

Ryan Reynolds styled by Samantha McMillen. (Image: Courtesy of Samantha McMillen, The Wall Group)
If you could only have one piece of art in your life, what would it be?
One piece of art in my life…I think if I could have any piece of art I would love to have an original sketch by Coco Chanel.

What books are by your bedside table?
Bedside books at the moment are Superbaby and What to Expect When You're Expecting as I am about 4 weeks from having a baby!

Jamie Foxx styled by Samantha McMillen. (Image: Courtesy of Samantha McMillen, The Wall Group)
Which artist would you most like to meet?
I'd love to have been able to meet and talk to Leonardo DaVinci…he was way ahead of his time and was an innovator and inventor and a brilliant artist.
What was the first piece of art you purchased?
My great uncle Jack McMillen was an art agent and he represented David Stone Martin who did these really cool black ink drawings of musicians, musical instruments and all that cool jazz for album covers in the 60s. He gave me a set of three and I still have them and I love them.

Josh Brolin styled by Samantha McMillen. (Image: Courtesy of Samantha McMillen, The Wall Group)
Do you have a favorite museum or gallery?
The Louvre is probably still my favorite museum. There's nothing like seeing Winged Victory, the Mona Lisa and Ophelia in person among all the other treasures.
If you could paint, draw, sculpt, photograph, etc., which skill would you most like to posses?
I'd like to be able to draw and paint better…

Diane Kruger styled by Samantha McMillen. (Image: Courtesy of Samantha McMillen, The Wall Group)
Love reading about all things art? You can have articles from Canvas, curated collections and stories about emerging artists delivered straight to your inbox. Sign up for the Saatchi Art Newsletter.
SaveSaveSaveSave
SaveSave
SaveSave
SaveSave
SaveSaveSaveSaveSaveSaveSaveSaveSaveSave
SaveSave