New York City: A Day in the Life of Thomas Hammer
Discover New York City seen from the eyes of a local artist in "A Day in the Life of Thomas Hammer." This week, Thomas opens up his home and studio as he prepares for Miami Art Week where he'll be exhibiting at X Contemporary with Annesta Le, Luis Martin, and Samantha Robinson in a show entitled 40Nº 74Wº. Thomas, who will be debuting new works at this show, offers us a peak into his daily life in New York, sharing his favorite spots along the way…
8:20AM
I'm not dogmatic about my morning routine, but when I have time to look out the window before starting my day I'm greeted with a view of glass and steel on Manhattan's west side. The skyline is changing so quickly; I think of it as the new New York. Here you can see John Jay College on the left and Bjarke Ingels' new residential building, which is nearing completion as I write this, in the distance. Peeking out between the newer construction is a beautiful Beaux-Arts structure, which formerly housed a power station for the IRT subway line during the first half of the 20th century. Now Con-Edison owns it and runs it as a steam plant.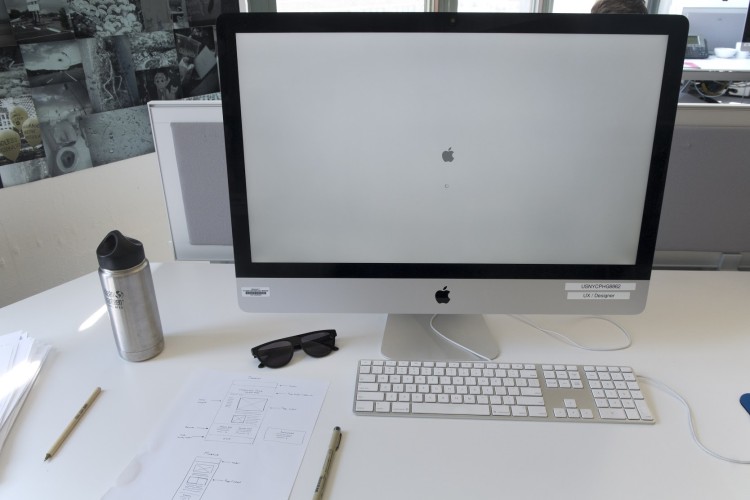 For most artists, the studio practice is balanced with a job. I work as a user experience designer on a freelance basis. I'm fortunate to work with wonderful and talented people. I'm not there today, but in another part of the multiverse my day is made up of meetings, client presentations, and headphones-on design time in front of the computer.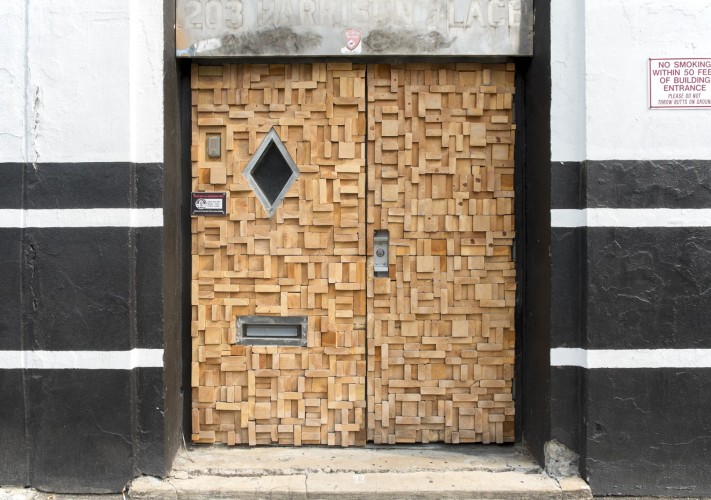 9:00AM
Here's the entrance to my studio building, which is in Bushwick, Brooklyn. It's in a big industrial building and there's a lot of manufacturing, a lot of artists, and cool new doors!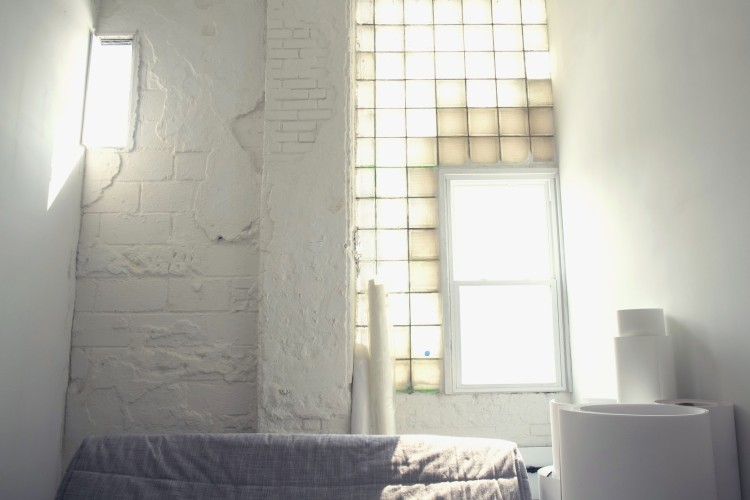 9:02AM
My favorite time to be in my studio is in the morning when the radiant light streams through the windows like stained glass. I take time to settle in, have my coffee, and get to work.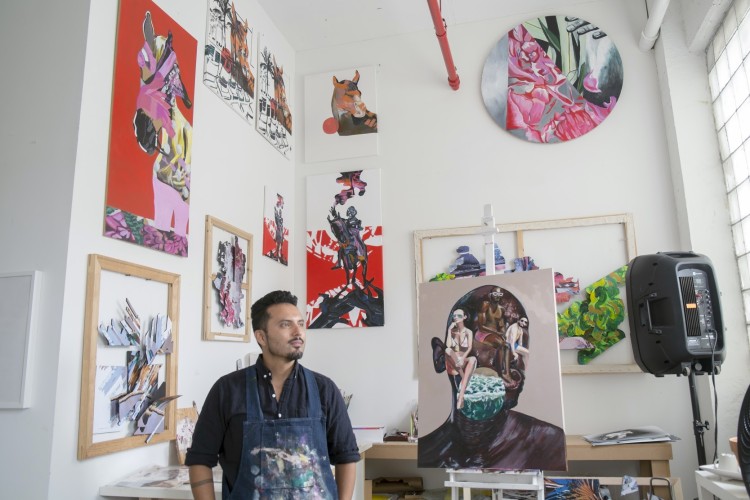 11:00AM
The studio building – Brooklyn Bush Studios – houses a supportive and vibrant community of artists. My friend Luis Martin has a studio down the hall from me. He makes gorgeous collages and paintings – check out his work at http://www.luismartinart.com. We chat for a bit and then go out to snap some photos for this feature.
11:20AM
While taking photos on the roof of the building I notice the structure that contains the mechanical systems and the stairwell. I'm constantly seeking inspiration even though I don't use photo references as part of my process. I'm convinced it all finds its way into the work somehow.
11:40AM
So, here I am back in the studio…
1:00PM
AP Café is a nice coffee and lunch spot a few blocks away. It's a serene and airy space with tons of natural light. In addition to good coffee, they make a yummy chicken club sandwich.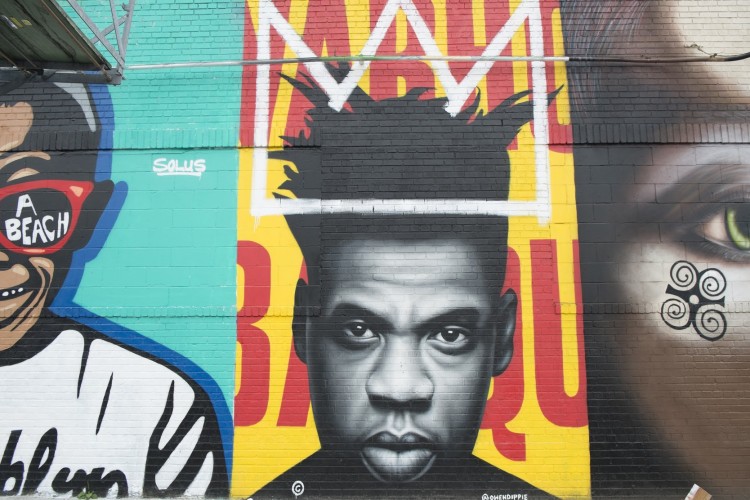 1:40PM
Much of the street art here is organized by The Bushwick Collective. The work is usually high-caliber and brings style and life to the area. This mural is Jay Z x Basquiat mashup by Owen Dippie.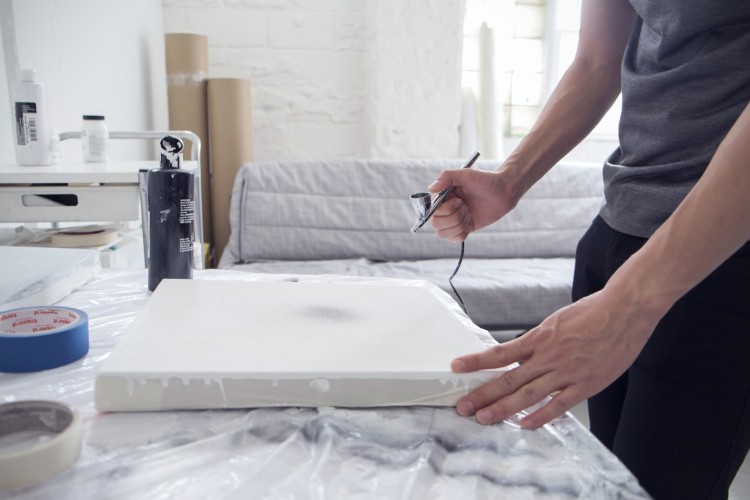 2:00PM
And now I'm back at work. I'm excited to debut a new series of paintings on Saatchi Art. Unlike my ink works on paper, which are spontaneous and bold, these are quieter and more introspective.
5:00PM
Today I'm venturing a bit outside my usual routine. It's the beginning of the 4th of July weekend and I'm off to Seattle to visit some friends who recently moved from NYC. On the train to JFK I pass by the unoccupied TWA terminal. It's eerie seeing a modern monument so pristine yet desolate.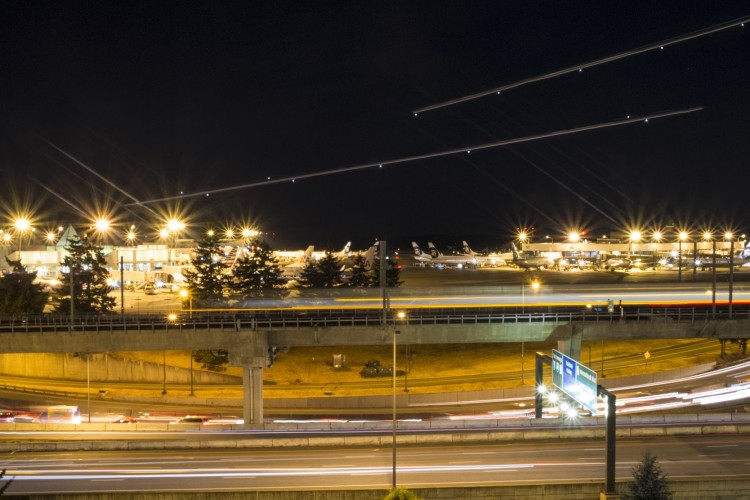 11:00PM
My boyfriend and I arrive late and go straight to our airport hotel. We have a glass of wine at the bar and he's patient with me while I take this last photo. It's a long exposure so I have enough time to consider what it means to spend my day describing what makes my surroundings unique only to end with a photo of a generic non-place, an airport and highway that looks and feels the same as all airports around the world.