Mississauga: A Day in the Life of Local Artist Hyunryoung Kim
Discover Mississauga, Ontario, Canada seen from the eyes of a local artist in, "A Day in the Life of HyunRyoung Kim." This week, in celebration of her inclusion in The Artist Project fair in Toronto, HyunRyoung offers a peek into her daily life in the city, sharing her favorite spots along the way…
8:15 AM
I wake up in the morning to take some time in a quiet place, at a quiet time for a moment of meditation. I do this routinely every morning to refresh my mind and body which helps me get through the day.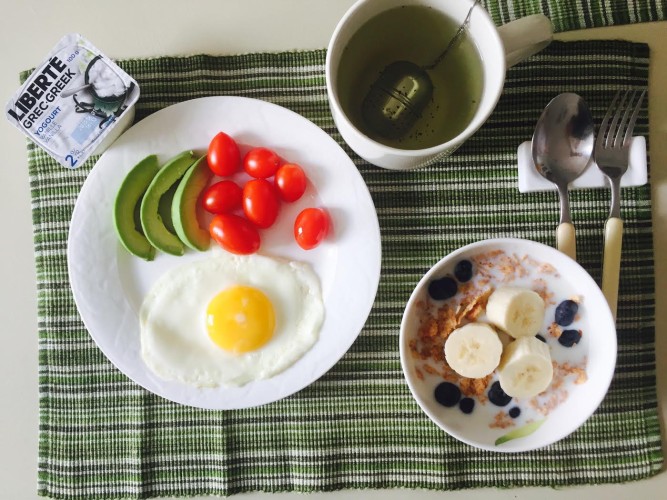 8:55 AM
This is just a typical breakfast for me. Cereal, fruits, vegetables, sunny-side up egg with yogurt and tea. Choice of tea was mint tea for the day.
1:00 PM
After spending some time working in my home studio, I have some light lunch and often go for a stroll in the park or trail around my neighbourhood. I usually need this time after working to take a moment and rest my mind with light exercise. I sometimes go for a drive on the country side road to view some country scenery and get inspirations from nature.

1:30 PM
Mt. Nemo, this is one of my favourite places for a hike. It is located 10 minutes away by car towards west of my home. Not quite so high, but still a mountain, it is the nearest one from where I live. I drive up to the trail, and from the trail I hike up to the top. At the top, there I can take in the breathtaking scenery before my eyes of the three cities close by. I can see from afar the CN Tower from City of Toronto, the city scape of downtown Mississauga and the view of Brampton towards the north in one panoramic scene.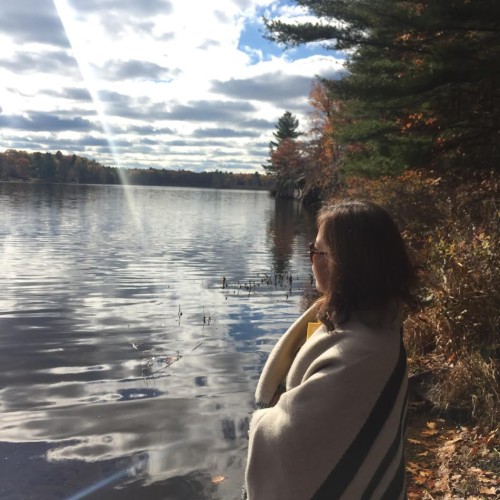 Occasionally, I visit parts of Ontario quite a distance from my home with my family. Recently, I visited up north in Moose Fall with my daughter for some breeze and found places we could never have imagined. The quite scenery was surreal. One of the most peaceful things I have ever experienced. The reflection of the sky on the lake was remarkable – this is something I always get inspirations from for my works; nature and the sky.
2:30 PM
Now I'm back in my home studio. Today, I am working on an abstract work of large size on the canvas. The canvas, "60×40", was something my husband produced from his craftsmanship. He supports me by creating the frames of canvases in the size I prefer them in for certain works in mind. The works shown here are preparations for an exhibition called, "Artist Project 2016" in February 2016 at Exhibition Place in Toronto, along with works for Saatchi Art as well.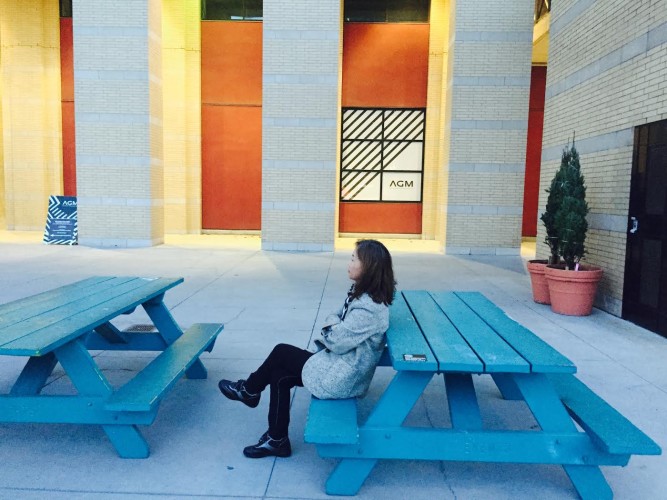 4:00 PM
When I finish working in my studio, I like to visit the AGM (Art Gallery of Mississauga) at the city centre. I take the time to go with my friends and family, and once in a while, alone to appreciate works by other artists. Also, the gallery is right beside Square One, the second largest shopping mall in Canada.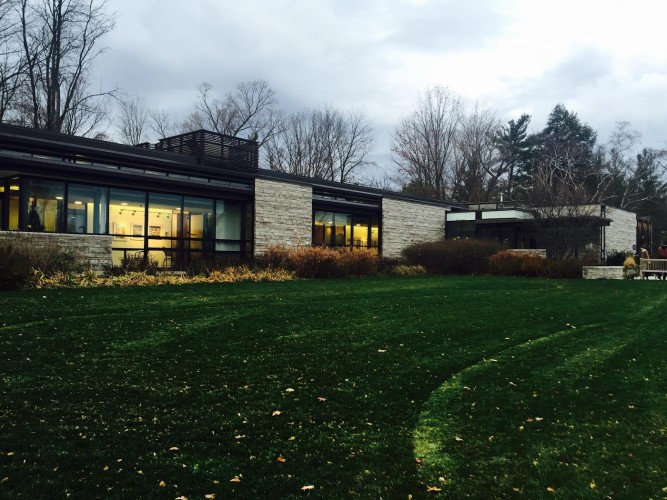 4:50 PM
After visiting the AGM, I also drop by VAM (Visual Arts Mississauga) which is the focus of the city art centre. A while back, it used to be located where University of Toronto Mississauga's location used to be as "Springbank Art Centre" however, it moved to an area near Credit River, now located inside the park River Wood Park. VAM holds numerous art activities for people with interest and passion in art. The building here in the photo was built in inspiration of Frank Lloyd Wright's architectures. It is a place I highly recommend for a visit to awe the nature surrounding the architecture and the marvelous works exhibited within the centre as well.
Now, I take my time to return home to prepare for time with family and family dinner.
9:30 PM
In every moment of my life, I enjoy the active aspect of living through travel and inspirations of nature. I live every moment with a new and good motivated attitude, ending each day as a good day.
Click to discover more works in HyungRyoung Kim's portfolio.