Exclusive Art Collection Curated by International DJ Michaelangelo L'Acqua
We're thrilled to have international tastemaker and music director Michaelangelo L'Acqua guest curating an exclusive collection of art as part of our ongoing Guest Curator series. Read on to discover the role art plays in his life, the first piece of art he bought, the artist he'd most like to meet and—bonus!— an exclusive playlist especially for Saatchi Online.

(Image: Michaelangelo L'Acqua)
An internationally renowned music lifestyle curator and DJ, Michaelangelo L'Acqua has produced the soundscapes for hundreds of fashion shows in Paris, Milan, and New York as well as played live at high profile events including the celebrity studded amfAR gala during the Cannes Film Festival.
L'Acqua, who previously curated the music for Tom Ford for Gucci and YSL, serves as the Global Music Director for W Hotels Worldwide, a position that has him traveling the world to host concerts with Alicia Keys in London or DJ boot camp in Bali.
On a rare stop-over in New York, technically his home base, we asked the talented L'Acqua to curate another type of compilation, an exclusive collection of artwork from Saatchi Online. Here are his selections along with five of his favorite songs that embody summertime.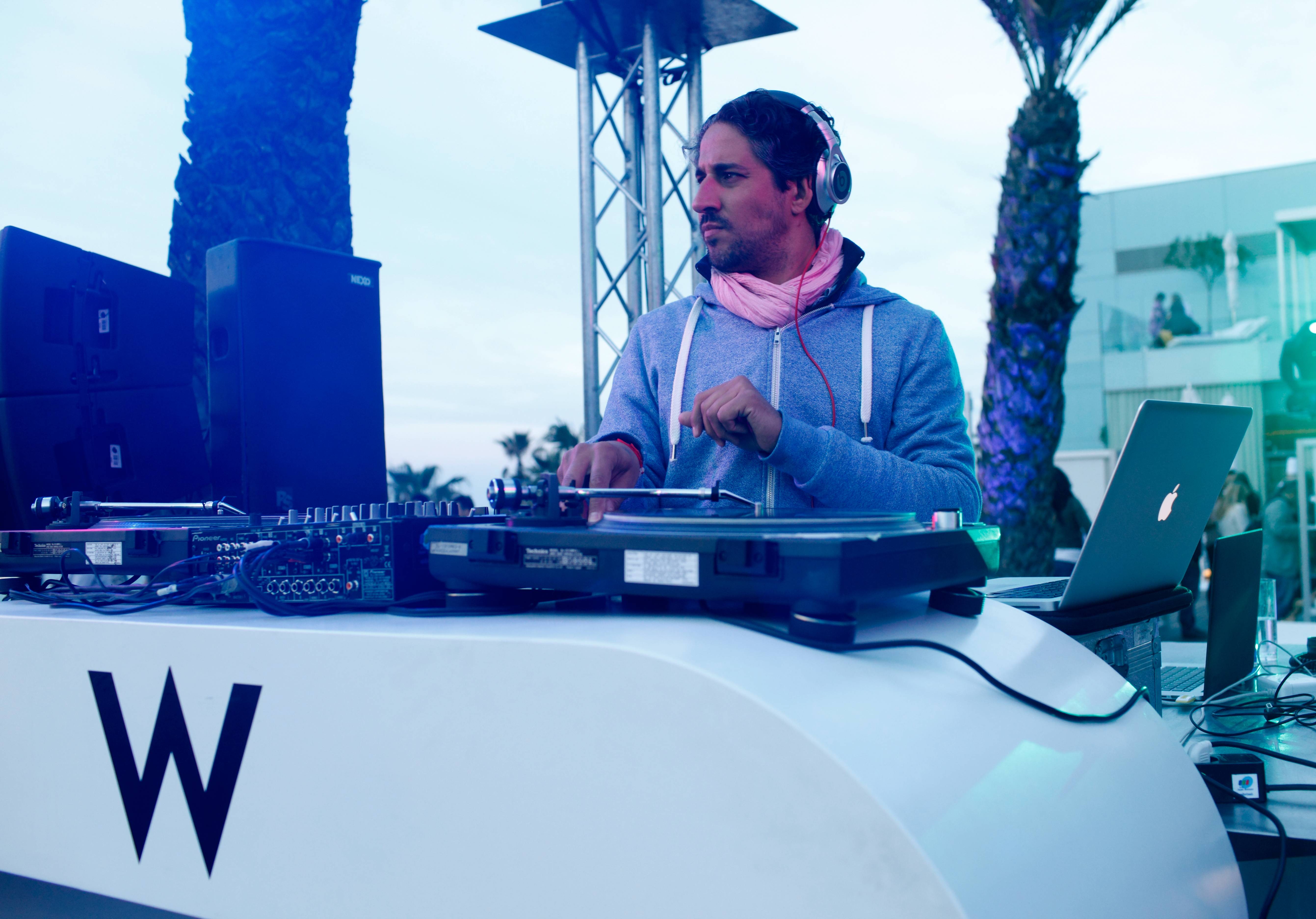 Michaelangelo L'Acqua DJing at the W. (Image: Michaelangelo L'Acqua)
How would you describe your personal style?
European refined meets classic downtown old-school hipster.
How would you describe your taste in art?
I'm visual over intellectual.
What role does art play in your life?
Art feeds my appreciation for unconscious manifestations.
What do you collect?
Music, instruments, and suits.
If you could only have one piece of art in your life, which would it be?
A Rothko. A big one.
Which artist would you most like to meet?
Dalí.
What was the first piece of art you purchased?
A piece from a graffiti artist named Log1k.
What was the last museum or gallery you visited?
The Guggenheim.
Favorite city to explore/experience art?
Berlin.
 Abstract or Figurative?
Abstract.
Color or Black + White?
Depends on my mood.
Digital or Analog?
Analog.

A deflating "Rubber Duck" by Dutch artist Florentijn Hofman that Michaelangelo spotted in Hong Kong. (Image: Michaelangelo L'Acqua)
Bacon or Basquiat?
Basquiat.
Murakami or Mondrian?
Mondrian.
Rothko or Ruscha?
Rothko.
The Beatles or Rolling Stones?
The Beatles.
Michaelangelo's playlist for the International Summer Jet-Set:
1. Lorde – "The Love Club"
2. MS MR – "Hurricane"
3. London Grammar – "Strong"
4. Banks – "Before I Ever Met You"
5. Disclosure – "Latch (feat. Sam Smith)"
Love reading about all things art? You can have articles from Canvas, curated collections and stories about emerging artists delivered straight to your inbox. Sign up for the Saatchi Art Newsletter.
SaveSaveSaveSave
SaveSave
SaveSave
SaveSaveSaveSaveSaveSave
SaveSave
SaveSave