Guest Curator Karen Robinovitz Selects Her Favorite Works on Saatchi Art
We're thrilled to have entrepreneur, author, and media marketing pioneer Karen Robinovitz guest curating an exclusive collection of art as part of our ongoing Guest Curator series. Discover her selection of works on Saatchi Art below.

Karen Robinovitz. (Image: Rafael Fuchs)
Karen Robinovitz
Entrepreneur, Author, and Media Marketing Pioneer
A media maven, entrepreneur, trend expert and author, Karen Robinovitz is a multi-talented marketer who seems to have her hand in every fashionable pot. It's amazing that this Chief Creative Officer and Co-Founder of Digital Brand Architects finds the time for museum shows, gallery hopping and studio visits, which she and her husband seem to do every weekend in New York and during their travels.  Her passion for discovery ­ is something she expertly honed in her career, which­ comes through in her love of art. Check out the exclusive collection she curated for Saatchi Art filled with emerging talent from across the globe.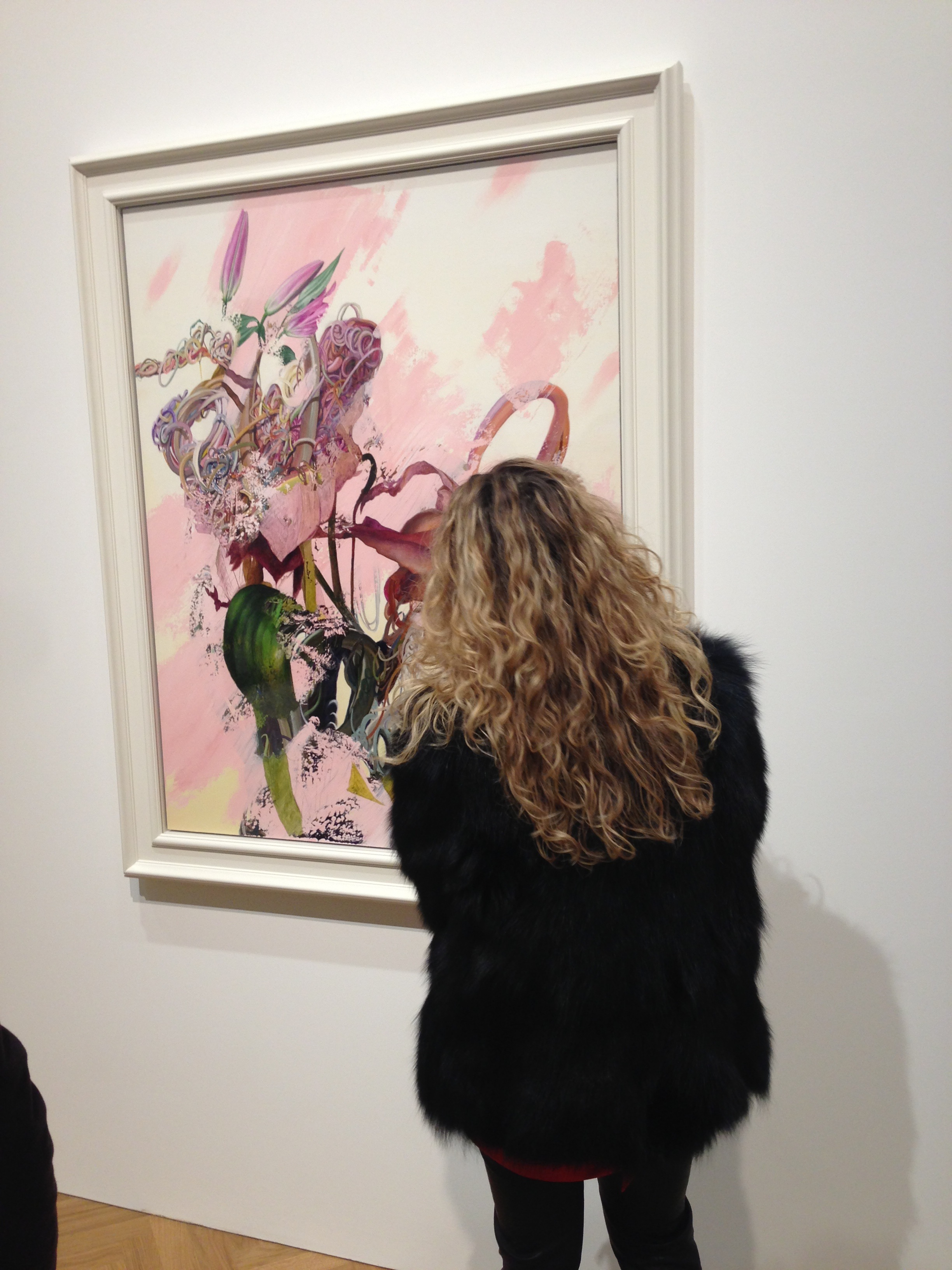 Karen admiring a Keith Tyson piece. (Image: Karen Robinovitz)
How would you describe your taste in art?
Dirty glamour – everything I gravitate towards has an element of raw grit and high gloss at once.
How would you describe your personal style?
Directional, relaxed chic with bold accessories. I love a loose silhouette with the perfect drape and often architectural shapes a la Haider Ackermann, Rick Owens, Celine, and Givenchy with a touch of whimsy sometimes in the vein of Dries and Mary Katrantzou. Tilda Swinton is my spirit animal.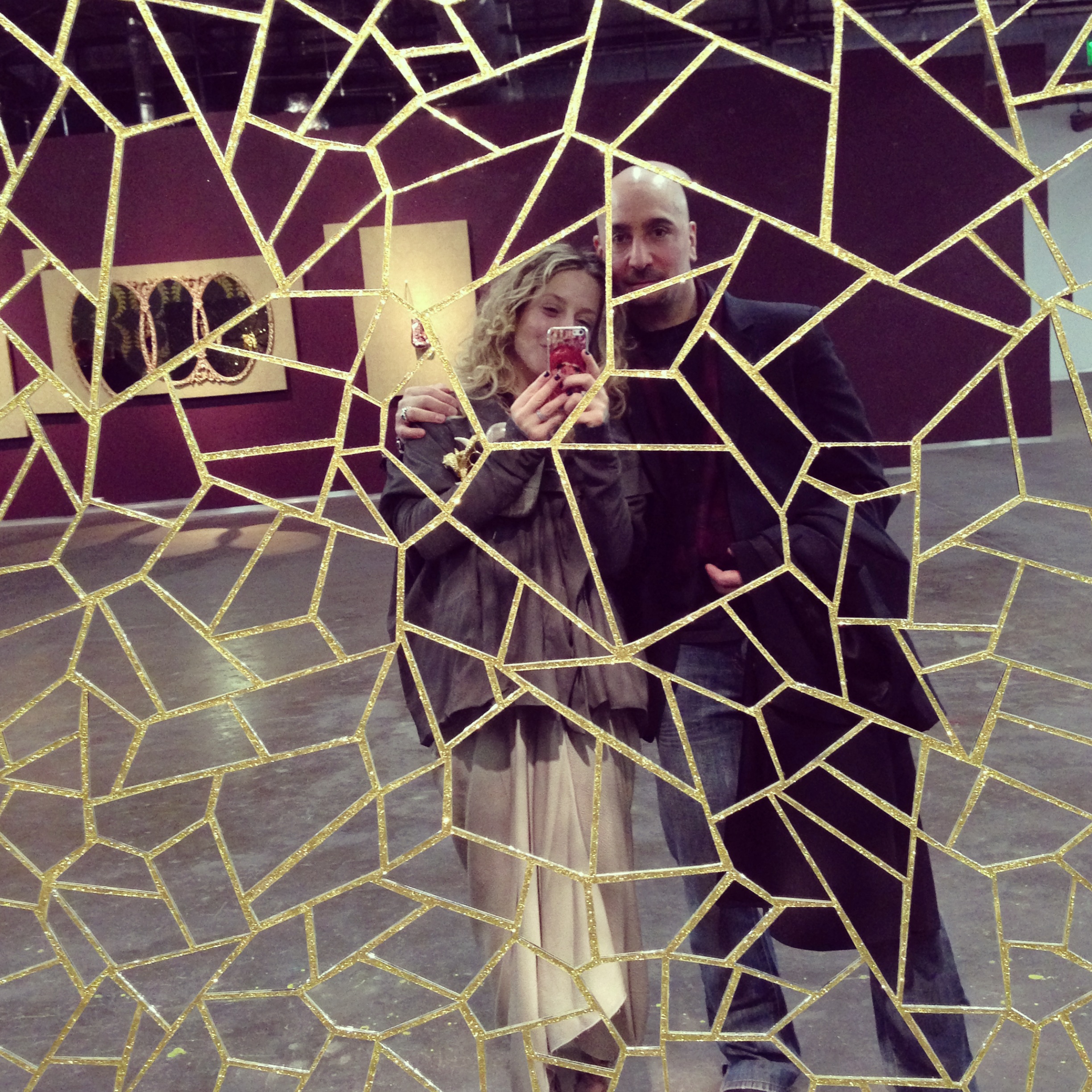 Karen and her husband Todd in a Dzine mirror piece at Dallas Contemporary opening. (Image: Karen Robinovitz)
What role does art play in your life?
A constant inspiration. It is what I do with my husband almost every weekend and it is something I want to surround myself with at all times.
What do you collect?
Jose Parla, Marilyn Minter, Rachel Howard, Luis Gispert, Dzine, Kevin Francis Gray, Wangechi Mutu, Matthew Brandt. On the list is Angel Otero, Tracey Emin, Teresita Fernandez, Mickalene Thomas, Sam Falls. I can go on.

Karen and Todd hanging prayer flags in Bhutan. (Image: Karen Robinovitz)
If you could only have one piece of art in your life, what would it be?
That would be torture. In my fantasy, it's either a giant Koons in my backyard or James Turrell does all the lighting in my home so I live in a giant living piece.
Which artist would you most like to meet?
What I would have given to be in the factory with Andy and Jean-Michel. I'd love a dinner with Ed Ruscha.

Photo of monks in Bhutan, taken on Karen's trip there. (Image: Karen Robinovitz)
What was the last museum or gallery you visited?
James Turrell at the Guggenheim. I could have stayed on the floor, looking up, forever.

What was the first piece of art you purchased?
A fashion illustration by a French artist called Matteo.
Favorite city to experience art?
NYC. Then London.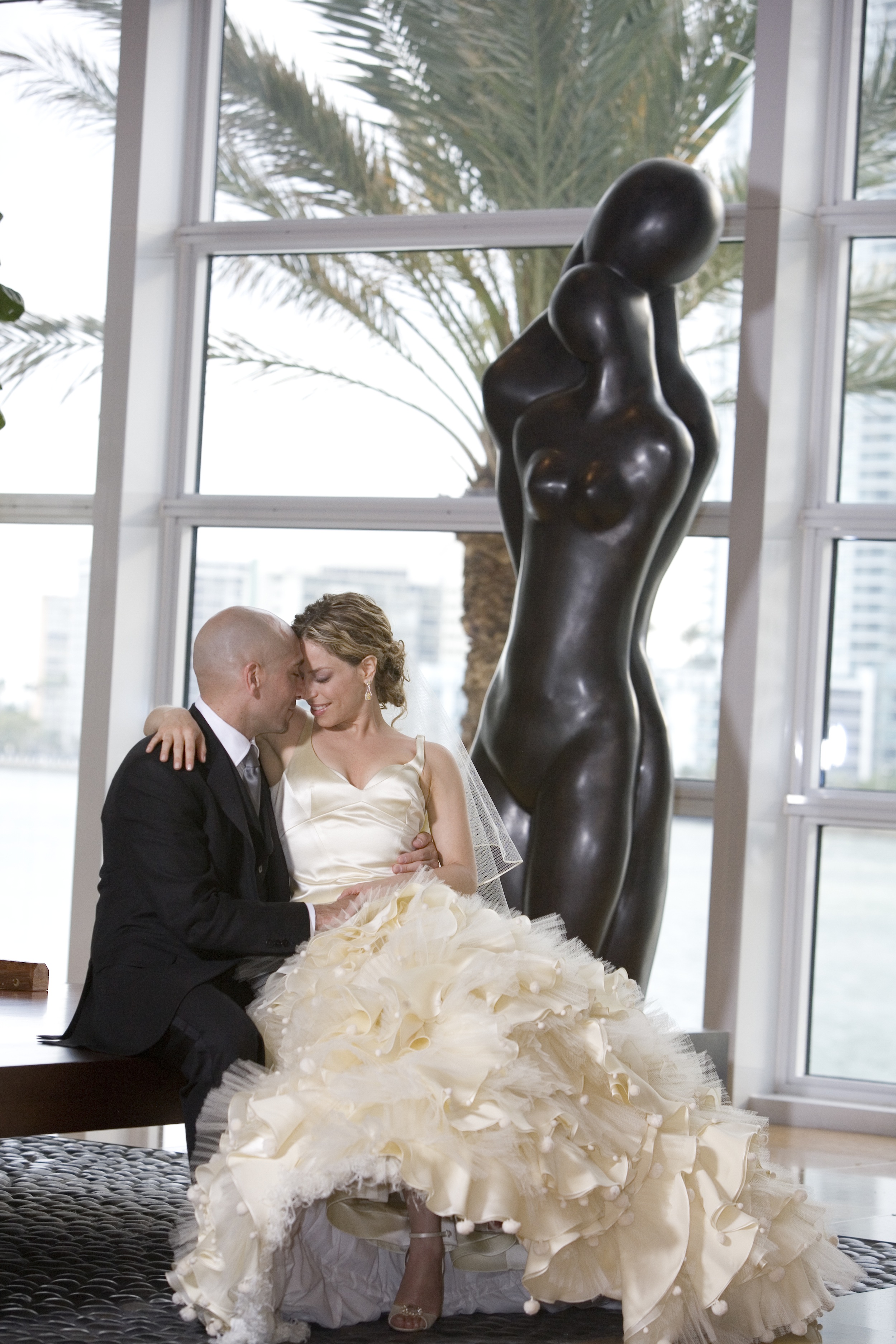 "In love with husband and this Henry Moore," says Karen. (Image: Karen Robinovitz)
Abstract or Figurative? Abstract.
Color or Black + White? Both.
Digital or Analog? Analog.
Bacon or Basquiat? Basquiat.
Murakami or Mondrian? Murakami.
Rothko or Ruscha? Ruscha.
The Beatles or Rolling Stones? Stones.
Love reading about all things art? You can have articles from Canvas, curated collections and stories about emerging artists delivered straight to your inbox. Sign up for the Saatchi Art Newsletter.
SaveSaveSaveSave
SaveSaveSaveSaveSaveSaveSaveSaveSaveSaveSaveSaveSaveSave
SaveSave
SaveSave