Ryan Stanier, Founder of The Other Art Fair

We are thrilled to have Ryan Stanier, founder and director of The Other Art Fair, exclusively select artworks for our ongoing Guest Curator series. Discover Ryan's selection on Saatchi Art and learn more about the importance art plays in his life.

(Image: The Other Art Fair)
Ryan Stanier entered the art world in 2010 with the opening of Artbeat, a commercial gallery space in London, dedicated to promoting emerging artists. Similar to the mission of Saatchi Art, Ryan is intent on closing the disparity between collectors wanting to support new talent and fresh artists struggling to make their presence known. In 2011, Ryan launched The Other Art Fair. Now in its twelfth edition, The Other Art Fair creates direct communication and recognition from emerging artist to collectors.
The Other Art Fair is one of the UK's leading art fairs to discover emerging talent. Since it's inception five years ago, The Other Art Fair has established itself in London and Bristol, and has now international renditions in Sydney, Australia.
What was the first piece of art you bought?
The first artwork that I bought was a pencil drawing of a semi-naked man standing in a loin cloth aggressively pointing at the viewer. I bought it in Paris Flea Market and instantly fell in love. It ignited my love for buying art and I have been addicted ever since.  
How would you describe your taste in art? What are you most drawn to?  
My taste in art follows two contradictory extremes. On one hand I love minimal black and white illustration which challenges the viewer to create meaning behind such simplicity. Then conversely I'm attracted to bright abstract paintings.
I find it fascinating to consider not only what qualities attract viewers to certain artworks but also why and how these qualities might be reflected in our personalities and perhaps sit in our subconscious.
On a more simplistic level it is possible that I'm drawn to this type of work as I'm colourblind and therefore these elements appeal to me.
Of course art plays a big role in your professional life, does it also play a role in your personal life? If so, how? 
Yes of course. I wouldn't be able to passionately run an art fair if art was not part of all aspects of my life. I'm frequently surprised by the many places where we view or participate in different forms of art; whether it's watching ballet, attending a gig, going to the theatre or even a soccer game.
What do you collect? 
I don't collect work from any specific artist and my choices are always made on intuition and instinct. It's how everyone should buy art.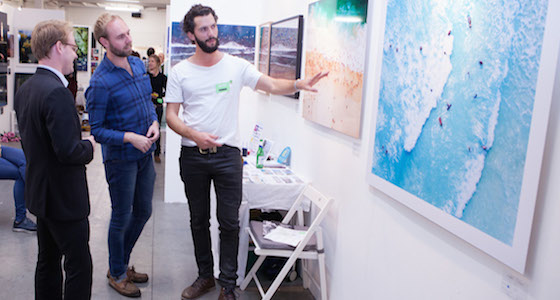 Artists speaking directly to collectors about their work. (Image: The Other Art Fair)
How would you describe your personal style?
Sometimes smart, frequently comfortable and aspirationally bohemian.
If you could only have one piece of art in your life, which would it be and why?
Lucien Freud's 'Kate Moss' 2002 because it makes me smile.
What music are you currently listening to?  
Right now I'm listening to London Grammar, Christine and the Queens, Kendrick Lamar and Led Zeppelin to name just a few.
What is your daily art read / daily source for inspiration? 
My daily reads include The Guardian, The New Yorker, Economist, Monocle and the Financial Times at the weekend.

Attendees at The Other Art Fair. (Image: The Other Art Fair)
Do you have a favorite museum or gallery? 
Of course I love the great museums of the world such as Tate Modern, MOMA, Guggenheim etc, but my favourite space is a small museum at the end of my road – the Zabludowicz Collection. Its founder Anita Zabludowicz transformed an old Methodist church into a beautiful contemporary art space with a focus on presenting work from young emerging artists. I particularly enjoy the experience as I'm often the only person in the space so it feels like my own private museum, if only for a few minutes.
If you could give one piece of advice to young artists, what would it be?
Stay modest. The most successful artists I know are also beautiful people. This applies to anyone…
When you founded The Other Art Fair in 2011, did you envision it becoming the globally disruptive phenomenon it has become in five short years? 
I don't think that you can ever predict what will happen, yet from the start I had a strong vision and belief in what The Other Art Fair could be.
When I saw my artist friends constantly looking for opportunities to get their work in front of buyers and on the other side I had a host of friends who felt excluded and intimidated about the prospect of buying art, it made sense to create an event that brings the two together in a fun, unpretentious yet aspirational space. Visitors to the fair love talking to the artists directly whilst listening to music and enjoying a cocktail; artists love the opportunity to meet buyers directly.
Where do you see TOAF in another five years? 
I feel that I've only just started and the next five years will see the fair grow across the globe, creating more opportunities for both artists and buyers. It's an incredibly exciting period.
Agree or disagree (and why): The art world is being democratized.
Absolutely. This democratic approach is driven by platforms such as Saatchi Art and The Other Art Fair. Both provide an opportunity to artists and enable art buyers across the world to access and discover the best quality artwork. This is the future of art buying!
Love reading about all things art? You can have articles from Canvas, curated collections and stories about emerging artists delivered straight to your inbox. Sign up for the Saatchi Art Newsletter.