Juliette Loughran, Founder of Loughran Gallery in London Selects Her Favorite Works
We're thrilled to introduce you to Juliette Loughran founder of Loughran Gallery, as part of our ongoing Guest Curator Series. Ahead of the opening of Saatchi Art artist Maddie Rose Hills' exhibition at Loughran Gallery this week, Juliette took a moment to talk about her art collection and which artists inspire her, and share a selection of favorite artworks on Saatchi Art.
Founded by Juliette Loughran in 2013, Loughran Gallery was launched through an ambitious series of pop-up shows that harnessed the eclectic energy of London at various cultural landmarks in the city; from a converted shipping container in Shoreditch to an award-winning complex on the South Bank. This fresh approach to exhibiting contemporary art caught the attention of collectors and press alike.
Raised in Lancashire, Juliette followed her father into the family business, a leading independent performance and luxury car specialist. With 8 years' experience, it was then that Juliette decided to combine her entrepreneurial spirit with her love of contemporary art and create her vision of an art gallery with a refreshing and relaxed approach to art.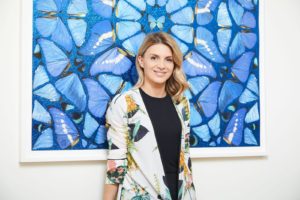 Juliette Loughran Portrait Photo Credit Luca Nocera
What was the first piece of art you bought?
One of the first artworks that really meant something to me were a pair of Hummingbirds by Dave White. At the time, Dave's studio was really close to my office. I arranged to visit him, but before I could, I was rushed into hospital with a ruptured appendix. As soon as I got out I literally hobbled into the studio and fell in love with these beautiful Hummingbirds; it was the first time we met and we still laugh about it now. Today, they are in my bedroom and make me smile every day.
How would you describe your taste in art? What are you most drawn to?
I would describe my taste as quite eclectic, I'm drawn to so many different styles. I like to use art to create a mood throughout my home – my bedroom is very peaceful with quite sentimental works. I counterbalance this with colorful and witty works throughout my kitchen and living room to make the spaces feel more fun and uplifting.
What role does art play in your life?
A huge role. Art is there from the minute I wake up to the minute I go to sleep, and I find it really inspiring in so many different ways.
What do you collect?
Dave White, Jessica Zoob, Harland Miller, Polly Morgan, Damien Hirst, Fredderique Morrel, Jonathan Yeo, Tracey Emin, and many more.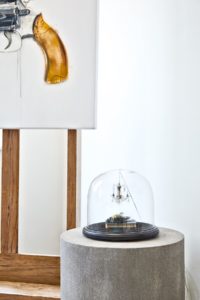 How would you describe your personal style?
Quite random, I can be super casual or really dressy depending on my mood. My favorite is to to mix beautiful designer pieces with a more laid back vibe.
If you could only have one piece of art in your life, which would it be and why?
No 20 (Yellow Expanse) by Mark Rothko would be the absolute dream.
Which artists would you most like to meet?
I'd like to meet Warhol and Basquiat together. It sounds like they used to terrorize New York, so I would love to see them in action!
Which books are on your bedside table?
Daily Love by Mastin Kipp, Gabrielle Bernstein's The Universe Has Your Back and Playing to The Gallery by Grayson Perry.
What music are you currently listening to?
Buena Vista Social Club and Michael Kiwanuka.
What was the last great exhibition you went to?
David Hockney's retrospective at the Tate Britain. I've loved his work for as long as I can remember, so it was quite nostalgic for me. I went to school in Yorkshire and we'd go on trips to Salts Mill and study him and his work. I'd love one of his paintings one day and have always dreamed of visiting his studio in L.A..
Do you have a favorite museum or gallery?
I love to visit the Tate Modern in London, LACMA in L.A. and The Whitney in New York. Often my favorite ways to see art is outside; I love to walk in cities, especially on the High Line in New York.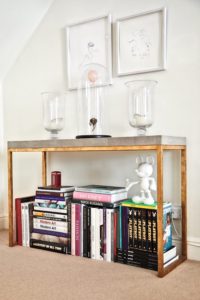 If you could give one piece of advice to young artists, what would it be?
Stay true to yourself and your work. People will always give you their opinion whether it's wanted or not – try and decipher what to listen to and what to ignore. It'll be important to develop a degree of resilience and an understanding that not everyone will like what you're doing, which is OK. Work hard and you'll get to where you want to be.
What would you like to do if you weren't pursuing your current line of work?
I'd love to create a space for teenagers and young adults. Somewhere safe and fun where both girls and boys could come and talk about any troubles they have, or just general life. There would be classes on all things art and creativity, nutrition, exercise, yoga, meditation – anything and everything to help navigate through and be their happiest self. There's so much pressure today with social media to have the perfect life or the perfect body, it's like a minefield!
What projects are you currently working on?
We're just about to launch a show by Maddie Rose Hills called "Boundaries," which is inspired by natural landscapes, rough seas, cliff edges and huge mountains. Maddie's an artist I was introduced to last year. I've been watching her work and I'm really excited to launch her first solo show with Loughran Gallery. The work has a very organic feel, she's definitely at artist to watch for the future.
See all of Juliette's exclusive collection here, and all of our past Guest Curators here.