Art, Advice, and More with Artist Vanessa Prager
We're thrilled to introduce you to Vanessa Prager, artist and painter based in Los Angeles, as part of our ongoing Guest Curator Series. Right in time for her brand new solo show in Santa Monica, Vanessa took a moment to select some of her favorite works on Saatchi Art and answer a few of our questions about the role art plays in her life. 
Born and raised in Los Angeles, Ca., artist Vanessa Prager paints dense and furry oil paintings that relish in the peaks and valleys of extruded oil paint. Her main subject is the face, and with multiple colors on the brush she blends pigment, not just in the X or Y dimensions, but gravity-defyingly outward into the Z. Perception, perspective, and information flow are all central themes to her work, which became more widely recognized after her 2015 exhibition Dreamers—a series of "imagined" portraits which cross the border between the figurative and the abstract—opened and sold out completely. W Magazine described the paintings as "sculptural," stating that the, "nameless characters are barely visible up-close, but at distance they seem rise out of frantic ether like ghosts." In January 2016, Prager's first solo exhibition in NYC, Voyeur, opened with highly favorable reviews.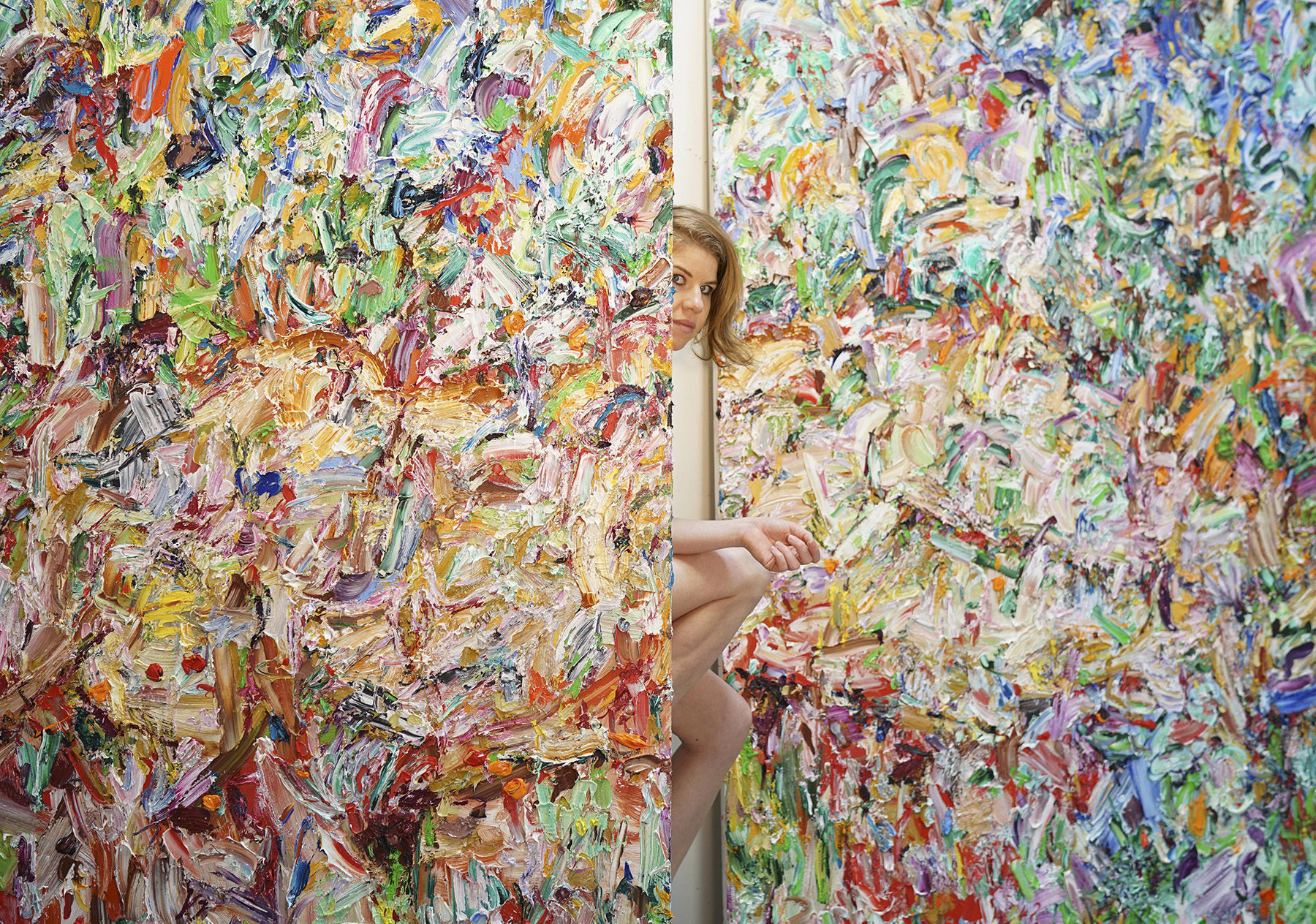 What was the first piece of art you bought?
Well it may not be the actual first piece but last year I bought a large drawing by Eric McHenry that I love. He does a lot of rock drawings and I love looking at it, it's very peaceful.
How would you describe your taste in art? What are you most drawn to?
I like skilled work that is well done and shows the artist has something they just need to say but still take the time to discover the skills in their preferred medium. I am less drawn to jokey art. Although I think the originals in that genre are amazing, David Shirgley is one of my favorites.
What role does art play in your life?
It's refreshing, interesting, beautiful, thought provoking. At the very least a discussion between friends.
What do you collect?
Books. Reading books but also artist monographs and ones that just cover what I'm interested in at the moment. Over time the collection gives a sort of timeline for me. A plus point is that they look great design wise.
How would you describe your personal style?
Patterned, floral and comfortable. Lately it's tending more toward how my paintings feel.
If you could only have one piece of art in your life, which would it be and why?
It would be my Face in The Crowd photograph by my sister, Alex Prager. I love it so much and I am in it too so it feels super personal. 
Which artists would you most like to meet?
Van Gogh, James Turrell, De Kooning
Which books are on your bedside table?
The Handmaid's Tale, Alexander Hamilton, Hunger Makes Me a Modern Girl, The Wright Brothers.
What music are you currently listening to?
David Bowie, James Blake, Fiona Apple
What was the last great exhibition you went to?
Kerry James Marshall at Moca. Really like his work and it was great to see it over a span of time. 
Do you have a favorite museum or gallery?
I love LACMA, they are really pulling their weight right now and representing Los Angeles in a way that I think moves the whole city forward in terms of art.
If you could give one piece of advice to young artists, what would it be?
To work hard and keep making their best work and showing it as often as possible.
What would you like to do if you weren't pursuing your current line of work?
Be a chef. I really like cooking and it provides instant gratification. I also love eating. 
What projects are you currently working on? Where can we next see your work?
I am about to open my new show Ultraviolet at the Richard Heller Gallery in Los Angeles. It is a collection of self portraits that range in scale from 1' to 12'
Check out Vanessa's exclusive collection here, and visit all of our past Guest Curators for more.