EnSoie's Anna Meier Selects her Favorite Works on Saatchi Art
We're thrilled to have Anna Meier, Creative Director of enSoie, handpick an exclusive collection of art as part of our ongoing Guest Curator series. Learn more about the role art plays in her life and see art art selections below.

(Image: Anna Meier)
Anna Meier
Creative Director, enSoie
Introducing enSoie, a family-owned lifestyle brand with stores in Zurich, Kolkata, and Los Angeles. At their Silver Lake boutique—a SoCal adaptation of the enSoie flagship headquarters in Zurich—you'll find everything from apparel and accessories to jewelry, homeware, candles and ceramics.
Originally founded in 1894 the company has maintained a traditional approach to textiles and printing techniques since the mid-70s, when former model Monique Meier-Louthold set upon revamping the brand.
Today, each of her family members play a major role in enSoie's creative developments: her daughter Anna is the brand's Creative Director and in L.A, Sophie oversees U.S operations with her sister Eleonore Meier, who together with her filmmaker husband Rafael Palacio Illingworth have produced an impressive filmography of shorts to promote enSoie collections. Their father is Dieter Meier (of the famed 80s pop group Yello) who also works with brand creating limited-edition scarf designs such as the popular: "The description of a color is impossible, you have to wear it."
In addition, enSoie welcomes collaboration with local artists, recently enlisting Jimmy Thompson and Sean Daly to create works to display in their L.A. store, as well as a window display by graffiti artist MAMBO.

Anna and her mother, founder of enSoie, Monique Meier (Image: Anna Meier)
What was the first piece of art you bought?
A putty sculpture made by my best friend in kindergarten at the age of 3.
How would you describe your taste in art?
I love art that everybody is capable to make but only one soul came to a decision!
What are you most drawn to?
Performance art.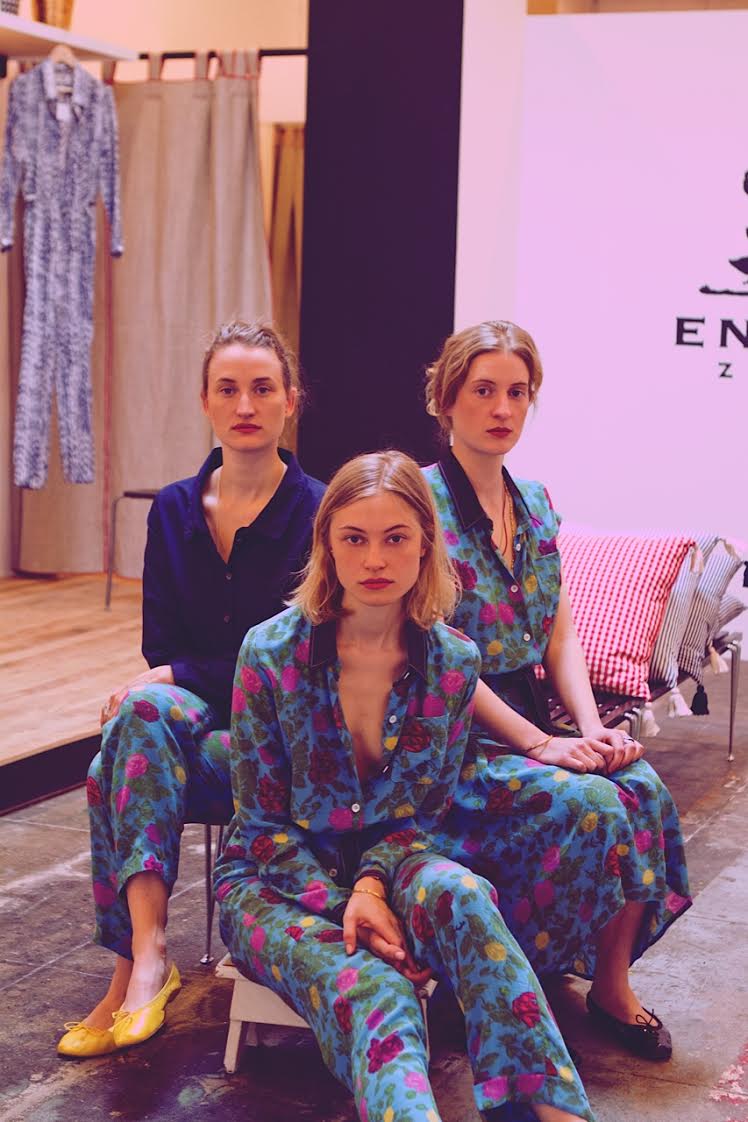 Eleonore, Anna, and Sophie Meier (Image: Anna Meier)
What role does art play in your life?
A big one. Life without art is possible but pointless.
What do you collect?
I try not to collect too much. It doesn't have a tradition in our family. I feel that art should be available for everyone.
How would you describe your personal style?
Quality designs with interesting textile techniques. Its all about the craft for us at enSoie and we adore, for example, the couture elements of simple things like embroideries.
If you could only have one piece of art in your life, which would it be and why?
Probably a Matisse.

From enSoie's SS 2015 Lookbook (Image: Anne Meier)
Which artists would you most like to meet?
Sonia Delauney.
Which books are on your bedside table?
Haruki Murakami.
What music are you currently listening to?
The Sparks.
What was the last great exhibition you went to?
The Dries Van Noten exhibit in Paris.
Do you have a favorite museum or gallery?
LACMA

More from enSoie's SS 2015 Lookbook (Image: Anna Meier)
If you could give one piece of advice to young artists, what would it be?
I wouldn't dare give an artist advice! Our father is an artist so we know exactly what we are talking about 😉
What would you like to do if you weren't pursuing your current line of work?
Tending to animals in the Swiss Alps in between cultivating artisanal butter and cheese.
What projects are you currently working on? Where can we next see your work?
We're currently finalizing our Spring / Summer 16 collection for enSoie.
Love reading about all things art? You can have articles from Canvas, curated collections and stories about emerging artists delivered straight to your inbox. Sign up for the Saatchi Art Newsletter.