Green Design Meets Art: Guest Curated Especially for Saatchi Online by Marco DiMaccio
We are thrilled to have Marco DiMaccio, Principal Designer of PUNCHouse Design Group, a company dedicated to creating ecologically-sustainable architecture and products, guest curating an exclusive collection of art as part of our ongoing series. Read on to learn how sustainability influences this multi-talented, designer-to-the-stars' taste in art and the role art plays in his life.

(Image: Thomas McCaffrey)
Known for his rich modernist style, Marco DiMaccio creates designs that are a beautiful balance of playful modernism and creative efficiency, earning him numerous awards in design innovation.
Past projects include an award-winning sustainable home for Lisa Ling, which earned a (USGBC) LEED for Homes Platinum Certification; Lakeshore Entertainment Film offices; the Beastie Boys–Grand Royal Records production space; and numerous commercial spaces and private residences.
Marco has been featured on HGTV, E!News, and various media outlets that have an interest in notable architecture. His work as a production designer has also garnered high praise, including Clio and ADDY awards. He has collaborated with leading commercial and Academy Award-winning film directors, and has designed over 500 commercials, music videos, and numerous Super Bowl ad campaigns.
We hope you enjoy getting to know Marco as much as we did! Check out his exclusive collection curated for Saatchi Online here.

PUNCHouse Project 234. (Image: Thomas McCaffrey)
How would you describe your personal style?
There's a degree of humor or playfulness in my work without sacrificing form over function.
How would you describe your taste in art?
I'm most drawn to works that have a life far beyond the initial intent of the creator. I have little interest in political or narrative works only because those items tend to be best consumed, realized, and then disposed of. Works that have limitless directions and interpretations of the human psyche hold my interest.
What role does art play in your life?
It provides me with a great place to appropriate fantastic ideas from really interesting people.
How does art inspire you?
It's the bullets for my brain gun.
What do you collect?
I mainly collect work from artists that I have a personal relationship with. To know the artist can produce some valuable insights.
If you could only have one piece of art in your life, what would it be?
Mark Rothko's No. 61.

PUNCHouse Project 234. (Image: Clark Dugger)
Which artist would you most like to meet?
For a glass of wine? Allison Miller, but if she's busy then Pae White.
What was the first piece of art you purchased?
It was either a Jorge Pardo piece or an IKEA end table, it can be difficult to distinguish them.
What does the art in your home say about you?
It says that I need to befriend more artists.
What was the last museum or gallery you visited?
China Art Objects.
If you could paint, draw, sculpt, photograph, etc. what skill would you most like to possess?
We all posses those skills. It's a matter of honing and focusing in a way that may communicate what one has to say so that the creator's intent may be realized and the facets of that polished stone start to sparkle….and yes, I did use the word "sparkle" in this answer.

Grass pit, PUNCHouse Project 234. (Image: Thomas McCaffrey)
Abstract or Realism?
Abstract.
Painting or Photography?
Painting with light or a brush. I don't see the difference … painting.
Museums or Art Galleries?
Museums, they have far better food and drink at events.
Contemporary or Classic?
Forward leaning or backward leaning…ummm forward.
Color or Black+White?
Let's go with color for now.
Digital or Film?
00110111000101111001011001010111101
Textured or Polished?
I love looking at myself in the mirror so polished it is.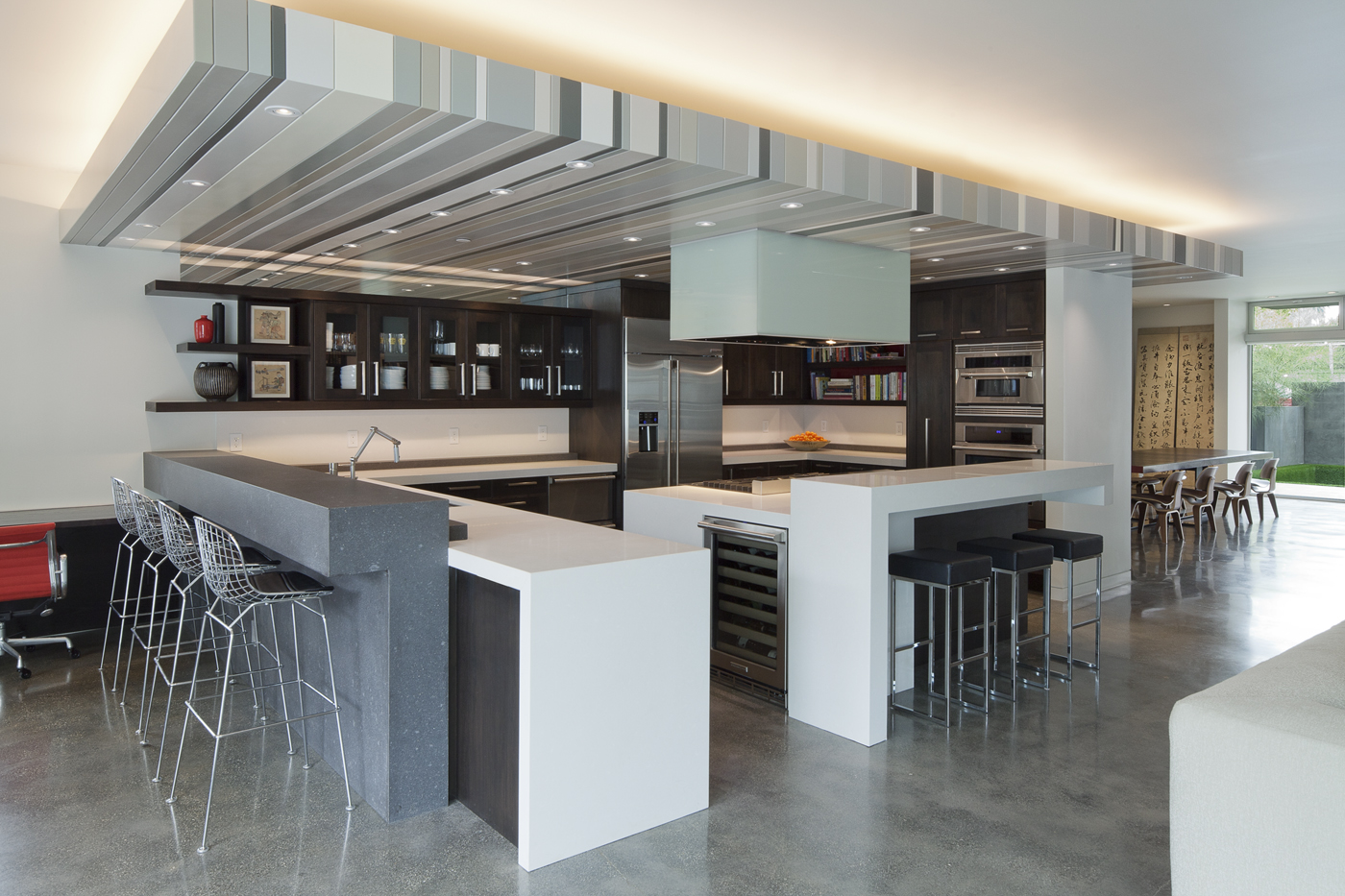 Kitchen, PUNCHouse Project 234; (Image: Paul Bielenberg)
Hirst or Hockney?
Hirst.
Picasso or Pollock?
Pollock.
Bacon or Basquiat?
Basquiat.
Murakami or Mondrian?
Murakami makes some nice wallpaper….Mondrian's work has been "discovered" by Nike and made into some kicks. Hats off to Mondrian for being a leader. Not sure what he would think of those kicks.
Los Angeles or New York?
Condensing people such as New York does forces people to be tolerant and self-educated, which creates a great deal of creativity. Condensed communities have a much higher level of creativity. However, Los Angeles does not hold on to some of the old New York romantic views of what an artist is, so for me L.A. tends to embrace all forms of "new" tech, music, words, film, shape & forms, etc. so …. New Angeles works for me, but L.A. needs a bit more concentration and shoulder bumping to create some sandpaper for the streets.
Paris or London?
Paris with London taxi drivers.
Tokyo or Berlin?
Tokyo, but with actual building addresses.
Love reading about all things art? You can have articles from Canvas, curated collections and stories about emerging artists delivered straight to your inbox. Sign up for the Saatchi Art Newsletter.
SaveSaveSaveSave
SaveSave
SaveSave
SaveSaveSaveSaveSaveSave
SaveSave