Explore the Darker Side of Beauty: Guest Curated Exclusively for Saatchi Art by Jennifer Zuccarini
We are very excited to have Jennifer Zuccarini, Founder and Creative Director of luxury lingerie/ready-to-wear line Fleur du Mal, guest curating a collection of art through the filter of her brand. Read on to see how art influences her personal style, taste, and perspective and learn what role it plays in her life.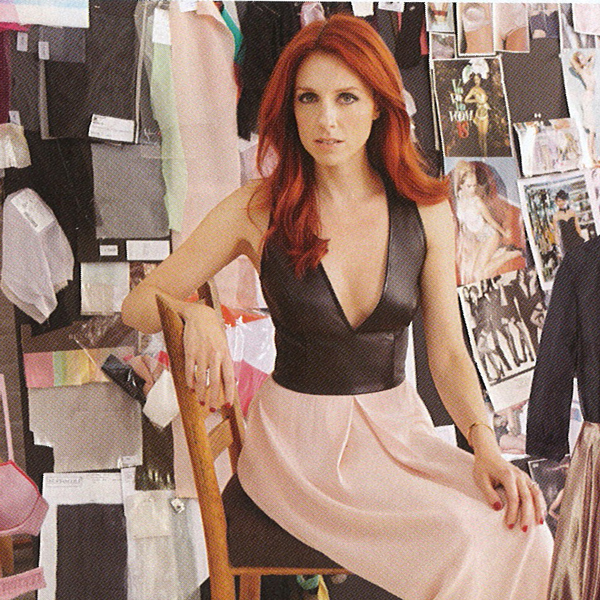 (Image: Hannah Thomson)
"When I discovered the name Fleur du Mal, it represented a dichotomy that I'm drawn to – beauty with a bit of a dark side. As a reference to Baudelaire's poetry, we tapped into the theme "love hurts" for our campaign. I curated my art collection for Saatchi Art from the point of view of my brand – chic, provocative, and with an edge. This is the aesthetic that I am naturally attracted to, and I think a lot of the pieces reflect that vision." – Jennifer Zuccarini
Jennifer Zuccarini
Founder & Creative Director, Fleur du Mal
How do you describe your personal style?
Eclectic, chic, and a little provocative. I like glamour but I've always been attracted to street style, everything from London in the Eighties look to Punk. I think the mix is what's interesting.
Tell us, what role does art play in your life?
As a designer, I look at all forms of art for inspiration. The name of my new brand, Fleur du Mal, was inspired by the infamous collection of poems by Baudelaire. We also feature artists on our website's pin-board and blog.
What do you collect?
I collect photography, drawings, and have a few artist friends that I try to support when I can. I have an extensive wish list. I love to see what's coming up at auction, and I try to check out new artists at shows in New York and Miami.
What was the last museum or gallery you visited?
The AGO in Toronto over the holidays to see "Frida & Diego: Passion, Politics, and Painting."
If you could only have one piece of art in your life, what would it be?
I would absolutely love to have one of Richard Prince's Nurse Paintings. I particularly like "Surfing Nurse" and "Runaway Nurse."
Which artist would you most like to meet?
Hmm, maybe Warhol – or maybe I would have just liked to hang out at The Factory…
What was the first piece of art you purchased?
The first piece of art I purchased that felt "real" was my Arthur Elgort print of Paris at night taken from The Hotel de Crillion in 1979. I enjoy it everyday.
Abstract or Realism?
Realism
Painting or Photography?
Painting
Museums or Art Galleries?
Art Galleries
Contemporary or Classic?
Contemporary
Color or Black+White?
Black+White
Hirst or Hockney?
Hockney
Picasso or Pollock?
Pollock
Bacon or Basquiat?
Basquiat
Murakami or Mondrian?
Murakami
MoMA or Met?
MoMA
Los Angeles or New York?
New York
Paris or London?
Paris
Love reading about all things art? You can have articles from Canvas, curated collections and stories about emerging artists delivered straight to your inbox. Sign up for the Saatchi Art Newsletter.