On Collecting Art by Emerging Artists
In our Collector Profile series, art lovers from around the world share how they first caught the art-collecting bug.
This week, we talk with Peter McGrath, who splits his time between Dallas, Texas and his gorgeous mountain home in Colorado. Formerly the EVP of product design and development at J.C. Penney, McGrath now runs his own product design consultancy. He is also a chair for the Center for Human Rights at the University of Dayton, Ohio, a cause he feels very passionately about.
Recently McGrath worked with Saatchi Art's Chief Curator and VP Art Advisory, Rebecca Wilson, through our free Art Advisory service to purchase 14 original artworks for his stunning Colorado home. Read on to learn more about McGrath's experience working with Art Advisory, how he first began collecting art and why he particularly loves collecting works by emerging artists.
When did you first become interested in art? Was art part of your life growing up?
I started to become really interested in art in my 40s, but it's probably been a strong interest over the past 20 to 25 years. I traveled extensively all over the world and appreciated seeing different art and artists in places like Bangladesh, China and right here in the United States. I have recently gotten to a point where I am financially able to collect art and collect the type of art I actually want.

The contemporary living room is accented with abstract paintings in bright colors. L to R: "What Are We Naming?" by Todd Clark, "Green Energy" by Saatchi Art artist Hennie van de Lande. Photograph by: Emily Minton Redfield (Image: Menendez Architects PC)
What was the first piece of art you bought? How did you discover it?
The first piece of art that I ever remember was in my family's home. I grew up in a middle class family in New Jersey and my father had this painting, one of those classic nautical works of a ship going across the ocean. That painting hung in my family's home until my parents went into a retirement home, so it was there for the better part of 40 years.
"I always felt that art had this power to draw you in and create an emotional
connection
within a home"
I can remember looking at it and being amazed at how you could see different things within the work at different points in your life, the nuances the artist created. We did not have a lot of art in our home, but that was the center-piece of our living room so I always felt that art had this power to draw you in and create an emotional connection within a home. That is what I really try to do with my collection. It has been very interesting to me to have people come through my home and have them react differently to each artwork.
One of the paintings I purchased through Saatchi Art, "Green Energy" by this Danish artist Hennie van de Lande, it wasn't put in one of the 'prime' spots, but that's the one that people tend to gravitate to which I think is just fascinating.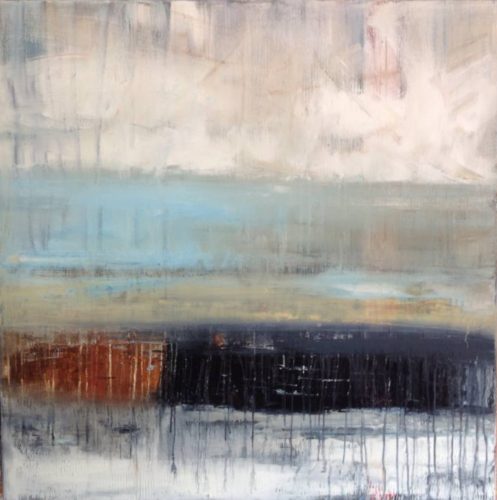 "Green Energy," by Saatchi Art and Danish artist Hennie van de Lande. (Image: Saatchi Art)
How would you describe your taste in art? What are you most drawn to?
I lean towards abstract and modern art. My house is built in a new traditional, or even modern style. I like artworks that I can really look at and study, that reveal things over time. Often times the title or name of the work will trigger something, a glimpse into knowing what the artist was thinking at the point when he or she created the piece.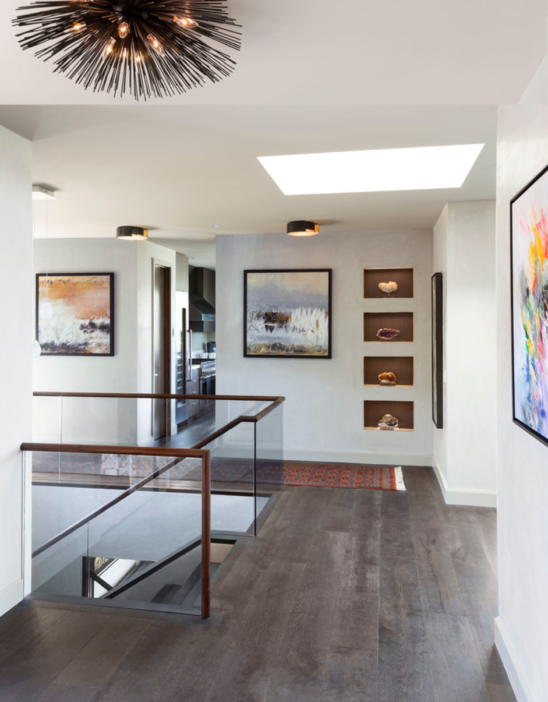 The modern upstairs landing serves as a mini-gallery. L to R works by Saatchi Art artists: "Travel Diary, On the Road…3/6" and "Travel Diary, On the Road…1/6" by Isabelle Schenckbecher-Quint, and "Spectrum L1" by Peter Nottrott. Photograph by: Emily Minton Redfield (Image: Menendez Architects PC)
I also look for the use of color and technique. I love seeing all the elements and layers within a painting that have been hidden, either intentionally or unintentionally. I have this one piece called "Double Take" and it literally requires a double take, because you will actually begin to see someone's head within the work once you've really stared at it.

Do you see the hidden face in this painting? "Double Take" by Saatchi Art artist Kirsten Handelmann (Image: Saatchi Art)
Do you have a personal set of rules for purchasing an artwork?
No, only to have a connection with the work. It does require some technique to be able to see artwork on the internet – it's different than seeing something in-person. I have been extraordinarily pleased with how well the artworks have translated from an image on my iPad to seeing the piece in person once it's delivered. I have never been disappointed with anything and I've purchased 14 artworks or so from Saatchi Art. I've never received something unexpected; they all came through in their true form. I think that speaks to the quality of the art or at least to the instructions you are giving your artists!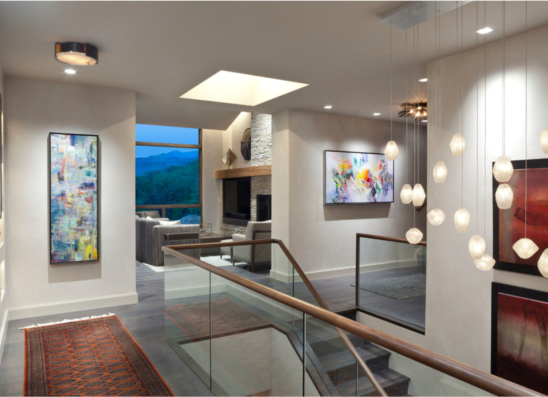 Works by Saatchi Art artists L to R: "Sparkling Elements" by Sky Dweller and "Spectrum L1" by Peter Nottrott. Photograph by: Emily Minton Redfield (Image: Menendez Architects PC)
How do you feel about collecting work from emerging artists vs. Blue Chip?
When I was an EVP at J.C. Penney, I ran all of their product and design development and had a team of about 238 designers working for me. They designed everything from intimate apparel to furniture, to women's, men's and children's wear.
I like to be able to say, "I saw this work, I connected with it and it's from an emerging artist."

I always had a propensity to hire a lot of very young designers because there is so much raw talent there and if directed correctly they would create incredible designs. For me, it's really the same thing with emerging artists. There is so much untapped creativity. I really enjoy the emerging side as compared to people that are already established. I like to be able to say, "I saw this work. I connected with it and it's from an emerging artist." Obviously, I hope that some of these artists continue to grow in their art careers and become very successful.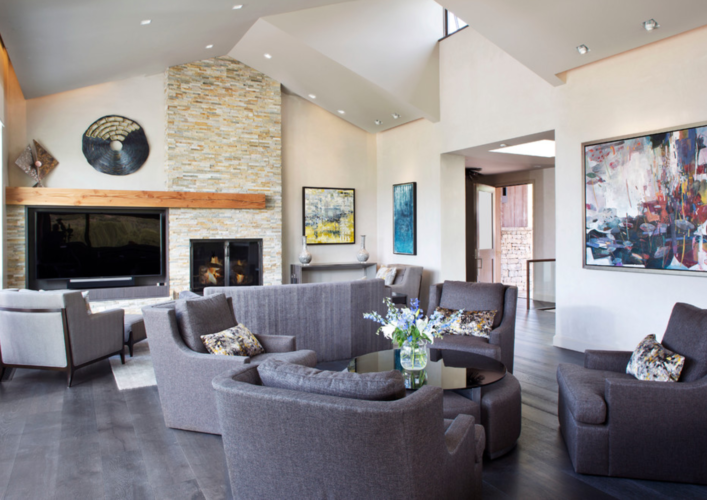 Works by Saatchi Art artists on display in the Colorado home's airy living room, L to R: "Geniviève de Finhaut" by jean-humbert savoldelli, "Indigo" by Artem Bryl and "What Are We Naming?" by Todd Clark. Photograph by Emily Minton Redfield (Image: Menendez Architects PC)
Do you ever consider the artworks you buy to be a potential investment?
With the amount of works I have collected so far, I imagine one or two of the artists might become quite successful. It is so hard to hit the ball out of the park. I do believe some of the works are likely to increase with value as the artist's careers grow, but I did not buy them as an investment. I bought them because quite frankly I love them.
What was your experience working with Rebecca Wilson through Saatchi Art's free Art Advisory service?
When I was decorating my home in Colorado, I compiled all of the artworks I had favorited over the course of 5 months from Saatchi Art's website. I asked Rebecca to take a look so she could get an idea of what I like. She replied with several options that would suit each spot around the house as well as suit my style and taste.
"I still made the choice, but [Rebecca] basically put the buffet out for me"
Collectively, through phone conversations and emails, we got down to 14 artworks. Rebecca is trained for this as a curator, so I listened to her as an advisor, the same way I would if I was doing one of my lines for J.C. Penney and my head designer told me their vision. Rebecca had the opportunity to weigh in and I was able to take advantage of her art expertise and art education. Ultimately, I still made the choice, but she basically put the buffet out for me. I am very happy with the selection of works I was introduced to – plus, I didn't have to compromise much with sizes either.
Get Started With Saatchi Art's Free Art Advisory Service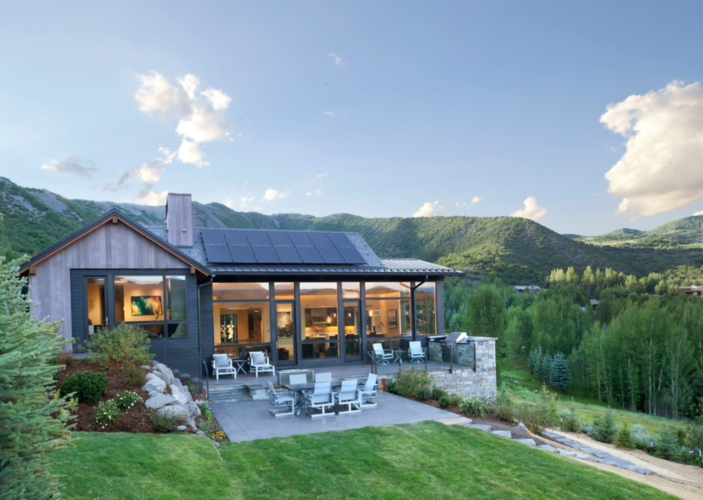 Pops of color from McGrath's abstract painting collection light up the windows of his serene mountain home. Photograph by: Emily Minton Redfield (Image: Menendez Architects PC)
Do you collect anything else besides paintings?
Yes, sculptures. We have them throughout the house as well.
I bought this one piece from an artist in the Northern middle part of the U.S. It is a 5ft bronze piece that's called "Duet". It's an incredible piece. It's two sexless people in abstract, with one arm out and the other in embrace, whilst facing each other. They both look exactly the same, but they are looking out in different directions. It's a fabulous piece. I had it in my yard in Texas originally and I moved it up to Colorado. I actually had the whole backyard of the house landscaped architecturally so the focal point, other than the 12000ft mountains, is this one piece, "Duet".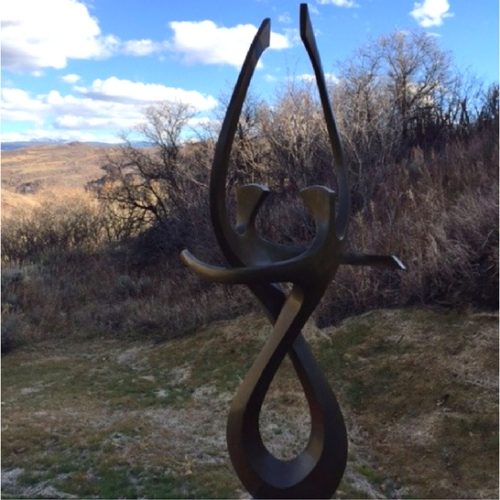 "Duet," one of McGrath's favorite sculptures, sits amidst the beautiful Colorado scenery in his backyard. (Image: Peter McGrath)
If you could have one piece of art in your life, which would it be and why?
It's an artwork that I found in Bangladesh. The artist was so poor that he had no canvas, so he used burlap as a substitute. He painted the burlap in a wide variety of colors and used string – because he had no means of framing – to mount the piece on a quarter inch piece of plywood. The artwork reminds me of the intense poverty I have seen through traveling around the world for my career. The piece really struck me, because this artist had nothing, but still managed to create self-expression. Even in extreme poverty, people strive to create art.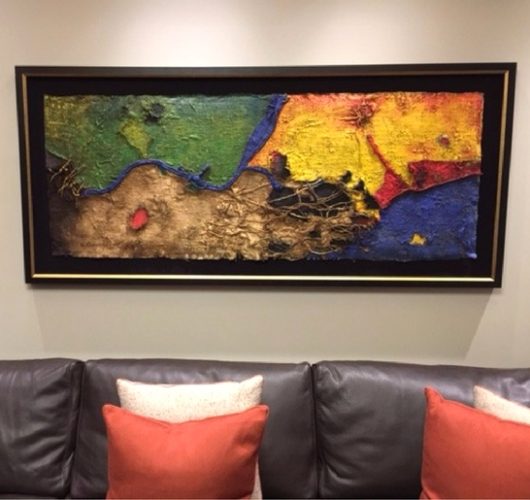 This original artwork by an artist from Bangladesh is the one piece McGrath couldn't live without. (Image: Peter McGrath)
What advice would you give to a first-time collector?
Buy art because you love it. Don't buy something only because you think it will become an investment. The other tip I would offer is that Saatchi Art can be a resource – you can find art that you love at any price level.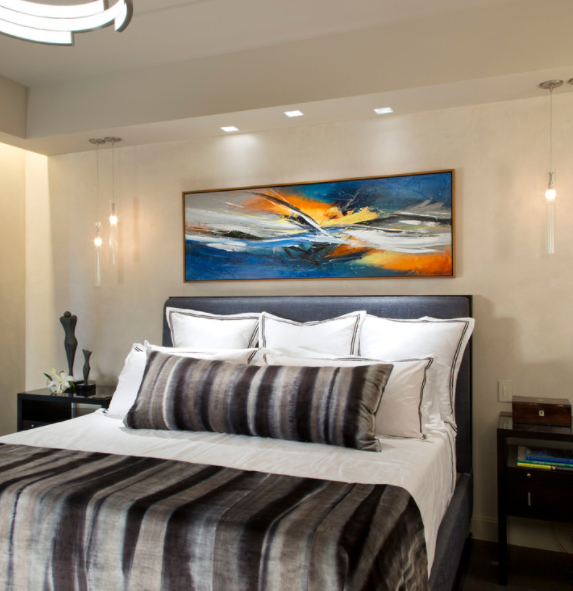 "Entre deux mers" by Saatchi Art artist 
Pierre Bellemare.
 Photograph by:
Emily Minton Redfield
 (Image: Menendez Architects PC)
Ready to add art by emerging artists to your collection? Explore Saatchi Art's brand new edition of Invest In Art; featuring 20 of the most promising emerging artists from the U.K and U.S., hand-selected by Chief Curator Rebecca Wilson.
Want to brush up on your art investment knowledge? Check out our free e-book, 7 Essential Steps to Collecting Emerging Art.
Note: There are no guarantees when it comes to buying art and you should always feel happy with what you're buying as it may be on your walls for a pleasurably long time. But if you are interested in the investment side of buying art then acquiring works by emerging artists is a great way to begin.
Love reading about all things art?
 You can have articles from Canvas, curated collections and stories about emerging artists delivered straight to your inbox. 
Sign up for the Saatchi Art Newsletter.