How I Started Collecting Art by Emerging Artists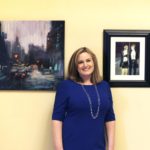 In our Collector Profile series, art lovers from around the world share how they first caught the art-collecting bug.
This week, we talk with Kim E. from Atlanta, Georgia, who has, over the course of the last few years, become an avid art collector—particularly of works by emerging artists. Though her only rule for buying an artwork is that she absolutely loves it, her collection now contains an impressive array of artists who have gone on to have significant career success and see their works increase in value. Kim currently owns works by more than 9 Saatchi Art artists. Among them are previous Invest In Art artists Bradley Wood (2014), Jesus Leguizamo (2013), and Fanny Nushka (2013). Below, Kim talks about the first work she ever bought, her one rule for collecting art, and the joy of following and investing in emerging artists' careers.
What was the first piece of art you bought? Did you save for it or buy it on a whim?
The first piece of art I ever purchased was a painting called Alexandra by Donna Cassaro Hughes. I visited a local gallery one day and when I saw that painting, I audibly gasped and couldn't stop staring at it. Something about it just struck me. It appeared to me to be the ghost of a woman in her wedding dress, lost and wandering through a dark forest. Looking back now, I wonder if it spoke to me on a deeper level with what was going on in my life.
At that moment, I didn't feel financially comfortable enough to spend that much money on anything. Over the next year, I could not get the painting out of my head. You could say it haunted me, much like the images in the painting itself were haunting. A year later, I felt much more comfortable financially and knew that I had to find out if I could still get the painting. I emailed the gallery late one night and when they responded, I found out that it was being used by an interior designer, but that they would arrange to have the painting returned to the gallery so I could purchase it. I was overjoyed and went the next day to pick it up.
"I've learned that if I can't get a piece of art out of my head, then I need to go ahead and buy it…"
It was just as beautiful as I remembered, but I was very nervous at spending that much money on a painting. Once I made that first purchase, the next one came much easier. Since then, I've learned that if I can't get a piece of art out of my head, then I need to go ahead and buy it, or I'll likely regret it later.
Where do you display your favorite artwork?
I have a lot of great wall space, so my collection is displayed all over the house. I mostly display them on the first floor because it's more visible, but I'm constantly moving them around.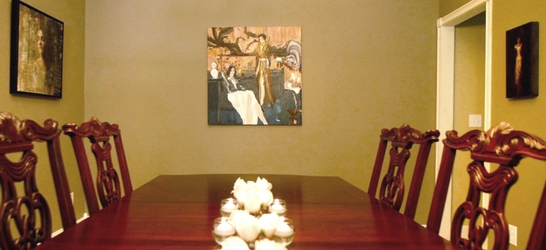 (L-R) Two works by Saatchi Art artists, "Silence" by Mara Light and "Women and Japanese wall painting" by Bradley Wood are the centers of attention in Kim's dining room in Atlanta, Georgia. (Image: Courtesy the collector)
Every time I buy a new piece of art, something else seems to get shuffled to a different place. I prefer to hang them in places I will pass by every day because they make me smile as I walk past, no matter how much time goes by. I also have a few smaller pieces that I display on tabletop easels.
Do you collect according to a theme or a set of rules? If so, what are they?
I'm starting to feel like my collection is following too much of a theme. I have lots of figurative pieces of women with blurred faces, which is probably because I can more easily envision myself in the moment that the artist was trying to depict. I've been trying to add more abstract pieces and city scenes into the mix. Right now, I'm looking at sculptures more, particularly larger pieces, and I am hoping to discover something striking to add to my collection.

The old and the new. The first artwork Kim ever purchased hangs on the wall adjacent to her new additions — all of the paintings in her collection still make her smile everyday. (L-R) Works by Saatchi Art artists include: "Danse" by Tatiana Ivchenkova, "Golden Silk, 2015 – after the painting by Frederic Leighton" by Fanny Nushka, "Smoke" by Tatiana Ivchenkova and "Abstraktes Bild 48" by Alejandro Gutierrez. (Image: Courtesy the collector)
One rule I have is to not buy something just because it would look nice in a particular place. I don't want to design my home. I want to buy pieces I love, figure out where to place them after I've brought it home, and move it around as my collection grows. I've actually talked myself out of a painting because I felt like I only liked it because it would look good over my sofa, not because I truly loved it. I'd rather buy a piece and find out later that it belongs over my sofa!
How does art investment factor into your decision making?
Most of my collection so far consists of work from emerging artists. I'm still relatively new at collecting, so I'd rather purchase multiple affordable pieces every year rather than only being able to add one or two expensive pieces by established artists to my collection. I've come to realize that following younger artists' careers has become part of the enjoyment. I get to see how their art evolves over time and where their career takes them.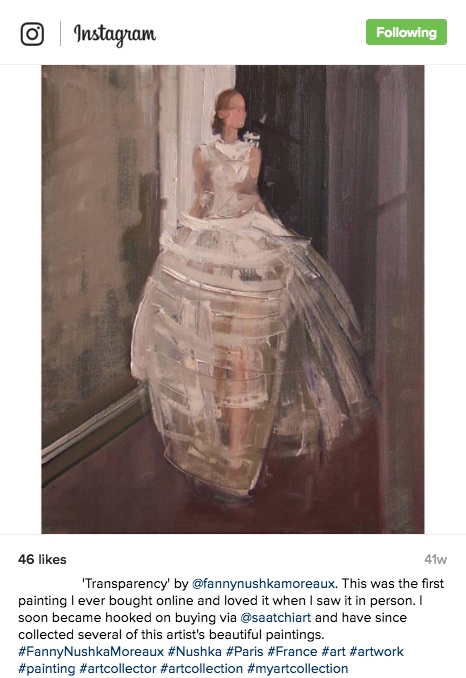 There is some validation that comes with being attracted to an emerging artist's work, then hearing buzz about them being a good investment. It makes you think, "Maybe I have a good eye!" I find that if an artist I like starts getting a lot of press or attention on social media, I am quicker to go ahead and buy a piece of their work for two reasons: (1) their work may be harder to come by soon, and (2) their prices will likely increase and become less affordable. I'll either find something I like that currently hasn't sold or keep an eye out for a new piece that I really like and buy it as soon as it comes available. Then no matter what happens, at least I was able to purchase one of their works.
"I find that if an artist I like starts getting a lot of press or attention on social media, I am quicker to go ahead and buy a piece of their work"
If I hear about a promising artist, but feel that their work doesn't fit my style, I'm not going to purchase their work just for the sake of a potential investment. I'm not buying art for the purpose of selling it for a profit down the road; I'm buying it because it enriches my life now.
Is collecting art a private passion of yours, or something you like to share with others?
I think collecting art is a private passion of mine, but part of the experience is seeing how my friends and family react to it. It's especially entertaining to watch the reactions of those who have never expressed an interest in art. While they may be shocked by some pieces or not quite "get" it (which I've heard a few times), there are always a few pieces that each person takes a particular interest in, and they can openly discuss it in the privacy of my home without feeling judged. I find out more about people when I discover what pieces most appeal to them and why.
Do you collect anything else besides art?
I've never been much of a collector of anything prior to collecting art. I'd try to start collecting something, but was never passionate about it, so nothing ever really "stuck". Now I finally understand the obsession with collecting something. There is rarely a day that goes by that I don't spend a significant amount of time browsing sites and social media for new art and artists or reading books on the subject. The added benefit is that art can often neatly hang on your wall, bring color and mood into a room, all without needing lots of bookshelves or cabinet space!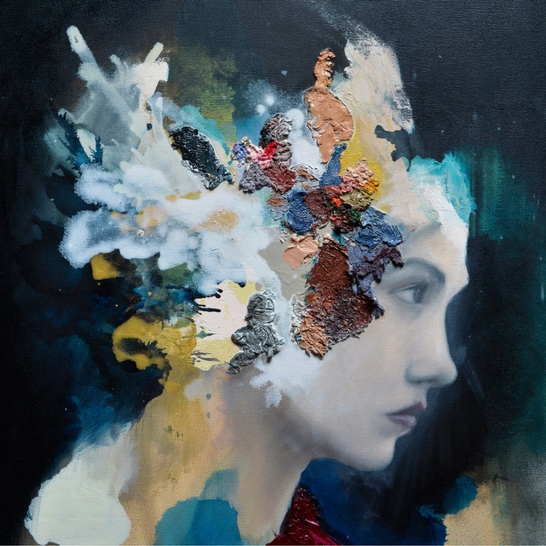 "I'm in love with how his paintings often depict a beautiful person who is also splotchy and blurred," says Kim of Saatchi Art Invest In Art (2013) artist Jesus Leguizamo's work. This painting, "Myth," hangs in the collector's living room. (Image: courtesy the collector)
If you could only have one piece of art in your life, which would it be and why?
I have some beautiful pieces. I couldn't possibly begin to tell you which is my favorite because they all have something wonderful about them and bring me joy every day. But if I could only keep one piece of art, I think it would still be that first piece of art I bought. I took a leap into collecting with that piece, and it has opened up a whole new phase of my life. I owe every piece of art that I've purchased since then to that first experience. I learned a lot about myself and what I love and where I wanted to go.
Which artists would you most like to meet?
I feel like I'm supposed to say that I would most like to meet some famous artist either living or dead, but that's not how I feel. I want to meet all of these incredible artists from all over the world whose art fills my home. Every time I buy a new piece of art, I try to track down the artist's email so I can tell them how much the piece means to me and provide them a picture of it hanging in my home. If I were an artist, I feel like that's something that I would enjoy – knowing where my art ended up and with whom. I love it when an artist writes back and stays in touch just to say hello or to let me know what they are up to professionally. When an artist wants to keep in touch with me, that just makes me want to continue to support their work by buying more art from them.

Kim stands with two paintings from her collection, "Overlooking Empire State Building" by Saatchi Art artist Chin H. Shin and "Night" by Saatchi Art artist Fabienne Jenny Jacquet. (Image: courtesy the collector)
Ready to add art by emerging artists to your collection? Explore Saatchi Art's brand new edition of Invest In Art; featuring 20 of the most promising emerging artists from the U.K and U.S., hand-selected by Chief Curator Rebecca Wilson.
Want to brush up on your art investment knowledge? Check out our free e-book, 7 Essential Steps to Collecting Emerging Art.
Love reading about all things art? You can have articles from Canvas, curated collections and stories about emerging artists delivered straight to your inbox. Sign up for the Saatchi Art Newsletter.
Note: There are no guarantees when it comes to buying art and you should always feel happy with what you're buying as it may be on your walls for a pleasurably long time. But if you are interested in the investment side of buying art then acquiring works by emerging artists is a great way to begin.