5 Must-See Artist Documentaries
Artist documentaries are intriguing because the artist journey is one that can fall into many categories of tropes that always inspire; they also generally contain relatable universal lessons. The five documentaries featured below each leave the viewer with a finer understanding of the artist condition as well as an appreciation for the process of creating; they are ideal for those periods of time when we reach a creative block.
---

Le Mystére Picasso is a French documentary from the 1950's providing viewers intimate access to watching Pablo Picasso as he produces 20 original works. The director, Henri-Georges Clouzot, opts for a specific method of capturing the artist at work by honing in on hand movements and brush strokes while concealing Picasso's body from the frame. Clouzot justifies why he captured the artist in this format, stating:
To know what's going through a painter's mind, one just needs to look at his hands. Here's what the painter's experiencing.
---
Tim's Vermeer is a documentary directed by Teller of the duo Penn & Teller, two American magicians with a loyal following in both the States and abroad. In this film, Teller follows the investigation of inventor Tim Jenison as he explores the techniques of artist Johannes Vermeer suggesting the artist may have used optical devices in order to create his prolific works. Jenison embarks on a lengthy journey to recreate the work The Music Lesson to verify this theory, using only tools Vermeer would have at his disposal in the seventeenth century.
To add further intrigue, there is contention amidst art enthusiasts about whether the film is a hoax, a theory further amplified by Penn & Teller's roles as magicians and comedians (both involved with the production of the documentary). Several think pieces have been published on this theory, including this one. 
---

This artist documentary by Director Matthew Akers features celebrated performance artist Marina Abromovic as she prepares for an exhibition at the Museum of Modern Art (MoMA) where she sits still in an atrium and invites members of the public to sit across from her. In the course of 105 minutes, viewers learn about Abromovic, her upbringing, how she has used her physical form to create art, and encouraging discussion around the topic of what constitutes art. An especially moving moment in the documentary is when the artist reunites with her former love, German artist Frank Uwe Laysiepen, AKA Ulay, a four minute clip that has now reached viral status with over 34 million views. That particular reuniting is an invitation to learn more about performance art as a medium for expression.
---
Director Zachary Heinzerling captures the inner workings of an artist couple: Ushio and Noriko Shinohara, both striving to make a living from their art. Ushio, the 'boxer' of the duo creates action paintings by wearing paint coated boxing gloves when creating his works, is keen on continuing his artist legacy, while Noriko, the 'cutie,' is at work creating an autobiographical series of drawings. Survival is a key theme of this documentary, along with witnessing the evolution and ebb and flow of two artists in an unconventional marriage, making this an especially captivating relationship to witness.
---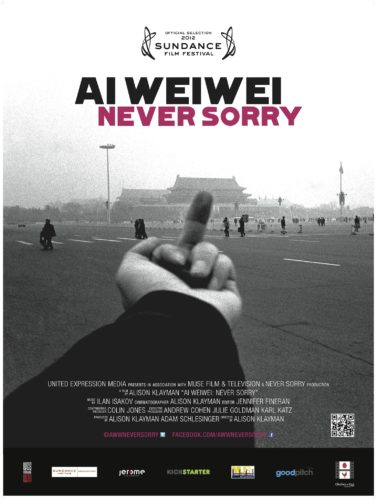 Chinese artist Ai Weiwei has built a reputation as both the most powerful artist in the world according to Art Review magazine while simultaneously being the most dangerous man in China. Directed by Alison Klayman, Ai Weiwei: Never Sorry captures the artist's adventures from working on his prolific project The Sichuan Earthquake Names Project in which he creates a mosaic of 9,000 children's backpacks on a wall at Munich Haus der Kunst, a German museum, to being detained in China for three months, and then on his journey to London to create the Sunflower Seeds exhibition at the Tate Museum, which contains millions of hand-painted porcelain sunflower seeds.  Viewers can't help feeling awestruck of the impact of Weiwei's work as both an artist and social activist, especially when considering his challenging and humble upbringing.
---
Interested in keeping up-to-date on matters related to art? Make sure to subscribe to our newsletters: