How a Son Helped His Father Launch an Art Career
In celebration of Father's Day this week, take a few minutes to get to know Saatchi Art artist Maurice Sapiro. His story is inspiring, a testament to remaining committed to our creative dreams and the powerful potential of love and kindness.
According to an article by Donna Doherty in the New Haven Register,  Mr. Sapiro dedicated 40 years of his career to teaching music, but always knew visual arts would play an important role in his life as well. Self-taught and skilled in many creative mediums, the talented Mr. Sapiro is still painting in his eighties, working primarily in oils now. In addition to being featured in local exhibitions, Maurice has also been able to reach a diverse global audience with his artwork, thanks to help and encouragement from his son, John.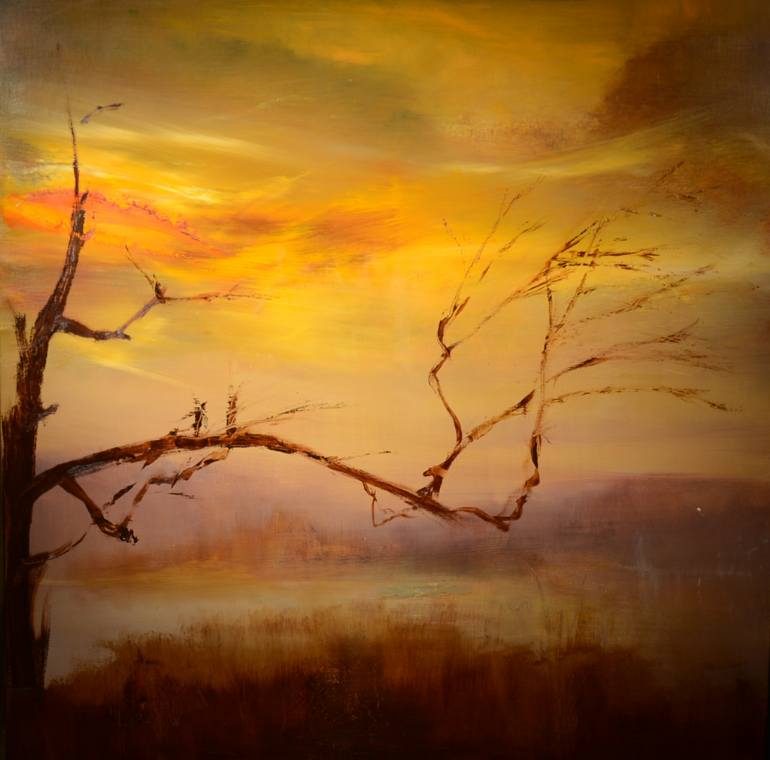 The Old Oak Tree, by Saatchi Art artist Maurice Sapiro. (Image: Maurice Sapiro / Saatchi Art)
In the late 1950's, Sapiro was an aspiring artist, and his work was featured in several New York gallery shows. After a few promising years, his career did not take off as planned, and he started teaching to support his new family. Decades later, his son decided to return the favor, and support his father's artistic career.
Sapiro's son recognized the appeal of his father's art and encouraged him to share it online. John created a website for his father, and helped him establish a social media presence and maintain his site. John's efforts allowed Sapiro to reach art collectors and admirers around the world, and kept his dream of painting alive. Sapiro lives in Connecticut, where a local curator was able to contact him via his website to arrange for an exhibition of his work, much to his delight.

Zephyr, by Saatchi Art artist Maurice Sapiro. (Image: Maurice Sapiro / Saatchi Art)
"I came kicking and screaming into the computer age… I am up to 100,000 views, and I have contacts from almost every country in the world. He [John] got me a contact from Saatchi online and Artfinder in London, and suddenly there's a commercial demand for the paintings … He made this whole miracle happen… Self-representation wasn't possible before the Web, and now anything is possible."

– Maurice Sapiro, in the New Haven Register, 11/04/13

"I think at first the two of us just thought that it would be fun, and we wanted something we could do together. … As more and more people became interested in his paintings, I realized it would be my way of sort of paying him back for having to support a family and not realize his lifelong dream of being a painter."

– John Sapiro, in the New Haven Register, 11/04/13
To see more of Maurice Sapiro's original art, explore our sidebar selections, or visit his portfolio page on Saatchi Art.