International Klein Blue
"At first there is nothing, then there is a profound nothingness, after that a blue profundity." – Yves Klein
Looking at one of Yves Klein's iconic azure paintings is like staring into a deep blue abyss, or as the artist himself liked to call it, the void. Yves Klein, an influential French artist of the post-WWII period, is credited for his contributions to the realm of conceptual art, most notably the invention of the color International Klein Blue (IKB).
In 1956, while on vacation in Nice, Klein experimented with synthetic binders to create a medium that allowed pigments to retain more of their pure color properties. Klein enlisted the help of Edouard Adam, a paint supplier in Paris. The result? A stunning ultramarine pigment, which the artist later registered under the name International Klein Blue.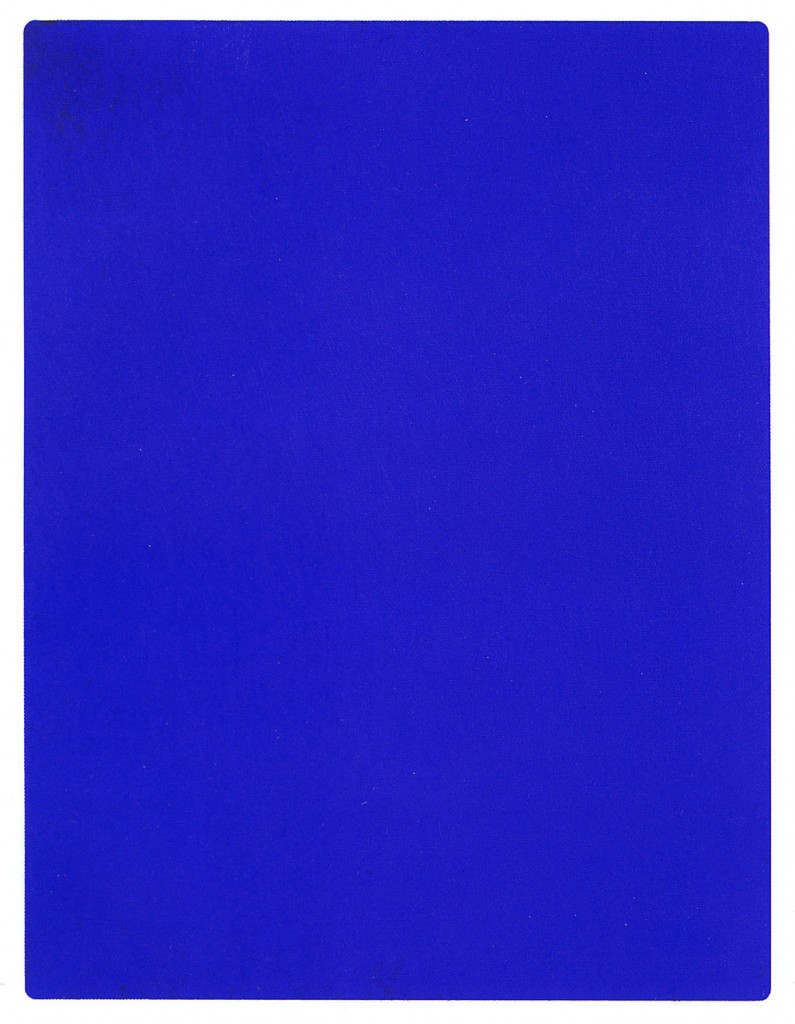 "IKB 191" (1962), Yves Klein. (Image: Wikimedia Commons)
The following year, Klein participated in an exhibition in Milan, where he showed a series of identical International Klein Blue monochrome paintings. Klein was reportedly inspired by his early realization of an infinite space surrounding the universe. These works, which many consider to be precursors of minimalist art, encouraged viewers to lose themselves in the pure pigment. Undisturbed by any semblance of imagery, the paintings evoked an endless, expansive sky.
This Milan show also marked the beginning of Klein's self-proclaimed "Blue Revolution." Soon after, he coated everything from sponges to human bodies with the vibrant hue. He painted a plaster cast of the infamous Venus de Milo in his pre-Pop art Venus Bleue (Blue Venus). For his Anthropometries series, Klein covered nude female models with his signature paint and directed them to drag their bodies across a canvas in a sort of "living brush" performance piece.
In April 1958, Klein held an exhibition titled La spécialisation de la sensibilité à l'état matière première en sensibilité picturale stabilisés, Le Vide (The Specialization of Sensibility in the Raw Material State into Stabilized Pictorial Stability, the Void) at the Iris Clert Gallery in Paris. The show, which was held on Klein's 30th birthday, consisted of an empty glass cabinet inside a white gallery. It attracted 3000 visitors, who waited in line only to be let in 10 at a time. The event was quite the spectacle–Republican Guards, Klein's judo friends, and blue cocktails were all a part of the festivities.
Klein lived a short 34 years, but his legacy lives on in International Klein Blue.
Though Klein's Nouveau Realist works ranged from paintings to performance art, the focus was inherently his International Klein Blue. Many propose Klein selected the color for its Christian undertones, as blue often symbolized heaven and the Virgin Mary. And true, the experience of viewing his works was almost spiritual. International Klein Blue essentially served as the artwork, prompting viewers to meditate on the vast expanse of pure color. Klein insisted there was nothing to his works, only a void.