Collector Favorites: Bestselling Artists of October
Ever wondered what other people are buying for their personal art collections? Though your tastes may differ, seeing what others are purchasing can help you discover new artists whose works you might not otherwise have considered.
Below, meet 5 artists who have proven to be popular favorites with our collectors. For more ideas, browse our recently sold works and contact our curators who can help you find similar works in your budget.
Christos Tsimaris
Experimenting with texture and form, Christos Tsimaris uses thick charcoal and a palette knife to create layers of color on his canvas, resulting in portraits full of movement and emotion. Influenced by twentieth-century figurative masters such as Lucian Freud and Francis Bacon, Christos similarly seeks to transcend representational art and gestural expressionism. Based in London, Christos studied fine art at Byam Shaw School of Art and Winchester School of Art. His work has been exhibited frequently in London and held in private collections throughout Europe and the US. See more of Christos' work here.
Olga Novokhatska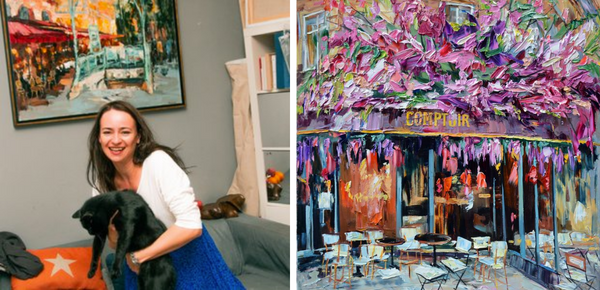 Ukrainian artist living and working in Paris, Olga Novokhatska employs sculptural brushstrokes and textures as well as vibrant colors in her paintings that capture living, dynamic spaces and environments. Effortlessly blending figuration and Abstract Expressionism, she transports the viewer into the spaces she creates and the world she lives in—blurring the boundaries of space and time. Olga holds a postgraduate degree in plastic arts from Lorraine School of Art and an MFA from Kharkiv State Academy of Design and Fine Arts. Her works have been included in exhibitions and art fairs worldwide, including in London, Paris, Chicago, Kiev, and Hong Kong. See more of Olga's work here.
Hugo Pondz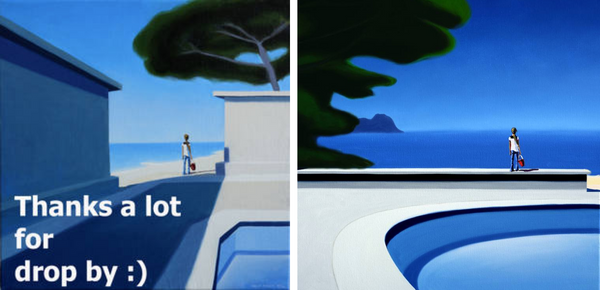 Belgian painter Hugo Pondz captures the moments when people wait and wander in urban life. As a regular visitor to New York in his dreams, Hugo is interested in both the urban landscape and empty and forgotten places. In his oil paintings, highly saturated blues, smooth brushstrokes, and nuances of light and shadow evoke dramatic atmospheres, creating fantastic scenes between dreamlike glimpses and realistic contemplations. Hugo has exhibited his work throughout Belgium, Europe, and the US, including at the 2015 Art Basel Miami. See more of Hugo's work here.
Hanna Sidorowicz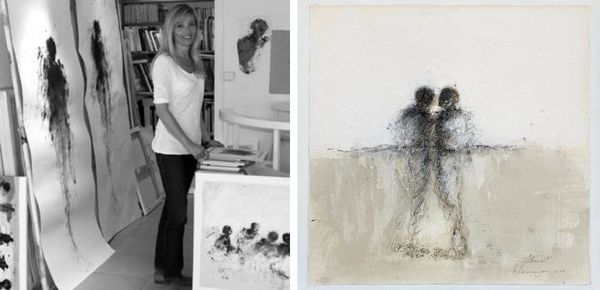 Hannah Sidorowicz draws her inspiration from masters such as Leonardo Da Vinci and Rembrandt. Hanna combines acrylic with ink, using muted colors, simple lines, and dots to subtly achieve a complex process of thinking and painting. Through the ethereal presentation of figures and architectural elements, Hanna creates a universe that breaks time and space, connecting reality and abstraction. Born in Poland, Hanna studied at the Beaux Arts in Gdansk before coming to Paris in 1985, where she finished her training at the Arts Décoratifs. Her works have been shown worldwide in France, the UK, Denmark, and the US. See more of Hanna's work here.
Abi Salami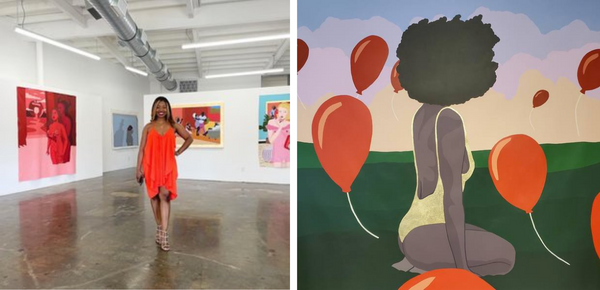 Self-taught artist Abi Salami creates large-scale paintings that explore her experiences as a Nigerian immigrant and Black woman in the United States. Abi combines figurative subjects with surrealist scenes in a vibrant palette. She explores themes of memory, mental health, and race through nuanced facial expressions and energetic compositions. Based in Dallas, Abi earned a Masters's in Professional Accounting from the University of Texas at Austin and worked in corporate America for almost a decade before committing to painting full-time. Her work has been exhibited throughout the US, including solo exhibitions in Dallas and Los Angeles. She was the winner of the 2021 Hopper Prize. See more of Abi's work here.
Love reading about all things art? You can have articles from Canvas, curated collections, and stories about emerging artists delivered straight to your inbox. Sign up for the Saatchi Art Newsletter.