Collector Favorites: Bestselling Artists of October
Ever wondered what other people are buying for their personal art collections? Though your tastes may differ, seeing what others are purchasing can help you discover new artists whose works you might not otherwise have considered.
Below, meet 5 artists who have proven to be popular favorites with our collectors. For more ideas, browse our recently sold works and contact our curators who can help you find similar works in your budget.
Anna Wehrwein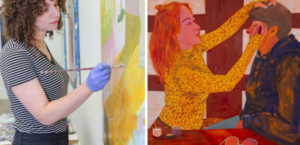 Painter Anna Wehrwein depicts quotidian scenes on a large scale, elevating quiet and intimate moments for contemplation. Often capturing groups of friends, primarily women, engaged with each other rather than looking out at the viewer, Anna subverts the traditional dominance of the male gaze and the objectification of female subjects. Anna holds an MFA in Drawing and Painting from the University of Tennessee in Knoxville. Her work has been featured in notable publications including New American Paintings, and in 2021 she was recognized as a Saatchi Art Rising Star. She is currently an Assistant Teaching Professor of Painting and Drawing at the University of Missouri in Columbia. See more of Anna's work here.
Hue Thi Hoffmaster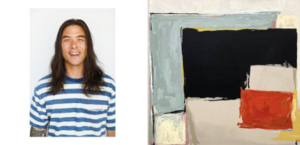 Hue Thi Hoffmaster explores the concept of play through his mixed-media work, using an intuitive practice to broaden his and the viewer's perspective. Specifically, Hue describes his painting process as an act of "listening," listening to his materials, medium, and the forms that emerge organically on the canvas. This flow state in turns becomes a vehicle for exploring inner emotion, past experiences and the vicissitudes of life. Hue holds a BFA from the Pennsylvania Academy of the Fine Arts in Philadelphia. Based in the Hudson Valley, he exhibits frequently in New York, including at The Other Art Fair in Brooklyn. See more of Hue's work here.
Mr. Clement
Pseudonymous artist Mr. Clement draws inspiration from the Old Masters, Pop art and comics to create his paintings and sculptures. Mr. Clement explores dark humor, melancholy and absurdity through cartoonish subjects, primarily the recurring character of Lapin, a pensive rabbit who brings us along on his misadventures. Mr. Clement holds an MA in Communication Art and Design from the Royal College of Art in London. He has exhibited internationally, with solo shows in Los Angeles, Paris, Chicago, and London. Born in Hong Kong, Mr. Clement now lives and works in Tokyo. See more of Mr. Clement's work here. 
Shellie Garber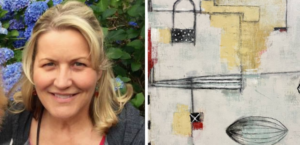 Shellie Garber is a self-taught painter based in Portland, Oregon. With expressive colors and mark-making juxtaposed with sparse compositions, Shellie's paintings exude both joy and calm. Her ebullient abstracts draw viewers in for the sense of place, and even home, that they often evoke through the suggestion of a landscape, or the playful outline of a house. Shellie began painting in 2015, and has since exhibited prolifically in the Pacific Northwest, with recent exhibitions at the Portland Art Museum and RiverSea Gallery in Astoria, Oregon. Her work is held in private collections in the US, East Asia, Australia, and Europe. See more of Shellie's work here. 
Jenny Hee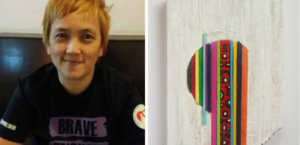 Based in Kuala Lumpur, Malaysia, self-taught sculptor Jenny Hee draws on the built and natural environment around her. Juxtaposing concrete and natural materials with bright, synthetic colors, Jenny aims to create a vibration effect that stirs emotions. In her most recent work, Jenny creates architectural sculptures that contemplate the dichotomies of form and function, and painting versus sculpture. Jenny's work is held in collections in Europe, the US, and Southeast Asia. She has been featured in the Saatchi Art catalog, and has exhibited her work in New York and Milan. See more of Jenny's work here.
Love reading about all things art? You can have articles from Canvas, curated collections, and stories about emerging artists delivered straight to your inbox. Sign up for the Saatchi Art Newsletter.