Collector Favorites: Bestselling Artists of November
Ever wondered what other people are buying for their art collections? Though your tastes may differ, seeing what others are purchasing can help you discover new artists whose works you might not otherwise have considered.
Below, meet 5 artists who have proven to be popular favorites with our collectors. For more ideas, browse our recently sold works and contact our curators who can help you find similar works in your budget.
Steven Lustig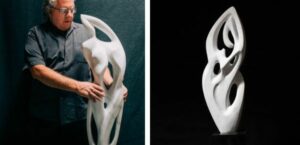 Steven Lustig creates abstract figurative sculptures born out of a love for the human form and its natural motion. These sculptures are inspired by the ancient tradition of human anatomy dating back to the Greeks and the modern versions of art classics like the Italian Futurists Umberto Boccioni and Giacomo Balla. Each one of Steven's sculptures comes directly from his life drawings. Steven exhibits his works in various galleries in the United States, including La Bottega Gallery in Laguna Beach, Marloe Gallery in Brooklyn, NY, and Freeman Fine Arts in Santa Fe, New Mexico. See more of Steven's work here.
Mr STRANGE Jean-Marie GITARD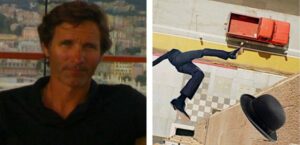 After a fairly classic approach as a visual artist, Mr Strange, primarily inspired by Surrealism, gradually moved away from classical painting to take an interest in polymorphic forms. His artistic evolution leads him to appropriate the digital medium and create what he calls his photo manipulations. Mr Strange handles Surrealism with derision and offers a personal reflection on the world that is sometimes poetic, sometimes caustic, but always sharp. Mr Strange's upcoming exhibitions include Boom at the Carroussel du Louvres in Paris, organized by Focus Art Fair at the end of 2022, and the XIV Biennale of Florence in Italy in 2023. See more of Mr Strange's work here.
Thomas Lamb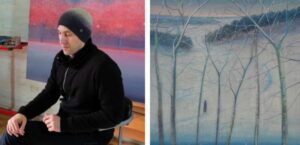 Thomas Lamb received a BA in Fine Art Painting and an MA in Drawing from the Wimbledon School of Art, London. He has been widely recognized for his artwork through several acclaimed awards and exhibitions, including Saatchi Art's Rising Stars. Thomas's current work involves the natural landscape, its transformation through the seasons, and our engagement with this transformation. He creates images that deepen the viewer's sensation of reality. Every picture begins with direct observation and engages with the process of depiction and how this integrates perception, memory, and imagination. See more of Thomas's work here.
Aby Mackie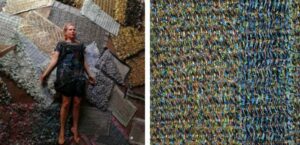 Aby Mackie is a Barcelona-based artist whose wall-based sculptures are unified through a materials-led methodology combining storytelling and social commentary. The creation of Aby's work is driven by the selection and repurposing of objects and textiles to explore ongoing cultural concerns. This roots Aby's artistic process in the everyday existence of Barcelona's residents. Through these works, the artist invites the viewer to create their own connections and interpretations and encourages personal storytelling through materiality. Aby has been featured in Saatchi Art's Catalog. See more of Aby's work here.
Inez Froehlich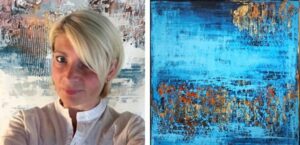 Germany-based artist Inez Froehlich creates large-scale abstract paintings rich in color, texture, and depth. To accomplish the movement of her works, Inez uses acrylic paints, various structure pastes, stone flour, chalk, ink, and other artistic materials. Intending to capture the imperfect, the intuitive moment, and the ephemeral on her canvas, Inez continues to produce captivating artwork that is minimalist in composition yet has an opulent grandeur. Inez studied at the Chemnitz University of Technology and received a Graduate Diploma in Textile Technology. She has also been featured in the Saatchi Art Catalog. See more of Inez's work here.
Love reading about all things art? You can have articles from Canvas, curated collections, and stories about emerging artists delivered straight to your inbox. Sign up for the Saatchi Art Newsletter.