Collector Favorites: Bestselling Artists of March
Ever wondered what other people are buying for their personal art collections? Though your tastes may differ, seeing what others are purchasing can help you discover new artists whose works you might not otherwise have considered.
Below, meet 5 artists who have proven to be popular favorites with our collectors. For more ideas, browse our recently sold works and contact our curators who can help you find similar works in your budget.
Sarah May Hollis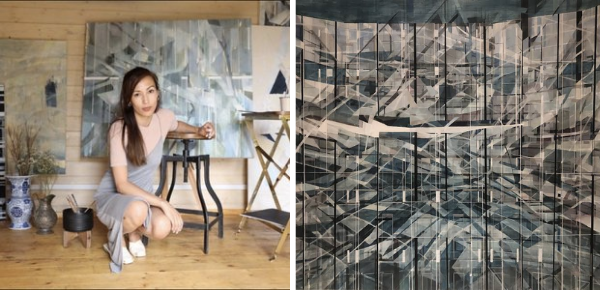 Based in London, British Chinese artist Sarah May Hollis draws inspiration from her background in dance and architecture to create abstract expressionist paintings. Sarah describes her art practice as a dance and "…a united focus of mind, body, and spirit." Sarah layers abstract architectural elements that have been distorted, reconstructed, and interwoven across the canvas to create entirely new geometric patterns and spaces. Her works have been shown in galleries throughout the UK and Italy, and her dance performances have taken place in New York, London, Barcelona, Paris, and Israel. See more of Sarah's work here.
Lise Temple
Inspired by the natural beauty of South Australia, Lise Temple uses colorful and expressive brushstrokes to yield vivid rural landscapes. Based on her daily interactions with the natural landscape, Lise builds dynamic compositions that utilize collage-like layering of paint and thick palette knife marks. Based in Adelaide, Lise has exhibited her work throughout Australia and has won numerous awards, including the Watershed Art Prize and the Heysen Prize for Australian Landscape from the Hahndorf Academy. See more of Lise's work here.
Zack Goulet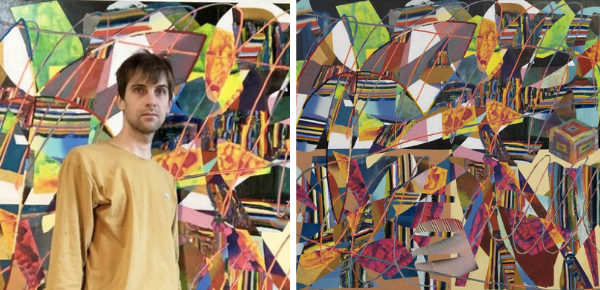 Zack Goulet pushes the ambiguity of figure, foreground, and background to startling effect. Approaching the canvas as a compositional dilemma, Zack intuitively builds up layers of paint that vary widely in texture and technique. Based in Chicago, Zack received his BFA in painting from the College of Visual Arts in Saint Paul, Minnesota. He has participated in a number of gallery exhibitions and art fairs in Chicago including Hairpin Arts Center, ARC Gallery, Three Seeds Gallery, and The Other Art Fair. See more of Zack's work here.
Nikolina Petolas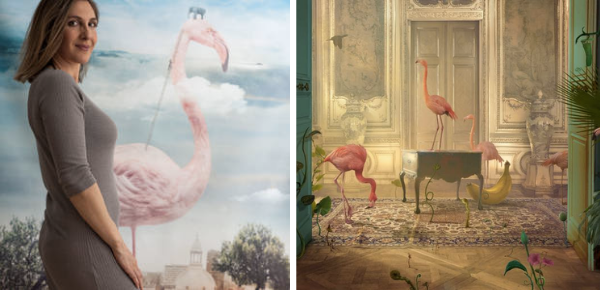 Croatian visual artist Nikolina Petolas creates surrealistic works with various mediums including photography, digital art, oils, and acrylic. Subtly blending traces of allegory, Nikolina's artistic practice is a representation of her observation and experience of the world around her. Nikolina's works have been exhibited globally, including at a recent solo show in Paris. She has received multiple international awards and has been featured in numerous publications. See more of Nikolina's work here.
Bach Nguyen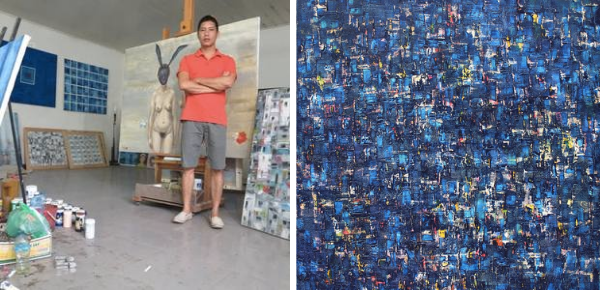 Vietnamese painter Bach Nguyen stirs up conflict between order and disorder in his expressive paintings that feature expansive color fields. His abstract paintings exude power and emotion through juxtapositions of color, and evoke curiosity and empathy within the viewer. Bach graduated from Vietnam University of Fine Art with a distinction in sculpture and art, and his work has been shown in various countries within Asia, including Vietnam and South Korea. See more of Bach's work here.
Love reading about all things art? You can have articles from Canvas, curated collections, and stories about emerging artists delivered straight to your inbox. Sign up for the Saatchi Art Newsletter.