Collector Favorites: Bestselling Artists of June
Ever wondered what other people are buying for their personal art collections? Though your tastes may differ, seeing what others are purchasing can help you discover new artists whose works you might not otherwise have considered.
Below, meet 5 artists who have proven to be popular favorites with our collectors. For more ideas, browse our recently sold works and contact our curators who can help you find similar works in your budget.
Drew Doggett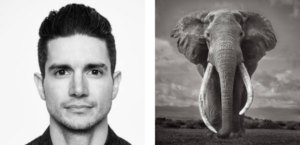 Deeming himself a storyteller above all else, Drew Doggett explores narratives of diverse cultures and communities through a fashion-inspired lens. Through intimate and expansive perspectives, he reveals his subjects in vivid detail to share the world's beauty. Some of Drew's recent series include Exceptional Creatures, Desert Song: Compositions of Kenya, and Swell: Endless Blue. His photographic work can be found in private and public collections globally—including the Smithsonian African Art Museum—and has been featured in many publications such as Conde Nast Traveler, Architectural Digest, and Photographer Magazine.  See more of Drew's work here.
Marc G Ballve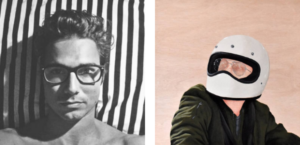 Combining bold, realistic details with a raw unfinished wood background, Marc G. Ballve prompts the viewer to "finish the story" of these snippets he depicts of everyday life. Based in Barcelona, Spain, Marc creates scenes in muted acrylic palettes that are relatable and mundane yet sparks the imagination to fill in the gaps of the scene that are intentionally not being told through the image. Marc graduated with honors from the University of Southhampton in Design and attended Elisava, Barcelona School of Design. He has been on the Saatchi Art platform since 2016 and has seen an increase in sales and popularity in recent months.  See more of Marc's work here.
Viola Babol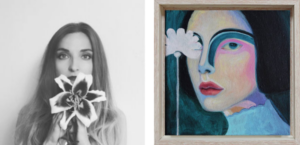 Inspired by the transience of feminine beauty and nature, Viola Babol fills her paintings with heroines and muses, conveying stories of femininity, strength, and character through colorful portraits. Viola uses fluid lines, blocks of bold color, and clean contours to depict her empowered subjects; by doing so, she achieves an abstract aesthetic full of personality with a distinctive artistic style. Viola graduated in 2013 from the Institute of Fine Arts at the Maria Curie-Skłodowska University in Lublin, Poland, specializing in painting. Since then, she has gained national exposure and recognition by showing at various shows, exhibitions, and fairs throughout her home country, Poland. See more of Viola's work here. 
Diana Iancu Torje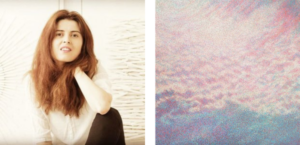 Paris-based artist Diana Iancu Torje creates whimsical abstract paintings and sculptures that exude movement and texture. By using acrylic paints unconventionally, (Diana depicts wave-like swirls applied with bottles filled with paint), Diana's pointillist compositions are filled with thousands of dots of color, and her wall sculptures are made of individually shaped lines of paint. Diana has a MA in Graphic Arts and a BA in Art Education from the University of Art and Design, Cluj Napoca, Romania. She has exhibited her work in group shows such as Plas Contemporary Art Show in Seoul, South Korea, and various solo and group shows in Paris, France. She has also been featured in the Saatchi Art print catalog. See more of Diana's work here.
Juan de la Rica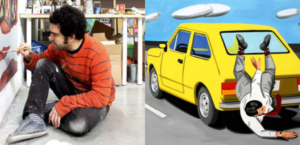 Combining stylized flat shapes and bold, saturated colors, artist Juan de la Rica creates clever, tongue-in-cheek, visually striking compositions. Located in Bilbao, Spain, Juan depicts a range of subjects such as scenes from everyday life in Spain, Spanish bullfighters and surfers, to themes of art history like biblical stories, mythological subjects, and still life. Juan received his BFA from the University of the Basque Country and has since exhibited in numerous solo and group shows throughout Europe and the United States. See more of Juan's work here.
Love reading about all things art? You can have articles from Canvas, curated collections, and stories about emerging artists delivered straight to your inbox. Sign up for the Saatchi Art Newsletter.