Collector Favorites: Bestselling Artists of July
Ever wondered what other people are buying for their personal art collections? Though your tastes may differ, seeing what others are purchasing can help you discover new artists whose works you might not otherwise have considered.
Below, meet 5 artists who have proven to be popular favorites with our collectors. For more ideas, browse our recently sold works and contact our curators who can help you find similar works in your budget.
Dragica Carlin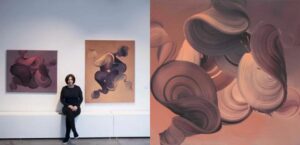 Expressive abstract painter, Dragica Carlin, fills her canvases with broad swirling strokes to create transfixing and dynamic compositions. Her works are completed using multiple layers of paint in a monochromatic palette ranging from dark to light tones. Dragica studied at the Chelsea College of Art, where she received both her Bachelor's and Master's degrees in painting and took part in an artist residency and fellowship program at the British School in Rome. She was awarded the Abbey Painting award in 2008 and has collaborated with galleries in cities such as Los Angeles, New York, London, Melbourne, and Hong Kong. See more of Dragica's work here. 
Melisa Taylor
Melisa Taylor sources her inspiration from both historical art and contemporary culture by exploring the notion of the sublime through blurred images with precise linework. She has developed a multilayering process that combines pyrography, sanding, and detailed stencil compositions on wood to create what she calls "systèmes faillibles," where spectral motifs seek to emerge out of obscuring lattices. Melisa pursued studies in marine biology before training in the classical art of the Old Masters at the Vancouver Art Academy. Her work has been acquired by private and corporate collections across North America, Europe, and Asia. See more of Melisa's work here.
Damien Cifelli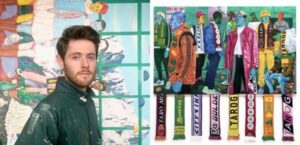 Damien Cifelli is a multidisciplinary artist whose work explores the fictitious land of Tarogramma, a hidden world that explorers have long been searching for in vain. His work is focused on the idea of fictional anthropology and storytelling. Through painting and sculpture, he builds a detailed culture; with its own aesthetic, way of living, and understanding of the world that is at once alien and eerily similar to our own. Damien received his Master's in architecture from the College of Art in Edinburgh, Scotland. He has shown his work in several group and solo shows in Edinburgh and London. See more of Damien's work here.
Jaime Domínguez
Jaime Domínguez is a Mexican artist whose colorful geometric paintings weave the overlapping aesthetic traditions of minimalism and Mexican folk art together with contemporary design trends. Each series is the product of years of academic research and often have great decorative appeal. Jaime has been featured in the Saatchi Art Catalog and has shown with The Other Art Fair Global Edition (2021), The Other Art Fair Los Angeles (2020), and The Other Art Fear Chicago (2018). See more of Jamie's work here.
Peter Vahlefeld
Peter Vahlefeld's visceral artworks combine a rigorous, process-based practice, continually rethinking the possibilities of painting. Using references from a broad array of sources, including art history, literature, and pop culture, Peter creates paintings that unfold in an intricate, unpredictable interaction of layers and excess—a constant juggling of paint, prints, fabrics, mediums, and effect. Peter studied fine arts at Parsons School of Design, NYC, and currently lives between Berlin and Munich. He has participated in various solo exhibitions and art fairs throughout Europe, and his work can be found in corporate collections throughout Germany and in private collections worldwide. See more of Peters's work here.
Love reading about all things art? You can have articles from Canvas, curated collections, and stories about emerging artists delivered straight to your inbox. Sign up for the Saatchi Art Newsletter.