Collector Favorites: Bestselling Artists of July
Ever wondered what other people are buying for their personal art collections? Though your tastes may differ, seeing what others are purchasing can help you discover new artists whose works you might not otherwise have considered. Below, meet 5 artists who have proven to be popular favorites with our collectors.
For more ideas, browse our recently sold works and contact our curators who can help you find similar works in your budget.
Taylor O Thomas

American artist Taylor O Thomas pursues painting as a mode of visual inquiry, treating her work as a series of evolving stories. Between the layered materials and gestural mark-making, O Thomas confronts burgeoning questions of self expression, both internal and external. O Thomas' portfolio of works include drawings, paintings and installations, which have been acquired by collectors in Japan, Spain, Hong Kong, Italy, and across the US. See more of O Thomas' work here.
Helen Butler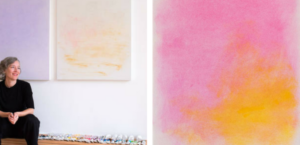 London based artist Helen Butler creates meditative, minimalist abstracts inspired by atmospheric light and color. Butler's paintings are created through a process of overlaying multiple treatments of oil paint, applied thinly and wiped off until only a residual staining remains on the canvas. The color journey commences with the residue of one color and its vibration with another. Her work has been acquired by collectors in Canada, US, UK, Brazil, Switzerland, and South Korea. See more of Butler's work here.
Jonni Cheatwood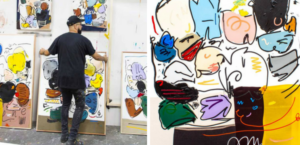 As if formulating his own autobiography with fabric and canvas, Jonni Cheatwood's abstracts tell their own creation stories. The artist moves from canvas to canvas, and studio to sewing machine as found materials are stitched together and subjected to accidental marks, shoe prints, dropped materials and spills of paint. The end result are works that speak to the physicality of his painting process. With 4 solo shows and 4 group exhibitions in 2018 alone, Cheatwood's work is quickly building a notable fan-base, held in the private collections of Usher, Snapchat founder Evan Spiegel, and Mirana Kerr. See Cheatwood's online exhibition with Saatchi Art here.
Mandy Racine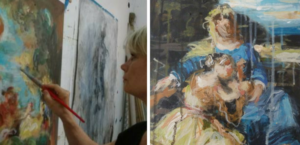 Mandy Racine's figurative paintings revisit traditional, classical subject matter with a fresh, contemporary twist. Beginning her work with a charcoal drawing, Racine works over her figures with gesso, paint, plaster, crayón and pastel, scoring the canvas with underdrawings and layering texture on top. Her work is held internationally by private collectors in Mexico, Norway, US, UK, Canada, Cyprus, UAE, Germany. See more of Racine's work here.
Michael James Talbot

Michael James Talbot finds his inspiration in the subtle movements and expressions of the human form. Working mainly in bronze and granite, Talbot's dramatic figurative sculptures convey tension, fluidity and grace. A graduate of the Royal Academy of London, his works are held by collectors in the US, UK, Italy, Germany and Australia. See more of Talbot's works here.
Love reading about all things art? You can have articles from Canvas, curated collections, and stories about emerging artists delivered straight to your inbox. Sign up for the Saatchi Art Newsletter.