Collector Favorites: Bestselling Artists of February
Ever wondered what other people are buying for their personal art collections? Though your tastes may differ, seeing what others are purchasing can help you discover new artists whose works you might not otherwise have considered.
Below, meet 5 artists who have proven to be popular favorites with our collectors. For more ideas, browse our recently sold works and contact our curators who can help you find similar works in your budget.
Johan Andersson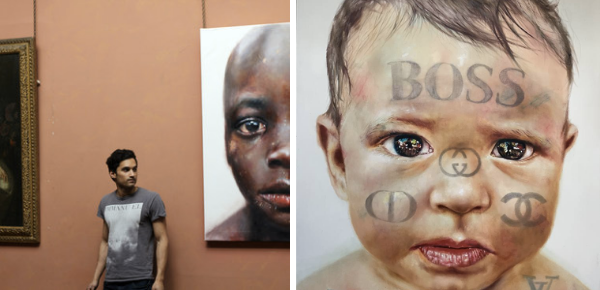 Blending pop symbols and biblical scenes, Johan Andersson's figurative paintings create a sense of conflict and give a voice to those who don't usually have one in today's society. In his latest portraits, Johan focuses on the detailed depiction of eyes to give his portraits an immersive intimacy, vulnerability, and resilience. Johan received his BFA from Central St. Martins in London. He was the youngest artist to be shortlisted for the BP Portrait Award and was named in The Independent's Top 20 Artists. His works have been exhibited worldwide in cities such as Miami, New York City, London, Paris, and Basel. See more of Johan's work here.
Skadi Engeln
Berlin-based artist Skadi Engeln imbues her impressionistic landscapes with mystery and uncertainty through soft color palettes and staccato-like brushstrokes. With blurred edges framed by window-like panels, Skadi's paintings appear to viewers as windows on a moving train, looking out onto vast landscapes beyond. Her works have been featured in galleries and events in Berlin, Brooklyn, Munich, and Paris. See more of Skadi's work here.
Shelton Walsmith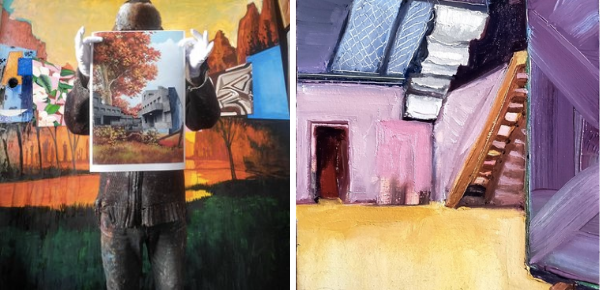 Using a variety of mediums, self-taught artist Shelton Walsmith is committed to exploring the boundaries of his artistic practice—continuing to innovate his use of color, choice of subject matter, and compositional forms. Shelton's abstract compositions are essentially an historical record of his creative process itself. Based in Brooklyn, Shelton is a self-taught artist and his work has been exhibited in galleries throughout the US and featured in numerous publications including The Paris Review, Paris Vogue, Denver Quarterly, and The New York Times. See more of Shelton's work here.
Erna Ucar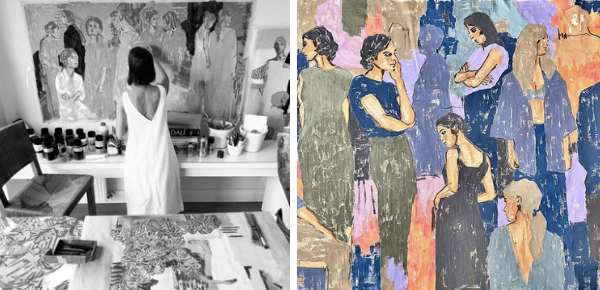 After living in Moscow for several years, Turkish artist Erna Ucar became fascinated by Russian fine art, specifically Neoclassicism and Romanticism. These influences are evident in her large-scale paintings that utilize dreamy color palettes and delicate, feminine silhouettes. Erna's background in graphic design is apparent in all her compositions—whether it be a figure study, an abstract painting, or an idealized landscape—each is carried out with a scrupulous attention to detail. Erna's paintings have been exhibited at the Sanat Gezgini gallery and Ex-libris Society in Istanbul as well as the Brick Lane and Hoxton 253 galleries in London. See more of Erna's work here.
Martina Niederhauser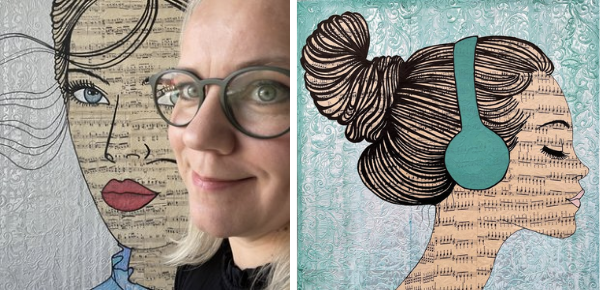 Combining bold blocks of color with intricate patterns and textures that are reminiscent of Art Nouveau paintings, self-taught artist Martina Niederhauser delivers powerful sensory details in her mixed-media creations. Martina's works can be found in numerous public, corporate, and private collections all over the world. She has participated in numerous solo exhibitions and art fairs in London, Amsterdam, Brussels, Berlin, and Vienna. See more of Martina's work here.
Love reading about all things art? You can have articles from Canvas, curated collections, and stories about emerging artists delivered straight to your inbox. Sign up for the Saatchi Art Newsletter.