Collector Favorites: Bestselling Artists of December
Ever wondered what other people are buying for their personal art collections? Though your tastes may differ, seeing what others are purchasing can help you discover new artists whose works you might not otherwise have considered.
Below, meet 5 artists who have proven to be popular favorites with our collectors. For more ideas, browse our recently sold works and contact our curators who can help you find similar works in your budget.
Allan Watson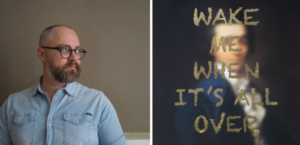 Allan Watson combines the attitude of pop culture with the iconography of the Old Masters to create anachronistic, delightfully sardonic portraits. Allan blurs his figures, eschewing traditional notions of identity and authorship, and tacks on blurbs in gold lettering that reflect the mundanity ("Have you tried turning it on and off?"), the uncertainty ("Normal chaos will resume shortly"), and the hilarity ("Well blow me") of our postmodern milieu. He further mixes old and new by applying the time-honored practice of gold leaf lettering to his digital prints. Based in London, Alan has exhibited his work at The Other Art Fair and the Woolwich Contemporary Print Fair in London. See more of Allan's work here.
Cécile van Hanja
Painter Cécile van Hanja draws inspiration from the modern art and architecture of the Netherlands, where she moved as a child and continues to live and work. "From a bird's eye view," Cécile has noted, "the Netherlands looks like a painting of Piet Mondrain." Cécile draws on the work of Netherlands-native Mondrian and his associated movement, De Stijl, for their work's focus on harmony and unity. 
In addition to the formal dimension of these ideas, Cécile gestures towards the potential for harmony and unity in our social world by creating open spaces, overlapping lines and translucent forms in her paintings. These imagined architectural structures offer viewpoints into irrational, emotive, and novel ways of seeing and thinking. Cécile has exhibited her work throughout Europe, and her work is held in private collections around the world, including in the US, Europe, and Japan. See more of Cécile's works here. 
Joshua Benmore
Photographer and painter Joshua Benmore uses pop elements to create surreal narratives informed by politics, climate change, and nostalgia, ultimately creating seductive and vibrant works with headier messages lurking beneath the surface. Joshua holds a BA with honors in fashion photography from Falmouth University in Falmouth, England, and now lives and works in Essex. His work has been widely published, including in Noctis Magazine, Kühl Magazine, Desire Homme, and Lewis Magazine; in February 2018 he was named Radisson Red's Artist of the Month. In 2020, he was named a Saatchi Art Rising Star, our highest honor bestowed to artists. See more of Joshua's art here.
Michelle Yap
Inspired by modern action painting as well as ink painting traditions across Asia, Michelle Yap paints bold and expressive brushstrokes on minimalist backgrounds to yield dynamic paintings. She works primarily on a large scale, employing both acrylic paint and traditional inks. Based on Kuala Lumpur, Malaysia, Michelle holds a BA in graphic design from Central Saint Martins College of Art and Design in London. She has exhibited her work at Shanghai International Art Fair and The Other Art Fair in New York and Chicago. Her work is held in galleries, hotels, and private collectors around the world, including in the US, Paris, Dubai, and Singapore. See more of Michelle's work here. 
Zack Goulet
Ambiguity between figures, foreground, and background are fundamental to abstraction. Zack Goulet pushes this ambiguity to startling effect, approaching the canvas as a compositional dilemma, and working both intuitively and algorithmically to build layers of paint that differ drastically in texture and technique. Inspired by such fundamental issues as the science of spirituality, and perception of reality, Zack also seeks to emphasize the relevance of handcrafted works in a digitally-saturated world. 
Based in Chicago, Zack received his BFA in Painting from the College of Visual Arts in Saint Paul, Minnesota. He has participated in a number of gallery exhibitions in Chicago at the Hairpin Arts Center, ARC Gallery, and the Three Seeds Gallery. His work is held in the collection of sculptor Nick Cave, and in 2020 Zack was named a Saatchi Art Rising Star. See more of Zack's work here.
Love reading about all things art? You can have articles from Canvas, curated collections, and stories about emerging artists delivered straight to your inbox. Sign up for the Saatchi Art Newsletter.