Collector Favorites: Bestselling Artists of December
Ever wondered what other people are buying for their personal art collections? Though your tastes may differ, seeing what others are purchasing can help you discover new artists whose works you might not otherwise have considered. Below, meet 5 artists who have proven to be popular favorites with our collectors.
For more ideas, browse our recently sold works and contact our curators who can help you find similar works in your budget.
Vicky Barranguet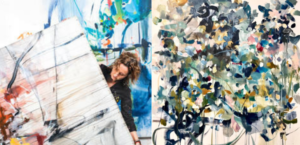 New York City-based Uruguayan painter Vicky Barranguet combines gestural mark making with an empirical approach to detail and composition. The results are bold, large-scale works with passages of spontaneous gestures that morph into complex systems. Vicky's rhythmic paintings are held in collections across the United States, Europe, and East Asia. Her works have been exhibited at Artemisa Gallery in New York, The Affordable Art Fair New York, and McCaig Welles Gallery in New York. See more of Vicky's work here.
Anna Sidi-Yacoub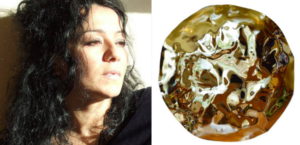 With a background in graphic design and architecture, Anna creates design-conscious works that also evoke nostalgia. With their highly reflective metallic surfaces, Anna's hand-formed aluminum sculptures reflect light like the glistening surface of water, a motif the artist associates with childhood memories of summertime. Anna exhibits regularly in Dublin, Ireland, where she lives and works, and her work is held in private collections across the United States, Europe, and East Asia. See more of Anna's work here.
Kim Kimbro 
In Kim Kimbro's gestural paintings, lithe and expressive animals act as vehicles through which the artist explores the nuances of emotion, memory, and mortality. Often painted in subdued yet unexpected colors, Kim's creatures convey startling complexity and emotional depth, inviting the viewer to piece together their own narratives surrounding the paintings. Kim holds a BFA from Parsons School of Design and exhibits her work frequently in Los Angeles, where she lives and works. Kim's paintings are held in collections throughout the United States, Europe, and Australia. See more of Kim's work here.
Adriana Ablin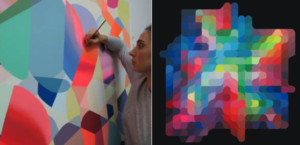 Drawing on Gestalt principles of perception, Argentinian painter Adriana Ablin repeats, rotates, and distorts basic compositional elements into eye-catching optical illusions and geometric paintings. Adriana's calculated use of vibrant colors turns her dizzying paintings into dynamic, harmonious tableaus. Adriana lives and works in Buenos Aires, where she teaches graphic design at the University of Buenos Aires and exhibits her work regularly in group and solo shows. Most recently, her work was selected to be exhibited in the prestigious 2018 "Salón de Pintura Manuel Belgrano" at the Sivori Art Museum in Buenos Aires. See more of Adriana's works here. 
Sander Steins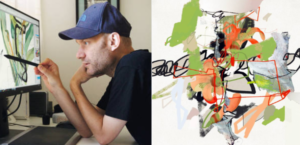 Sander Steins explores the complexities of human nature through entropic compositions. With a background in photography, Sander combines digital and hand-drawn techniques to present visual dichotomies between nature and technology. Based in the Netherlands, Sander has exhibited his work across Europe, the United States, and Asia, including at the Karuizawa New Art Museum in Nagano, Japan, and The Other Art Fair London. See more of Sander's works here.
Love reading about all things art? You can have articles from Canvas, curated collections, and stories about emerging artists delivered straight to your inbox. Sign up for the Saatchi Art Newsletter.