Collector Favorites: Bestselling Artists of August
Ever wondered what other people are buying for their personal art collections? Though your tastes may differ, seeing what others are purchasing can help you discover new artists whose works you might not otherwise have considered.
Below, meet 5 artists who have proven to be popular favorites with our collectors. For more ideas, browse our recently sold works and contact our curators who can help you find similar works in your budget.
Sophia Oshodin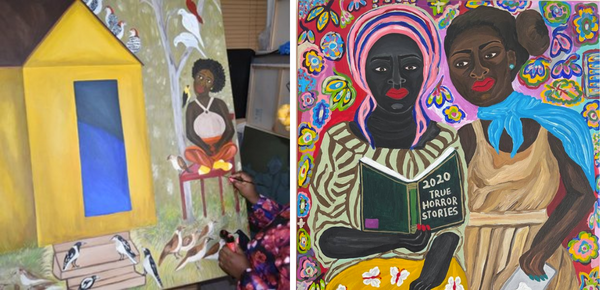 Drawing inspiration from African arts, self-taught figurative painter Sophia Oshodin uses a bold, vibrant palette to highlight varying facial expressions that reveal the stories hidden underneath her figures' emotions. Capturing the daily lives of black women in the diaspora, Sophia challenges stereotypes of the black community constructed by social ideology and the media. Based in London, Sophia has participated in various exhibitions throughout the UK and has been included in The Other Art Fair, London. She was shortlisted for the Kate Bryan Art prize in 2021. See more of Sophia's work here.
Melissa Herrington
Melissa Herrington's soft-colored abstract paintings provide spaces for contemplation and meditation through their use of organic hues and textured mark-making. She often works on multiple paintings simultaneously and constantly shifts between them—allowing her compositions to be full of possibilities and fluidity, like stories still in development. Currently living and working in Los Angeles, Melissa received her BFA from Florida State University and MFA from Otis College of Art and Design. Her works have been exhibited nationally and internationally, including solo shows at Lanoue Gallery in Boston, Spillman Blackwell Fine Art in New Orleans, and Coral Springs Museum of Art. See more of Melissa's work here.
Peter Nottrott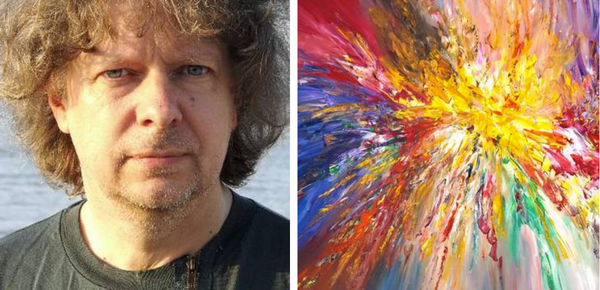 With a passionate and energetic attitude, Peter Nottrott brings abstract expressionist techniques to large-scale canvases. Fascinated by the freedom of colors and shapes, he values the creative process, composing high-energy paintings through layer upon layer of bright colors. Based in Hamburg and Flensburg, Peter studied at the private art school "JAK" in Hamburg. His paintings can be found in collections from private to multinational companies in Germany, Austria, Switzerland, Liechtenstein, Luxembourg, Belgium, the Netherlands, France, Italy, Spain, Sweden, Norway, the US, Australia, and Dubai. See more of Peter's work here.
Novi Lim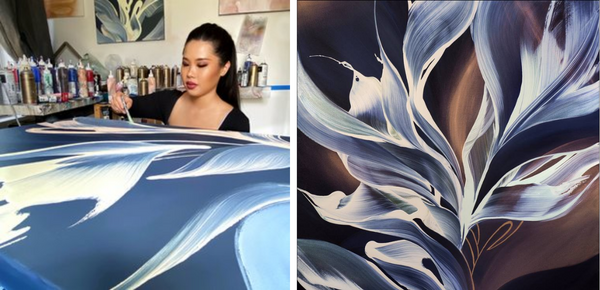 With an educational background in visual communication, Novi Lim brings her eye for color and composition to her art practice. Inspired by nature and her memories, Novi reveals her inner thoughts on the canvas, turning her designs into something tangible yet abstract, allowing the viewer to enjoy the dichotomy's balance and flow. Based in Raleigh, Novi holds a BFA from Pelita Harapan University. Her work has been exhibited throughout the US and Paris. See more of Novi's work here.
Richard Arfsten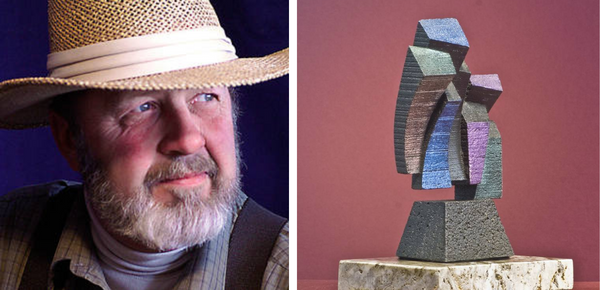 Mixed-media artist Richard Arfsten is best known for his metal architectural sculptures. His passion for science fiction led him to blend surrealism into his geometrical structures. With a background in industrial arts, Richard effortlessly experiments and explores the production process to bring whimsical ideas into reality. He currently lives and works in Wisconsin. His work resides in numerous private and public collections, including the University of Minnesota, Beloit College, Milwaukee County Zoo, the Wisconsin Department of Justice, and UW Hospitals and Clinics. See more of Richard's work here.
Love reading about all things art? You can have articles from Canvas, curated collections, and stories about emerging artists delivered straight to your inbox. Sign up for the Saatchi Art Newsletter.