Collector Favorites: Bestselling Artists of August
Ever wondered what other people are buying for their personal art collections? Though your tastes may differ, seeing what others are purchasing can help you discover new artists whose works you might not otherwise have considered. Below, meet 5 artists who have proven to be popular favorites with our collectors.
For more ideas, browse our recently sold works and contact our curators who can help you find similar works in your budget.
Hennie van de Lande

Hennie van de Lande's deliberately uses old materials — things associated with the past — and gives them new life, repurposing them in her artworks. Hennie believes, "It's not what you look at that matters, it's what you see", an artistic philosophy embodied in each of her delicate abstractions. Hennie lives in Breda, Netherlands and her work has been featured in numerous galleries around Western Europe. Her artworks have been acquired by collectors in the US, Japan, Lichtenstein, Australia, UK, Italy, Hong Kong and Taiwan. See more of Hennie van de Lande's work here.
David Komander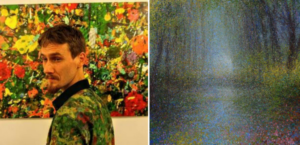 David Komander finds constant inspiration in music and the natural world. David's paintings are an impressionist's interpretation of natural landscapes, seeking to capture the lyrical forms and fluidity found in nature. Concerned with artistic interaction and intervention, David frequently utilizes public spaces to showcase his art and music in art installations. A graduate of the University of Bonn, his works are held by collectors in North America and Europe. See more of David Komander's work here.
Felix Carr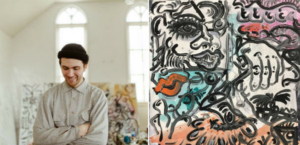 Felix Carr's figurative abstracts are unapologetically bold in line and form, and dense in literary and historical references. Exploring the possibilities of expression and gesture, Felix's complex narratives come alive on the canvas in sometimes obvious and subtle ways. Felix received his BA from Glasgow School of Art in Painting and Printmaking and currently lives and works in London. The artist has been part of exhibitions across the UK and his works are held by collectors in the UK, US, Hong Kong, Greece, Qatar, Canada, Australia and Germany. See more of Felix Carr's work here.
Kevin Sloan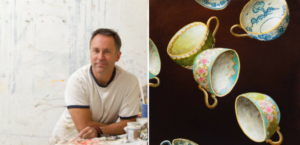 American artist Kevin Sloan wants his artworks to promote discussions about our relationship with nature in an increasingly modern and technologically advanced society. Kevin's illustrations of plants and animals are highly realistic — almost scientific in representation — yet playful as his birds, elephants and other animals balance on tightropes, circus balls, teacups or other comical objects. Kevin received his MFA in Painting from the University of Arizona and BFA in Painting at the Tyler School of Art of Temple University. The artist has had solo exhibitions across Northern America and has sold to private collectors in the US, UK, Switzerland, Denmark, Canada, Australia, Saudi Arabia, Germany, Russia, France, South Africa, Sweden, Ireland, Norway, Qatar, Hungary, Hong Kong, Netherlands, Singapore and Peru. See more of Kevin Sloan's work here.
Tomoya N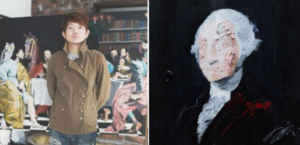 Tomoya N's eerie portraits, often interpretations of masterpieces, selectively obscure and reveal different parts of his subjects' faces. Using a palette knife, paper, guitar pick or simply his hands, Tomoya puts layer upon layer of paint on his canvases to obscure each portrait. His artworks have been acquired by international collectors in countries such as the US, Canada, the UK, Switzerland, Italy, Netherlands, United Arab Emirates, Cyprus, Australia, China, Taiwan, South Korea and Japan. See more of Tomoya N's work here.
Love reading about all things art? You can have articles from Canvas, curated collections, and stories about emerging artists delivered straight to your inbox. Sign up for the Saatchi Art Newsletter.