Behind The Scenes with Archie Proudfoot
Celebrating its fifth year, The Other Art Fair has commissioned Archie Proudfoot to respond to the idea of 'The Other'.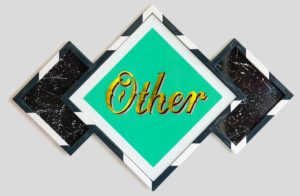 Archie's innate interest in words and dormant sense of craftsmanship lead to his turn as an artist and sign painter. Archie graduated with a degree in English literature that would later inform his practice of isolating a single word or phrase for his artwork gilded in gold.
Despite his turn to nostalgia and his use of traditional techniques, mediums, and processes, Archie is able to create an artwork completely contemporary and unique to his own practice. Utilizing glass, steel, gold-leaf, and enamel, Archie explores our relationship with the English language, as well as examining our emotional response to it. His use of geometry and physical interplay of the letterforms have made his originals works easily recognizable and celebrated across the great East London community. Read on to learn more about how Archie created his work for The Other Art Fair.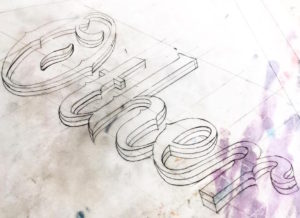 "So, my work is all done by hand using traditional techniques. That means starting with a scale size sketch. This will then act as a roadmap for the rest of the process."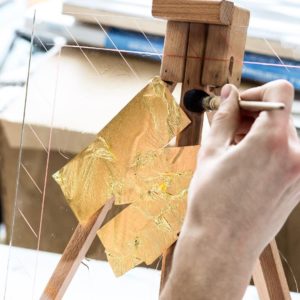 "Now comes the real black magic part, reverse-glass water gilding. I lay in sections of 23-carat loose leaf gold onto the glass where I want the lettering to be. As the gold dries it mirrors ready to be backed up."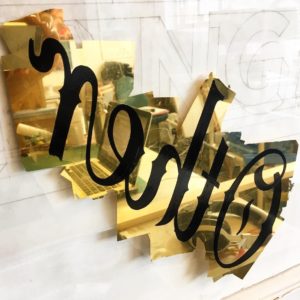 "The dried and burnished gold is then backed up using a hardened enamel paint, this fixes the gold to the glass where you want it allowing the excess to be cleaned away leaving just a mirrored 'Other' on the opposite side of the glass. From there each section can be painted in stage by stage."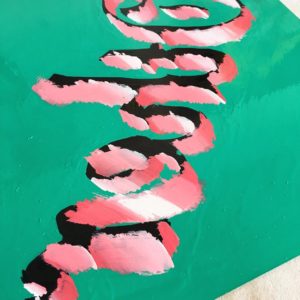 "The final stage on the glass is to do the blended shade, by this point everything else is masked off so I use my finger tip to soften the gradient between the different tones of paint."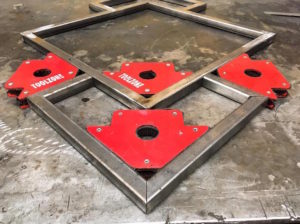 "The glass is now ready for the frame which I've welded together from box section steel. It's here that my work really begins to diverge from simply using the sign painting techniques. The steel work allows me to present the glass pieces in new and more sculptural ways. And for the collaboration with TOAF for the fair I really wanted to push that further so I incorporated multiple panels into the design."
Visit The Other Art Fair London to check out Archie and other incredible emerging artists. The Fair takes place Thursday 6 to Sunday 9 October 2016 at the Old Truman Brewery, Hanbury Street. Click below for tickets or to browse the exhibiting artists' portfolios online.