Year in Review 2018: Top Sculptors
As 2018 comes to a close, it is time to celebrate a few artists who have helped contribute to an exciting year of emerging art. Below, meet 5 sculptors who have proven to be popular favorites throughout 2018.
For more ideas, browse our recently sold works and contact our curators who can help you find similar works in your budget.
Michele Rizzi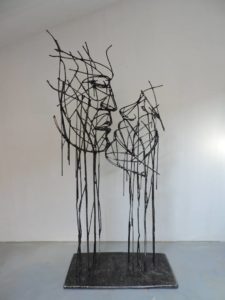 Based in Italy, Michele Rizzi masterfully manipulates steel, wire and iron mesh to create sculptures that contemplate upon the themes of humanity, time, and space. Rizzi is most recognized for his sculptures of the human form that have taken guidance from a vast array of influences ranging from the ancient Minoan art to the sculptures of Giacometti. Rizzi participated in numerous solo and group exhibitions including the collective exhibition titled "Through the Black Mirror" in Milan and the solo exhibition titled "L'Eremo" in Cherasco. His works are showcased in private collections around the world including Malaysia, Germany, Italy, Romania, Switzerland, the United States, and the United Kingdom. See more works of Michele Rizzi here.
Volodymyr Semkiv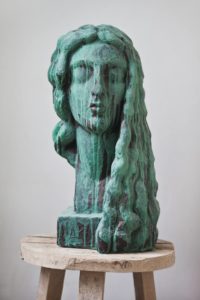 The Ukraine-based artist Volodymyr Semkiv cultivates figurative and portrait sculptures using a variety of materials: iron, bronze, steel, granite, plaster. Through his skillful technique, Semkiv elicits recurring themes of the human condition, the human form and societal issues within his works. Semkiv received his Masters degree from Lviv National Academy of Arts, where he later began to exhibit in numerous solo and group exhibitions. Semkiv recently showcased his works at the Veles Art Salon and the Museum of Scenography in Ukraine. Additionally, private collections in the United States, South Korea, and France currently display Semkiv's sculptures. See more works of Volodymyr Semkiv here.
Jo Moore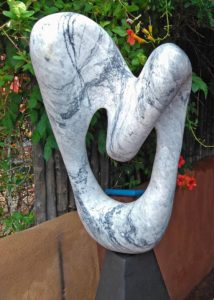 Drawing inspiration from nature, the New Mexico artist Jo Moore creates compelling sculptures that display an elegance of form and uniquely rich surfaces. Her introspective approach allows her to explore the inherent tension of the elemental forces contained within the stone, resulting in an evocation of meditation and serenity. Both nationally and internationally recognized, her works have been featured in collections such as Spain's The Duke of Albuquerque, the Albuquerque Bio Park, The University of New Mexico, and The College of Santa Fe Outdoor Sculpture Collection. See more works of Jo Moore here.
Frans Muhren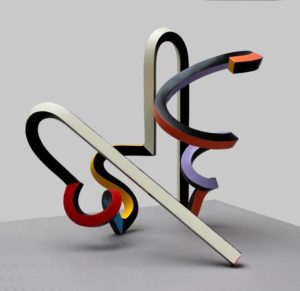 Based in the Netherlands, Frans Muhren intuitively employs a diverse array of materials – e.g. wood, iron, styrofoam, plastics, acrylic paint, oil paint – to articulate upon themes of movement, contradictions, and the possibilities of matter. His deep understanding on how his artworks influence the physical space contextually results in unpredictable and dynamic sculptures. Muhren exhibited works in countless galleries such as Galerie Sille in the Netherlands and Nassau 42 Fine Arts in Germany. Additionally, his works are held in private collections around the world including Turkey, Canada, France, Singapore , Switzerland, and the United States. See more works of Frans Muhren here.
Michael James Talbot
Michael James Talbot is a British bronze sculptor who masterfully captures beautiful narratives through subtle expressions and movements in figurative sculptures. Inspired by theatre, myth, dance, and illusion, Talbot casts momentary forms or gestures employing the lost-wax technique from Ancient Greece. Talbot was elected a member of the Royal Society of British Sculptors in 1997, where he was later elected a member of the National Sculpture Society in 2012. After acquiring the prestigious Landseer Prize, Talbot has showcased works in various galleries including Calken Gallery in London and Villa Del Arte in Barcelona. See more works of Michael James Talbot here.
Love reading about all things art? You can have articles from Canvas, curated collections, and stories about emerging artists delivered straight to your inbox. Sign up for the Saatchi Art Newsletter.