Year in Review 2018: Top Painters
As 2018 comes to a close, it is time to celebrate a few artists who have helped contribute to an exciting year of emerging art. Below, meet 5 painters who have proven to be popular favorites throughout 2018.
For more ideas, browse our recently sold works and contact our curators who can help you find similar works in your budget.
Mandy Racine
Mandy Racine reinterprets classical art pieces to create dynamic figurative works rich in textures, movement, and colors. Her experimentation with a diverse array of materials – charcoal, acrylic, plaster, latex, varnishes – allow her to present her own refreshing twist on traditional Baroque and Rococo subject matter. Most recently, Racine showcased her works at the "Night of Art" group exhibition in Mallorca, where she went on to feature in the Klassik Magazine. Her works can be found in private collections around the world including the United Kingdom, Mallorca, Portugal, Switzerland, Japan, and France. See more works of Mandy Racine here. 
Anna Mtykiewicz
The Dublin-based painter Anna Matykiewicz beautifully captures the complexity of human expression and dialogue within her portraiture work. The bold color palette and stylistic elements utilized in her works symbolically portray the transformative nature of different emotional states. Matykiewicz has featured works in various galleries around the world, including the ART UpClose Gallery in New York City and bio.space 033 in Dublin. Her works have been featured in countless publications: Bleaq, Embark Magazine, Borealis Magazine, Aesthetica Artists' Directory, OOB Magazine, Copelouzos Art Museum. See more works of Anna Matykiewicz here.
Alec Cumming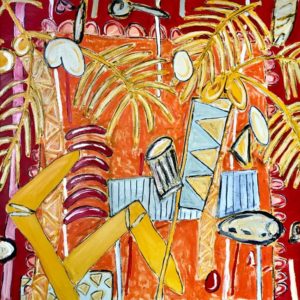 Working in between the UK and India, Alec Cumming paints vibrant and playful abstract works that innovatively integrates western and eastern influences. The cross-cultural narratives along with the semi-recognizable visual forms create for dynamic works filled with a love and celebration for life. Along with being the youngest artist to have a solo exhibition with the British Council in India, Cumming has received success with numerous solo and group shows including exhibitions at the Paul Stewart Gallery in Paris and the Dove Street Studios in Norwich. Cumming's work is held in private, public and corporate collections worldwide: Portugal, Cyprus, the United States, the United Kingdom. See more works of Alec Cumming here. 
Xuan Khanh Nguyen
Xuan Khanh Nguyen creates vibrant landscapes that masterfully employs a minimal yet expressive color palette with a dream-like atmosphere. Inspired by his home country of Vietnam, Nguyen evokes a sense of nostalgia and familiarity within his works by visually translating the emotions and forms observed from his surroundings. Most recently, Nguyen showcased his works in a solo exhibition titled "Heritage Region" in Hanoi. Nguyen's works can be found in private collections globally including Japan, Thailand, France, Spain, Norway, Greece, the United States, and the United Kingdom. See more works of Xuan Khanh Nguyen here.
Carla Sa Fernandes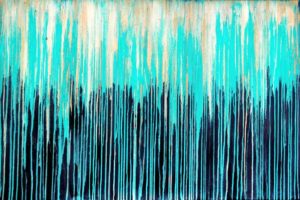 Residing in Portugal, Carla Sa Fernandes is an abstract artist who specializes in painting large-scale acrylic works. Her authentic approach to depicting her experiences and emotions onto canvas are elicited by her spontaneous brush strokes and vibrant color scheme. She has participated both nationally and internationally with several galleries and corporations including Eurostars I-hotel in Spain, Smart4Art in Portugal, and Fondazione Opera Campana Dei Caduti in Italy. Fernandes' works are collected worldwide: Argentina, Austria, Australia, Japan, Spain, Monaco, Portugal, the United Kingdom, the United States. See more works of Carla Sa Fernandes here.
Love reading about all things art? You can have articles from Canvas, curated collections, and stories about emerging artists delivered straight to your inbox. Sign up for the Saatchi Art Newsletter.