Why We Love John Baldessari's Goya Series

The minimal meets the cynical in John Baldessari's Goya Series. A far lesser-known body of work than the great contemporary artist's 'dots on faces,' Goya Series marks Baldessari's return to examining the dialogue between imagery and text. In honor of his birthday this week, take a deep dive into this 1990s series that so embodies Baldessari's relentless sense of humor and ability to contextualize the mundane.
Goya Series draws its name and inspiration from Francisco Goya's posthumously penned series, The Disasters of War. The Spanish artist's etchings depict violent scenes of war paired with sterile, sardonic titles. As art critic for the Village Voice, Peter Schjeldahl puts it, Goya knew "that words could not begin to express the thing. [He] used language to expose the inadequacy of language." Goya's disillusionment is palpable. One such title, below a morbid scene of a firing squad, coldly reads, "Y no hay remedio" or "It cannot be helped."

Prisoners are executed by firing squad in Plate 15 of Goya's Disasters of War. The text below reads "Y no hay remedio (It cannot be helped)." (Image: The Met Museum)
Baldessari's take on The Disasters of War is decidedly more subtle, while still maintaining the cynical, even moral quality of Goya's works. Looking at a vase of flowers titled, "There Isn't Time," or an overripe peach paired with "Less Than Perfect," Baldessari's everyday objects suddenly feel like a commentary on values and the human condition. Which is exactly what is so cool about Goya Series. Each image and text pairing are just obtuse enough to merit a more fluid interpretation of meaning.
"I'm really interested in what conceptual leaps people can make from one bit of information to another and how they can fill the space." – John Baldessari (MOMA.org)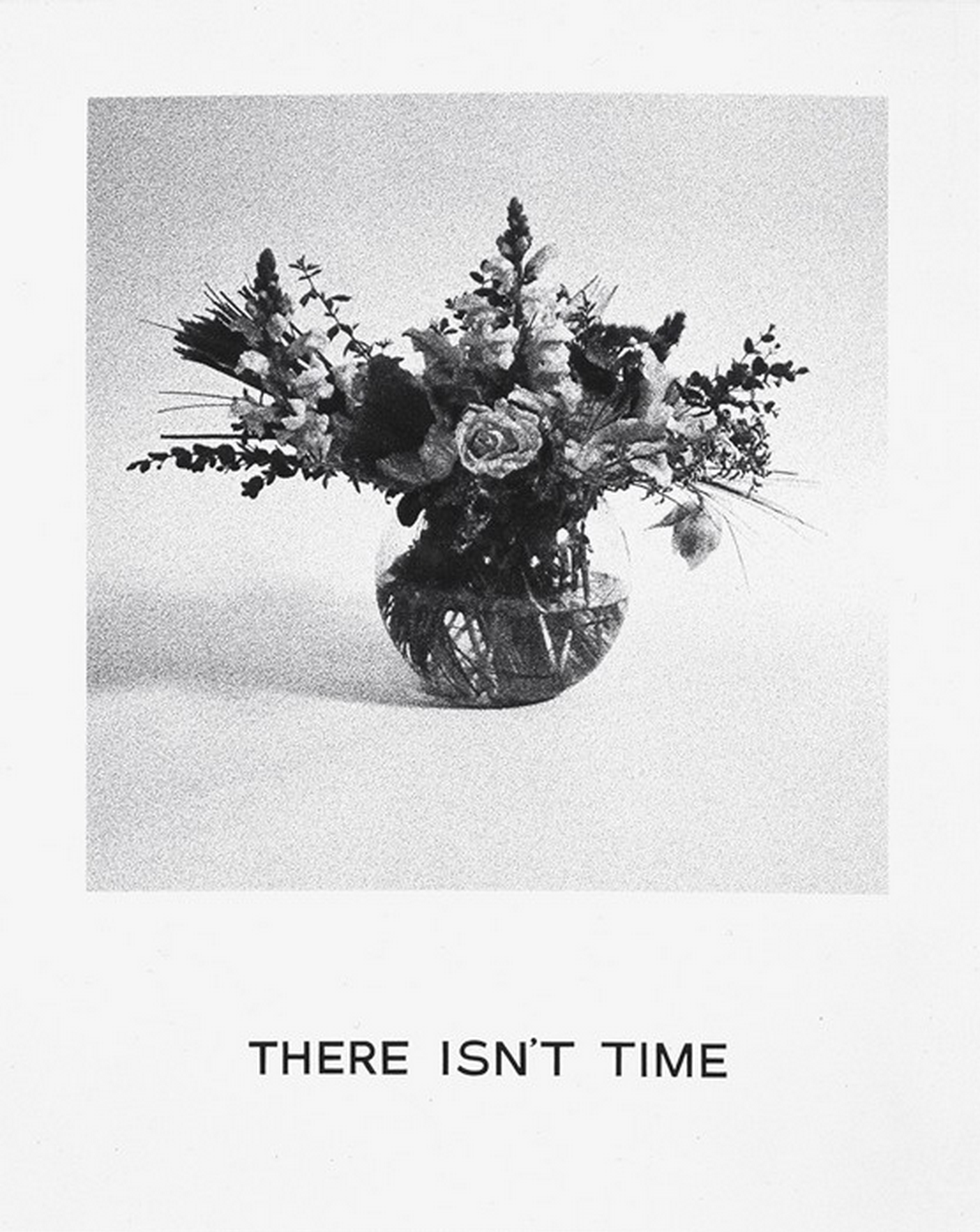 Goya Series: There Isn't Time, ink jet and synthetic polymer paint on canvas (Image: Christie's)

Goya Series: And, ink jet and synthetic polymer paint on canvas (Image: Socks Studio)
"Baldessari counters the natural priority that images have over text in our experience. Instead of looking first and reading second, we do both pretty much at once. A buzzing standoff may occur between the visual and the verbal centers of one's brain," – Peter Schjeldahl (wonderful cynicism)
The trick isn't a complicated one, but this has always been Baldessari's greatest strength. LACMA curator Leslie Jones describes this particular ability: "I've often thought of Baldessari's work as kind of a surrealism for the media age, if that makes sense," Jones says, "because he's taking pre-existing imagery and reconfiguring it and creating new realities, or surrealities … from them." (Npr.org, 2013)

Goya's The Disaster's of War was never seen during his lifetime, published 35 years after the great artist's death. Baldessari's rendition, as well as others that echo it (like this Cali Dewitt series), have reached new audiences who still resonate with Goya's cynical take on language. (Image: Socks Studio)

Baldessari went on to iterate on this theme of the relationship between images and text in his series, Pure Beauty. (Image: Socks Studio)
Want to learn more about John Baldessari's work, past and present? This delightfully Baldessari-esque video, narrated by Tom Waits, reviews the entirety of the artist's career in an action-packed 5 minutes. Enjoy!
Love reading about all things art? You can have articles from Canvas, curated collections and stories about emerging artists delivered straight to your inbox. Sign up for the Saatchi Art Newsletter.