10 Things to Know This Week in Art
Our recap of what you missed this week at Saatchi Art, online, and around the world.
#1: Saatchi Art's Elise Ansel On View at The RA's Summer Exhibition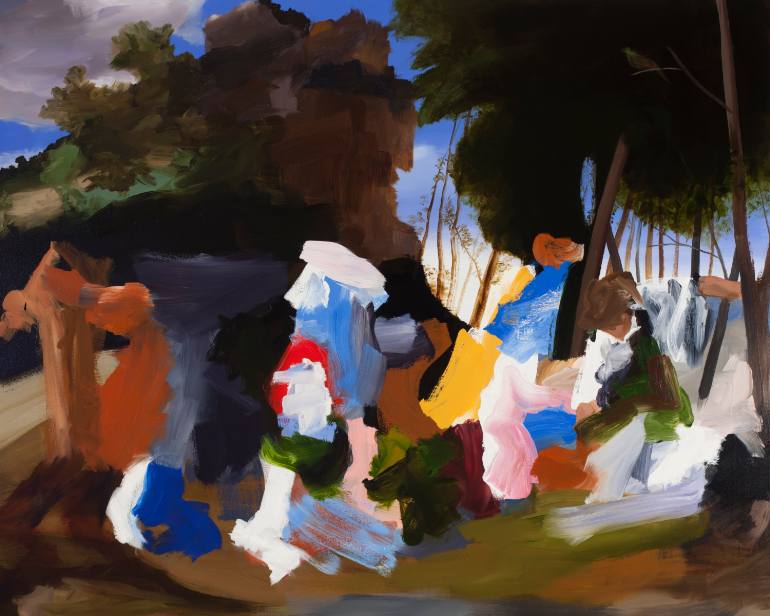 "Feast of the Gods II" is now on view in the RA's Summer Exhibition
Saatchi Art artist Elise Ansel was selected for The Royal Academy of Arts' Summer Exhibition, now on view in London. The Portland, Maine-based artist follows in illustrious footsteps. According to the RA:
The Summer Exhibition is the world's oldest open-submission exhibition: its earliest exhibitors included the likes of Reynolds, Constable and Turner.
For details and to visit the show, visit the RA website. Learn more about Elise in our "Inside the Studio" interview and tour. 
#2: Design Milk Editor Jaime Derringer Unveils Artful Master Bedroom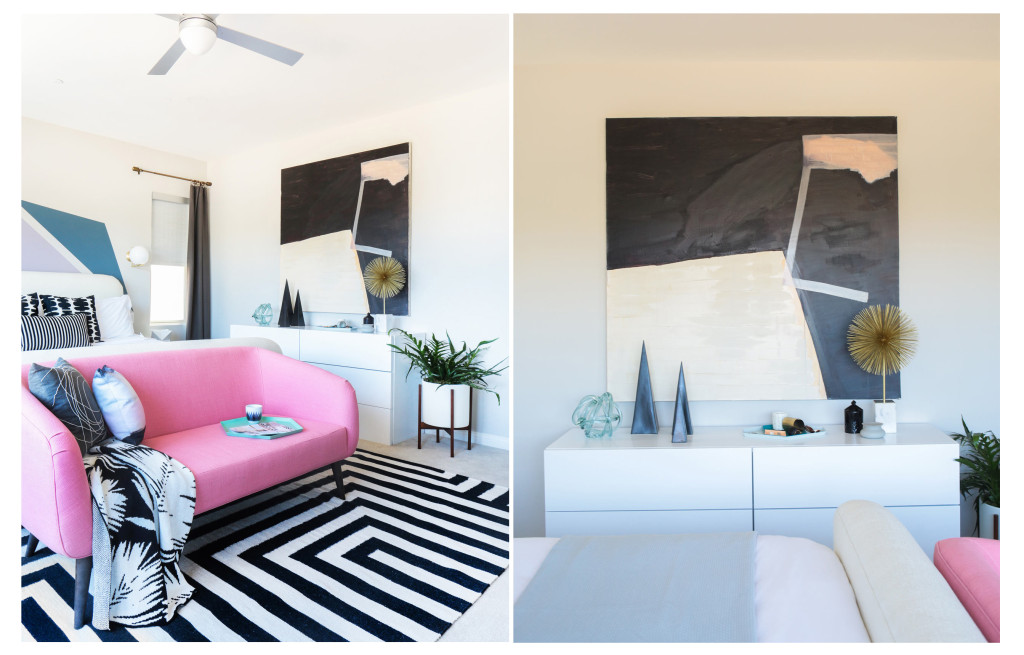 Jaime's new master bedroom featuring artwork "Something Else"  [Photo credit: Tessa Neustadt]
Earlier this week, Design Milk founder and editor-in-chief Jaime Derringer unveiled her much-anticipated master bedroom makeover, including new artwork she found on Saatchi Art. With help from Homepolish's Orlando Soria, (one of our favorite designers) the end result looks stunning! Here's how Jaime found her artwork:
Buying a large piece of artwork was very intimidating for me, so I worked with Saatchi Art to help me locate something that would work best for my space. They have a special art advisory service. We sent over our desires, moodboard, and budget, and they selected a handful of suggested works. I ended up with the most amazing piece by UK artist Aimie Herbert called "Something Else"—it's huge!
We're so thrilled to see the final result! See more photos on Design Milk.
Want to work with your own art advisor, free? Contact us to get started.
#3. VOGUE Publishes Saatchi Art's Katarzyna Wisniewska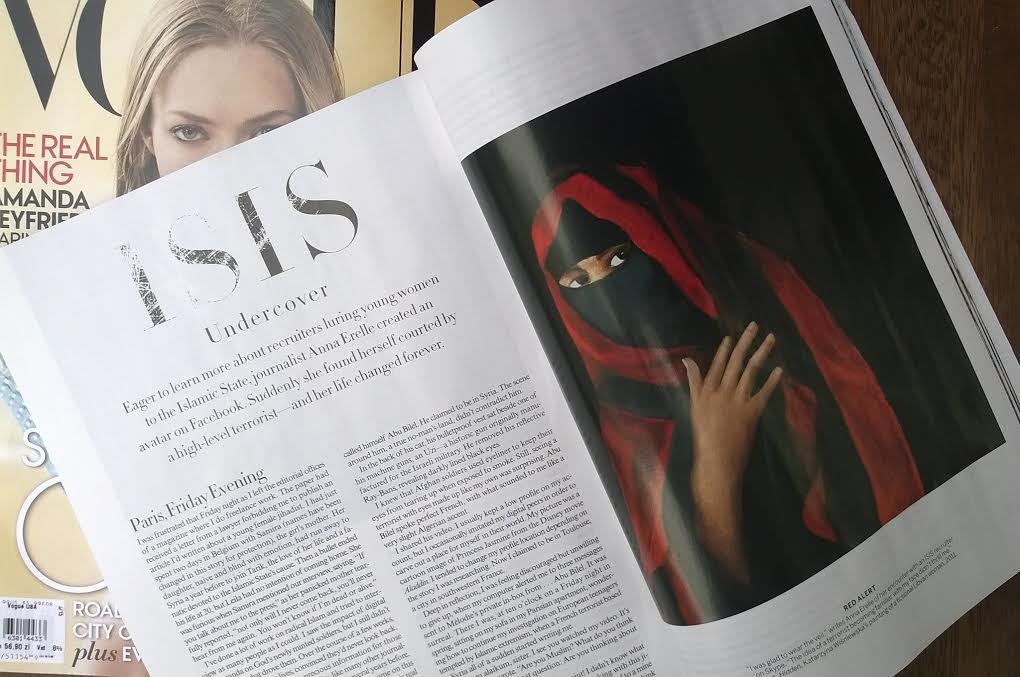 Katarzyna Wisniewska's "Hidden" in Vogue US
When VOGUE US reached out to us about publishing a work by Polish artist Katarzyna Wiśniewska to complement a story, we couldn't have been happier to facilitate. Her 2011 painting "Hidden" is now printed in the pages of the July issue, illustrating a story on terrorist group ISIS. Pick up a copy on stands, or read the article online.
To learn more about Katazyna's paintings, visit her portfolio.
#4: Shia LeBeouf Collaborates with Central St. Martins Art Students
Need a pep talk? Actor Shia LaBeouf unleashes the most aggressive motivational speech ever.
Publicity stunt or performance art? You decide.
Produced by LaBeouf, Rönkkö & Turner in collaboration with Central Saint Martins BA Fine Art 2015 students, this video has already reached 6M views.
#5:  Possible New Portrait of Leonardo da Vinci Surfaces
Experts reconsider the subject of this 16th century engraving [Image via Hyperallergic / Cleveland Museum of Art]
A 1505 engraving by Marcantonio Raimondi, previously thought to depict the legendary Greek musician Orpheus, is now being reconsidered. Music scholar Ross Duffin poses a new theory: It is instead a portrait of Leonardo da Vinci, looking very relaxed while playing a lira for some animals and plants? Possibly! Hyperallergic shares the story.
#6: Closing Soon: Rare Photos of AbEx Artists in their Studios
"Andy Warhol with Brillo Boxes" by Fred W. McDarrah [Courtesy Steven Kasher Gallery]
See early photographs of Warhol, de Kooning, and more by Fred W. McDarrah, who documented the New York School from its beginnings. Maybe it's us, but we never get tired of seeing artists in their studios…
#7: Anish Kapoor's Installations at Versailles Spark Controversy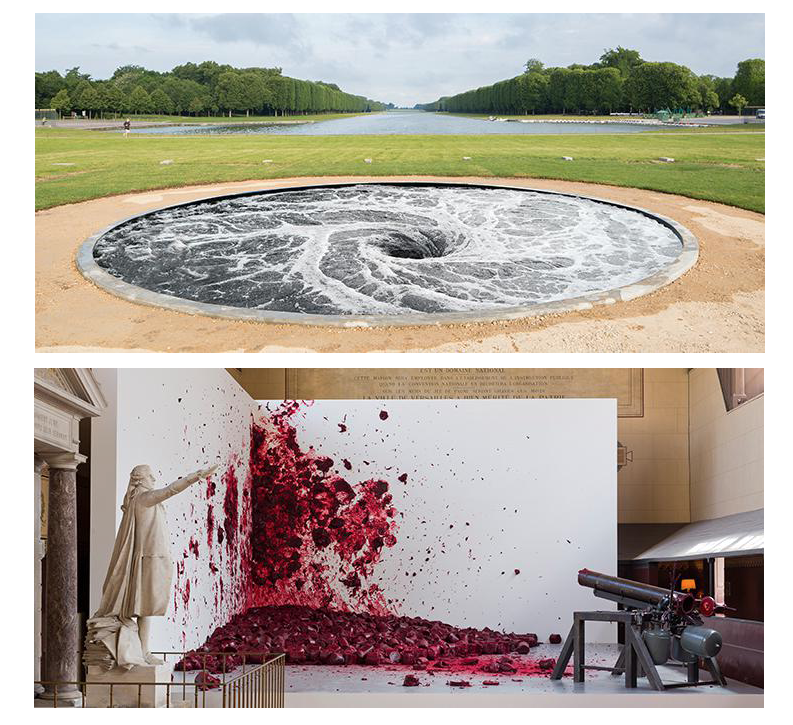 "Descension" and "Shooting Into the Corner" installed at the Palace of Versailles
Anish Kapoor's visceral series of works now installed at the Palace of Versailles confronts visitors with its tumultuous past. The six installations, which appear inside the palace and on palace grounds, allow visitors to experience the historic site in new ways both visually and emotionally. His anatomically suggestive "Dirty Corner" has even sparked public controversy in France.
#8. Happy Birthday, Gauguin!
See more works by Gauguin on this blog we love.
Today marks the birthday of Paul Gauguin, born June 7, 1848. Check out the collection our Chief Curator put together, inspired by his work.
Be on the look out for more "Inspired by" collections we share on Facebook and Twitter.
#9. Vincent Van Vogh's "The Night Café" Comes to Life
We love this GIF by Mackenzie Cauley. See more GIFs we love here.
#10. Bradley Wood's Solo Show Opened in New York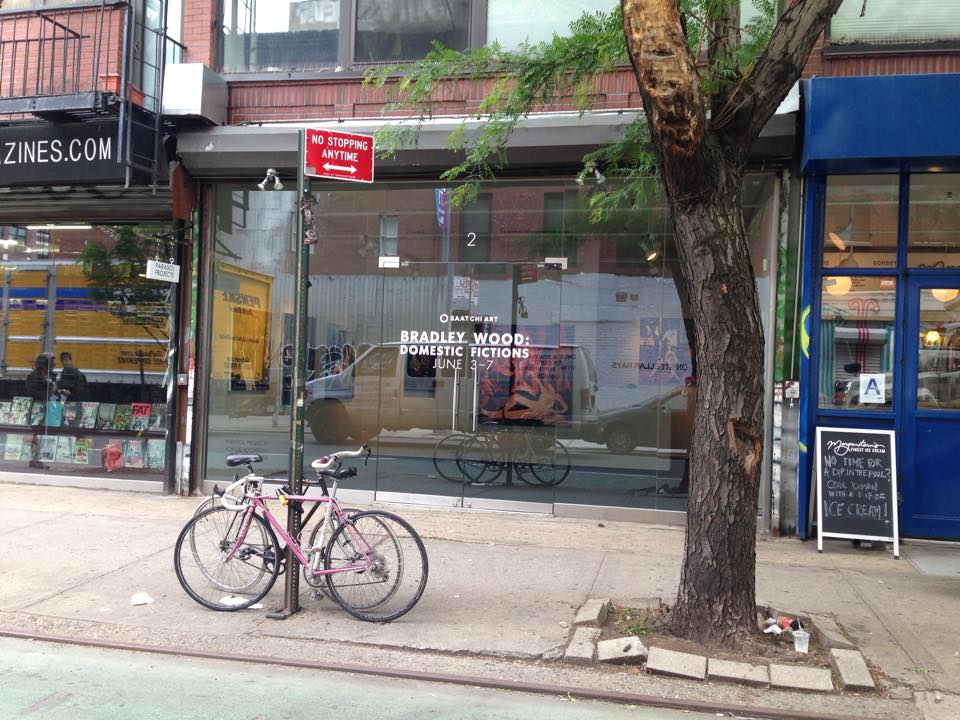 Saatchi Art at Parasol Projects
This week we debuted new works by New York-based artist Bradley Wood in his solo show "Domestic Fictions."
Check out photos from our opening party and view the complete show online here.
To learn more about Bradley, watch this video of him working in his studio and read about a typical day in his life.