Exhibitor Spotlight: Samantha Rueter + Bri Wenke
The Other Art Fair are delighted to share a sneak preview of 'Consumption', an immersive exhibition last month in Charleston, South Carolina, organised by Brooklyn Exhibitor Samantha Rueter and Bri Wenke. This week, we catch up with them both for an insight into the the sold-out show – trust us, you'll wish you'd had been there!
"Through the immersive exhibition, Consumption, we aimed to engage the undertones of a much broader picture. In our modern world, we can easily identify our consumption; we can see the ruin, feel the chaos, we can hear the dissonance. Consumption was meant to push boundaries and generate a pause; because we believe awareness is the most vital component for collective change.
As viewers walk through the dimly lit installations and view the collection of work, we hoped to encourage an exploration of what lies at the root of this disharmony. It's very obvious to look out at our world and say, 'we over-consume material goods, many of us are unhappy, we're abusing our planet, etc, etc'.  While these statements are true, where does this all stem from? The work feels like an exploration of self confrontation."
"In "Woman and Reckoning, WAR", artist Bri Wenke demonstrates a defiant female gaze, taking the historical recurring narrative of a punished woman and owning the flame.  Standing at sunrise in one of the most primal landscapes we have left, she holds the torn verse Genesis 3-6, declaring downfall of man, where the story of the consumption of an apple dictates cultural female punishment for all of time."
"'Motherwound' by artist Sam Rueter, attributes to generational trauma among women and the silent toxicity of shame. 
how can we further explore the interrelation between Mother and Daughter; while also not discounting the immense sacrifice and depletion both roles entail? How does this shame cycle affect the choices we make within our everyday life?"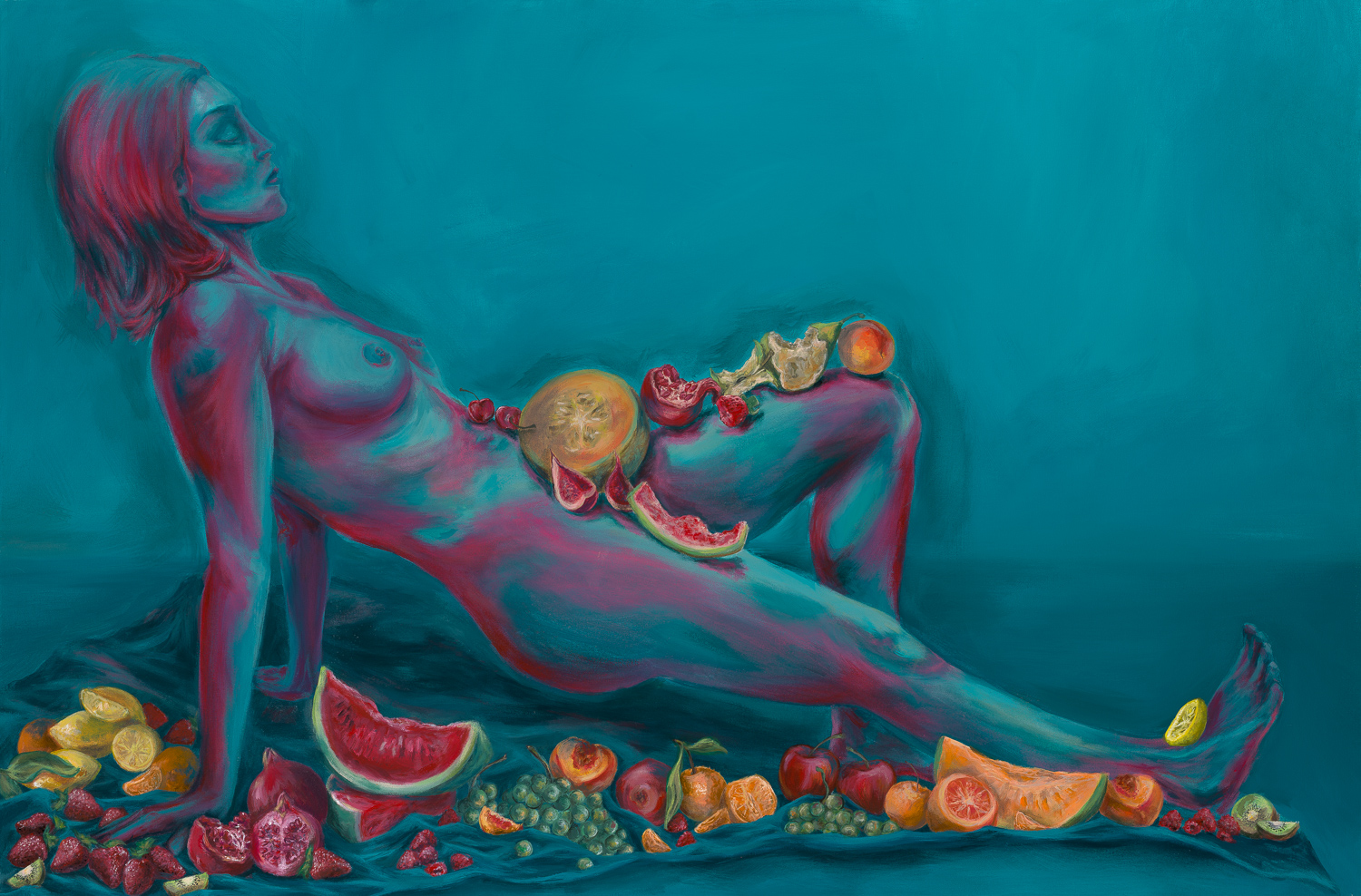 "The paintings within the exhibition played to both collective and individual experiences of what it means to be 'consumed'; through matters of mental health, relationships, bodily autonomy, materialism, sensory exploration, and emotional regulation."
Floral Installations by Lori DeNicola
Sound & Music Production Preston Dunnavant
Photography by Nicole Mickle and Chad Savage