The Other Art Cities Detroit Spotlight: Cydney Camp
The Other Art Fair is proud to present The Other Art Cities Detroit  Spotlight showcasing some of the best emerging talent from around the world. First stop Detroit!
Cydney Camp is a Detroit based artist who creates unique and mesmerizing otherworldly portraits. We asked her about her work, being an artist in Detroit and how her practice has evolved over the last six months.
Tell us a bit about yourself,
Hey! My name is Cydney Camp and I'm 26 years old.  I'm a fine artist and creative entrepreneur from Detroit, MI.  
My work is mostly comprised of drawings and oil paintings that explore the contemporary African-American experience through arresting, otherworldly portraits.  
By day, I work in economic development to combine the arts, design, and development as a sustainable economic driver for myself and my community.  When I'm not working or making art, I love to read, cook, travel, hike, spend time with my family and boyfriend, and play Animal Crossing.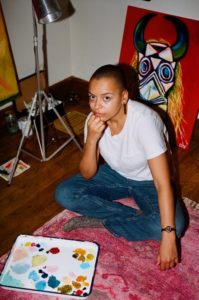 What are you inspired by at the moment?
To be honest with you, it's been a struggle to find inspiration, lately.  I haven't really been to a museum or many in-person art shows (or, simply out in public with other people, for that matter) since March, so I'm relying a lot more on stimuli and inspiration from books or online.  Some things that have recently inspired me: watching Agnes Varda's films, reading The Diary of Anais Nin and interviews with Francis Bacon, hanging out at the pop-up art show Moven Pictures 5, and seeing the recent Vogue cover paintings by Kerry James Marshall and Jordan Casteel.  
What are some of the best things about art in Detroit/ being an artist in Detroit?
There are a lot of challenges to being an artist in Detroit, but also a lot of beautiful things.  Our sense of community is very strong, and once you've made a few friends here, they've got your back.  The idea of Detroit Grit is very real, and we are always determined to make something fabulous despite limited means.  Compared to other major cities, it's a very affordable place to live and work.  Finally, I love that I am surrounded by powerful, creative, beautiful, black people, who continually show me what great things are possible for me to achieve, and who make our city the best place to be.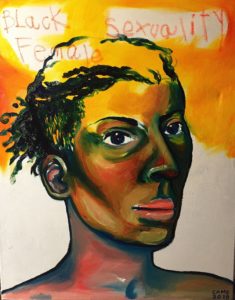 Black Female Sexuality, Cydney Camp
How has your practice shifted over the last 6 months?
Over the last 6 months, the pace of my life has slowed down significantly and I now have a lot more time on my hands, flexibility in my schedule, and mental clarity.  I've tried to use this time as an opportunity to be more intentional about my work flow, and I've been thinking a lot about the basic functions of my creativity.  What times of day am I most inspired? How often should I take breaks? How often can I realistically work in the studio each week? During this time, I've been lucky enough to participate in a few socially distant/virtual art shows, and I've had several virtual studio visits.  I've also recently been diagnosed with lupus, which forces me to physically slow down and keep my stress levels low.  I am coming to terms with my new way of being, while creating meaningful artwork in a healthy way. 
Woman With Papaya, Cydney Camp
What are you working on at the moment?
I recently finished a few oil paintings on paper, and a small commission.  Gardening Man and Woman With Papaya both introduce a luxurious vision of black bodies existing in peace and joy. 
I painted the commission for my friend who recently welcomed her first child into the world.  I was honored to uplift black parenthood, black masculinity, and the miracle of life through the piece.  And, it's one of a few recent paintings that parents have specifically acquired from me to introduce positive imagery of black and brown people into their children's lives.  It feels really affirming to know that my art speaks to people in this way. 
Right now, I'm focused on keeping a schedule of daily figure sketching, and I'm excited to make more paintings on paper, which is a relatively new and fun medium for me.
Gardening Man, Cydney Camp
The Detroit Spotlight is the first in The Other Art Fair's 'Discover Other Art Cities' series. The series aims to showcase some of the best emerging artists in undiscovered art hubs on our Online Studios platform, providing exposure to these up and coming stars and bringing collectors and buyers from around the world to new destinations.