The Other Art Cities Detroit Spotlight: Luke Mack
The Other Art Fair is proud to present The Other Art Cities Detroit Spotlight. A new feature showcasing some of the best emerging talent from around the world. First stop Detroit!
Luke Mack is a Detroit based artist and designer. We asked him about his work, being an artist in Detroit and how his practice has evolved over the last six months.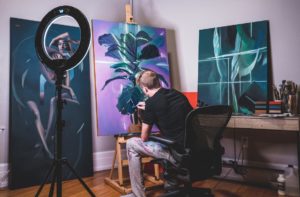 Tell us a bit about yourself and your practice?
My name is Luke Mack, and I'm an artist and designer based in Detroit, MI. My main artistic focus is on oil painting, but I also do some mixed media sculpture and installation work. One of my favorite parts about making paintings, other than that elusive rush that comes with a new idea and the satisfaction of completing a painting, is working with and photographing a model to bring an idea to life in the studio. This process is super experimental and the most playful part of the process, and most of the time I am shooting friends. Usually I am working on 2 – 3 paintings at a time so when one is drying, I can work on the other one. When I'm not painting, I love skateboarding, learning new things, and traveling (before Covid-19)!
A Thin Blue Line Between Us and Obliteration, Luke Mack
What are you inspired by at the moment?
Currently I've been really into science and technology, specifically artificial intelligence. I think it is going to be such a huge part of our culture and overall human experience in the future that the idea is so exciting to me now that I want to make work about it. Whether it really will happen or not I obviously do not know, but the idea of creating a human-like robot is really going to make us as humans understand what it means to be human even more, and that idea inspires me.
 What are some of the best things about art in Detroit/ being an artist in Detroit?
The best part about the art community in Detroit is the community itself. A lot of creatives here support each other and are quick to collaborate or help one another out. A lot of close friendships are made between artists here, and then those relationships from artist to artist seem to extend past the art community and actually change the environment within the city of Detroit. There are a lot of buildings here that have murals going up from local artists, and galleries are always willing to support emerging artists too. There seems to be something special going in Detroit right now.
What are you working on at the moment?
Right now I am working on a body of work (oil paintings) for my first solo show in Chicago, as well as an installation. I'm also super excited to be collaborating on a video project about my current concept about technology with some local creatives in Detroit.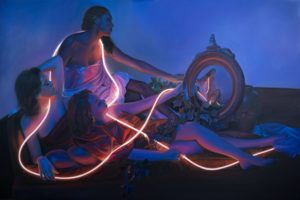 Reflecting Pool, Luke Mack
 How has your practice shifted over the last 6 months?
Over the past six months, I've become more open to experimenting and trying ideas that I wouldn't normally think of. Since most of the time I couldn't photograph anyone in the quarantine, I've gotten more creative with what I can photograph alone as reference inside my studio. I've also had a bit more time to think and do research, which has been beneficial.
Shop artwork by Luke and other trailblazing artists at The Other Art Fair's Online Studios.
The Detroit Artist Spotlight is first in The Other Art Fair's Other Cities Series. The series aims to showcase some of the best emerging artists in undiscovered art hubs to our global platform, providing exposure to these up and coming stars and bringing collectors and buyers from around the world to new destinations.